Welcome to our Friendly Club: Tennis at all Levels for all Ages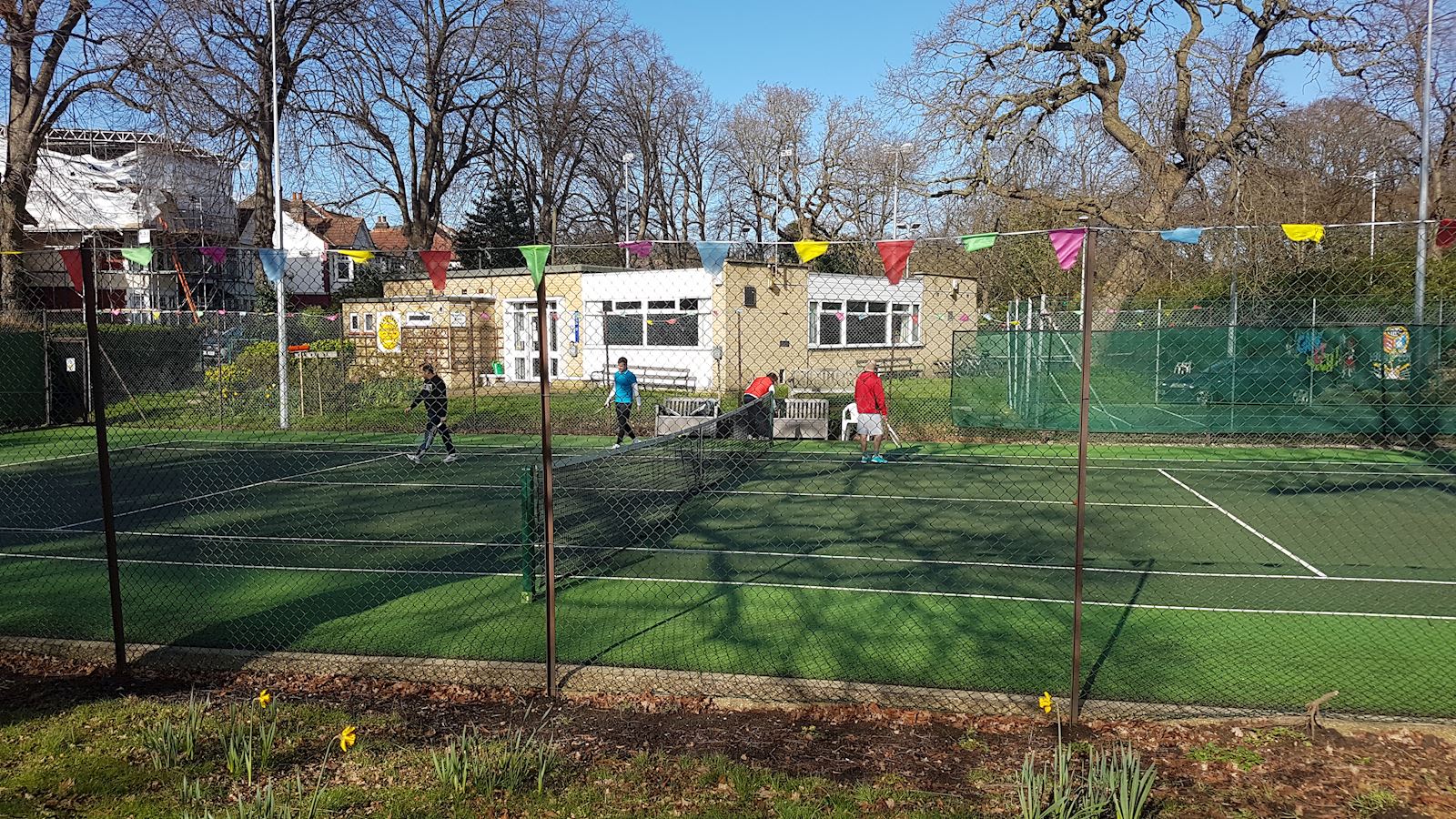 ALTC has six all-weather macadam courts, three of which are floodlit. We also have a mini red court to help promote junior tennis for the under-8s. The tennis pavilion has a kitchen, changing rooms, showers, Sports TV & a fully licensed bar. Our highly competitive annual subscription (£205 for adults) works out at £3.94/week for unlimited tennis. Over 65s, and Under-30s pay £150.
Opening Hours: The courts are open from 7:00am to 9:30pm. To book a court, please use our online booking system. Read more
Floodlights: Available on courts 1, 2 and 3 until 9:30pm. Outside of our regular social sessions, you will be charged at a rate of £1 per 12mins/£5 per hour. The easy-to-use coin operated light meters accept £1 coins only. Read more
Club Tournaments: Members are encouraged to enter our annual club tournament. The club tournament takes place from April, with club finals day being a big event, coinciding with the Wimbledon Ladies Final, which is watched in the club house. Read more
Club Teams: We have two ladies teams competing in the Essex Summer League, and one mens team, one ladies team, and one mixed doubles team competing in the South West Essex Summer League. Read more
Coaching: Jorge and Mario are ALTC's LTA ranked coaches. They run an extensive programme of group coaching for juniors and adults, plus individual coaching to suit your needs. Read more
Social: We organise numerous social events throughout the year, including some regular favourites, such as our annual curry night in December. The finals day of our club tournaments, on Wimbledon finals day are always a big occasion. The bar is also open during our Tuesday club sessions. Read more
Guests: Guests are welcome at ALTC, on payment of £5.00 per visit. A guest can come a maximum of three times without becoming a member.
Dress code: We are not a "tennis-whites" kind of club. However, we are here to play sport and expect our members to dress accordingly: no jeans or beachwear. We insist on tennis shoes being worn to protect the courts and yourselves: and if you have an urge to remove your shirt in the summer months, please desist.
Rules & Regs: Displayed on the club noticeboard. ALTC club rules are obvious and largely common sense. We require respect, courtesy and consideration towards fellow members and club premises. We all aim to keep the courts and pavilion clean and tidy at all times and we don't like swearing, racquet abuse or cheating. Read more