Club
🎾🎾WE'RE HIRING!🎾🎾
Fri, 20 Dec 2019 00:00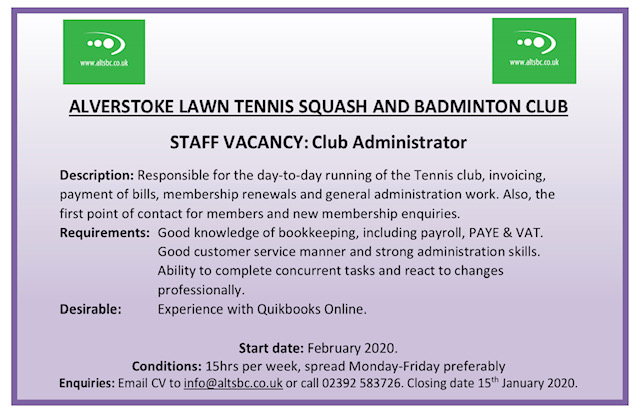 🎾🎾WE'RE HIRING!🎾🎾
There is the opportunity to apply for the post of the Club Administrator, this job is crucial to the day-to-day running of the club.....there is no requirement to be able to play tennis!!
Bookkeeping experience essential with a good knowledge of payroll, PAYE & VAT as well as strong administration skills.
Please see the advert or contact the office for more details, but please note the office will be closed over the Christmas holidays.
Closing date 15th January 2020, interviews will take place in January with the start date of the beginning of February 2020.
Please email info@altsbc.co.uk or phone 02392 583726 for more details
(Please be aware the office is closed over the Christmas holidays)