CORONAVIRUS UPDATE
Wed, 13 May 2020 00:00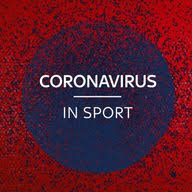 CLUB NEWS - CORONAVIRUS UPDATE
As from Wednesday 13th May 2020 the courts will be open for play although the Clubhouse is closed and must not be used for any reason please. The water in the clubhouse is turned off. There are no toilet facilities.

These are the Regulations and Instructions that must be followed if you want to use the courts:-

1. Only singles may be played. The two players may be from different households (doubles may be played but only if all four players are from the same household).

2. Players must adhere to the social distancing rule at all times on and off court (unless they are from the same household).

3. Bring your own hand sanitiser, water bottle and towel. Do not share these or any other equipment, including your tennis racquet.

4. Each singles player must supply their own balls, clearly marked and serve only with them.

5. A player should not pick up any opponents' balls; just kick or hit them back.

6. Do not change ends between games, or if you do because of the sun for instance, walk round different ends of the net.

7. Players intending to use the 3rd court enter/exit it via the court's own door. Please do not walk through courts 1 & 2.

8. If play is also on an adjacent court, do not approach it to fetch your balls, and kick any balls from their court back to them.

9. If other players are waiting to play, limit your session to 45 minutes (see below for info on court booking).

10. Wait off court until the players on court leave before entering.

11. If a coaching session is in progress on the 3rd court, it takes precedence over general play.

12. No visitors are allowed on the courts. There is no facility for collecting visitors' fees and therefore they are not covered by insurance in case of accident. If you are not already a paid-up 2020/21 member you should please join/rejoin before playing.

The club is actively aiming to introduce a court booking system through the club website
https://clubspark.lta.org.uk/ArundelLawnTennisClub . When this is active I will inform you.
Thank you
Graham Williams
Chairman