Tennis at BLTC during the pandemic
Wed, 07 Oct 2020 00:00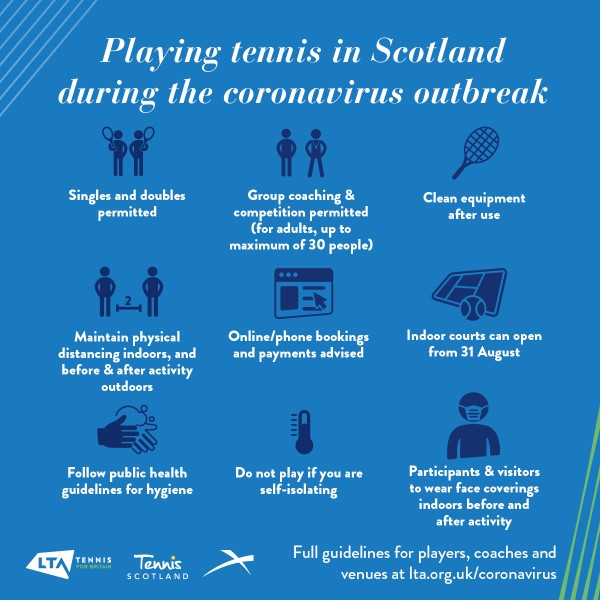 To all participants (and parents of juniors) at Bearsden Lawn Tennis Club. In accordance with the latest Government and LTA advice, we are allowed to play tennis! Courts 1, 2, 3, 4 and the mini-court are bookable using the Court Booking page on ClubSpark. Please conform to the following guidelines when you are playing:
Before play:
Both singles and doubles play are now permitted.
Play is for members only.
Hours of play 8.00am - 10.00pm.
Courts must be booked online using ClubSpark, and can be booked up to 7 days in advance. Period of play: 50 mins + 10 mins for changeover.
No drinking water is available at the Club. Players must bring their own water and remove all containers from the Club on departure.
Court gates and the gate from the car park are to be left open.
The clubhouse is available for entry to the accessible toilet only (and only one person in the clubhouse at a time).
Before proceeding to your court, give the previous players time to vacate.
Sanitize your hands with the spray at the gate before going onto court.
Do not come to the club if you or anyone in your household has Covid-19 symptoms. You must self-isolate and follow Government guidelines.
On Court:
Players must not adjust or touch the net at any time. Nets are pre-set and the winding handles have been removed.
Bring your own 3 tennis balls and mark them. Always serve with your own tennis balls.
Do not share rackets. Use your own racket only.
If you feel it is necessary to change ends, do so at the end of a set - but by different sides of the net.
Don't shake hands at the end of the game!
Sanitize your hands with spray on leaving the court.
Leave venue promptly remembering all equipment!