Lowestoft Championships
Tue, 13 Jul 2021 00:00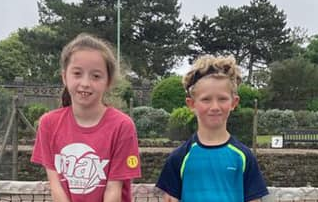 A great week of competition last week for the Lowestoft Championships
With junior players competing in all the age groups and gaining some valuable match practice.
In the 10&under competition, Austin Long won all his matches apart from one very close match on the first day of matches, losing it narrowly in the 3rd set tie break. Taking this in his stride, he went on to win all of his matches throughout the week, eventually playing MAX Tennis' Lucy Mansell in the final and winning the trophy! Austin has been increasing his work rate in his private and group sessions over the past weeks and months and is reaping the rewards of his hard work!
Lucy also had a great week - winning all of her matches very convincingly and just falling short to Austin when they played each other, coming away with a Runners Up trophy after demonstrating some great match play.
Great to see MAX Tennis dominating the event and gaining in confidence and experience along the way.
Onto to the 12&under event, James Burroughs and Lilly Attree represented MAX Tennis and did a great job.
Lilly gained some match play knowledge and experience in her very first tournament and finished as a Runner Up in the compass draw, just missing out on the top spot in the final.
Lilly had a great attitude throughout the event and showed immense progress with her confidence and resilience. Well done Lilly!
James dominated this event and won all his matches very convincingly to take the title.
James continued his solid performance by also winning the 14&under event with the same conviction. A great week from James
Well done to these MAX Tennis' players for not only their performances but also for their attitudes and good sportsmanship throughout the week, conducting themselves very well and making Beccles Tennis Club proud!
Coach Izzy said it was fantastic to see them in action and implementing the tactics taught in training during their matches, she was also able to get on the match court and pick up the ladies singles title while she was there. A great week had by all from BTC