Competition Age Group Changes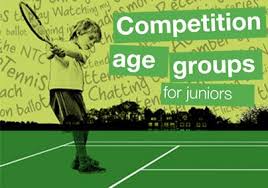 NEW Competition Age Groups Calculatation
From 1 April 2020, competition age groups for junior players will be calculated based on a calendar year e.g. a player's age on 31 December. These changes come following an extensive review of the competitive landscape and review of our systems. We understand that players, parents, coaches and officials want a system which is straightforward, easy to explain and simple to calculate.
To find out more - click HERE
---
Introduction of an 11U age group
An 11U age group will be introduced at all levels of competition. This will support players with making the transition from Green to Yellow ball. The 11U age group will compete using a yellow ball, however at some levels we may stipulate the use of a green ball.
Players will be able to play in the 11U age group when their tennis age is 10 or 11. In 2020, players born in 2009 or 2010 will be eligible to compete at 11U. Competitive opportunities will exist at all grades of competition in both a team and individual format.
Players competing in the 11U age group will earn 11U ranking points and the 11U ranking points table will be published in February 2020.
Find out more - click HERE