Match Day Hospitality Winter League 2021/22:
Post-match hospitality - refreshments should be offered as usual, if possible, but there is no obligation for clubs to do so or for anyone who is unhappy with this to stay after the match. Please do, however, discuss this with your opponent when arranging your match.
(1/10/21)
---
Berkshire Leagues - Data Protection/GDPR Policies (IMPORTANT PLEASE READ)
Berkshire LTA is committed to providing a secure environment and a great experience to all clubs which play in all Berkshire leagues.
We have been considering what information should be available to anyone accessing all Berkshire leagues online. Accordingly, given the need to comply with Data Protection and GDPR policies, the change detailed below has been made.
With immediate effect, all Berkshire leagues team captains' contact details will be protected and accessible only by using a clubs' unique login details. Previously, login details were only used to enter results.
We hope that you will appreciate this policy, which is designed to protect your personal data, a good step forward.
Login to relevant league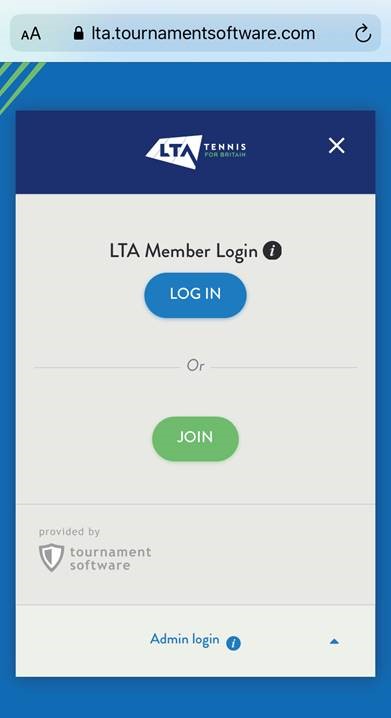 Please ensure venues click on the 'Admin login' option (bottom of the page) using your club's unique login details (same as enter results online) and NOT the LTA Member Login, otherwise the club login in details will not work.
How to Enter Results Online (Document) or a Short Video
Berkshire organise club leagues throughout the year and open to all LTA registered venues to enter. All team players must have LTA Membership, which is free if you are a member of a registered venue.
Please ensure your team players are linked (affiliated) to your club otherwise their names will not appear when results entered online. Members can keep an eye on their club affiliations through the Members' Home area on the LTA website to ensure they are linked to all clubs they are a member of or they are playing for.
---
Advantage ( LTA's new membership)
The LTA has partnered with leading competition software company, Visual Reality, to provide a new, market-leading competition management system for domestic competition in Great Britain, to allow players to search, enter and withdraw from competitions. Find a tournament near you
---
Parents in tennis: How to support your child ​​​​​
(September 2021) Parent Support Programme - Parents play a pivotal role in sport and young people depend heavily on their involvement, support and encouragement.

The LTA work closely with Sports Psychology experts from Loughborough University and the University of Roehampton to offer a progressive parent support programme that provides advice and guidance to parents nurturing the next generation of players.
Stage one is aimed at parents whose children are just beginning their competitive journey and features a 'Start Competing' guide and a series of short videos. Stage two is an informative two hour workshop aimed at the parents of players aged 9-14 years-old who are competing regularly and stage three is an informative resource to help parents develop their child's mental and emotional skills.
Stage One - Start Competing Parents Guide
This guide is packed with information on finding the right competition and preparing your child for tournaments. It's a perfect starting point for parents who have just begun entering their child into competitions.
Download the Start Competing Parents Guide to find out more.
---
ITF World Tennis Number to replace the LTA Rating System in Spring 2021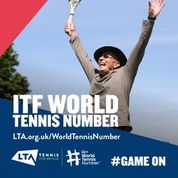 The LTA is introducing the ITF World Tennis Number, including doubles players with separate Numbers for both singles and doubles. This a brand new, inclusive and modern rating system for all players in Britain which will replace the LTA Rating System in Spring 2021. It updates each week to provide a 'real time' skill level rating that can be trusted and relied upon. Each individual's Number will be calculated by a sophisticated algorithm that has been specifically developed for tennis using the world leading expertise. The more you compete, the more accurate your rating will be with players being able to better track their progress in a new player dashboard.
To find our more clicke HERE
---
LTA SAFEGUARDING GUIDELINES FOR COUNTY CUP AND LEAGUE MATCHES

Irrespective of representing their school, club, county, region or country, when playing tennis away from home, planning is required to ensure risks are properly assessed and mitigated ensuring that all children are safe when participating in tennis.
This guidance is aimed at teams with children (anyone under 18) travelling for away matches and it provides a 'one stop' shop for organisers and supervisors accompanying the team to meet safeguarding standards. It is intended to supplement the more detailed LTA Safeguarding at Trips, Events and Competitions Policy.
A supervisor may be a coach, team captain or volunteer over 18 and the term is used throughout. Supervisors should have completed as a minimum the LTA online safeguarding training but the preference will be to have completed a safeguarding course.
At a league or county match, the hosting club is responsible for the safeguarding plan and risk assessment of the event they are running. The visiting club/county/school will be responsible for the safeguarding plan and risk assessment around their involvement in said event.
Smaller events are those with less than 20 competitors. The safeguarding plan can be comprised of the relevant club/county/school safeguarding documents (such as the safeguarding policy, codes of conduct etc). As a general rule if more than one club/county/school or team is involved at the same event then this is likely to need a bespoke safeguarding plan which might set out more specific processes and codes of conduct. Click HERE for more details
---
Help and FAQs
Useful Informaiton :
---
Passing of Dr John Crispin Dixon In memory of John Dixon: JustGiving fundraising page for disabled tennis players to help them to play a great sport - Dan Maskell Tennis Trust
Chair of Berkshire League Committee (1952-2020)