COUNTY CUP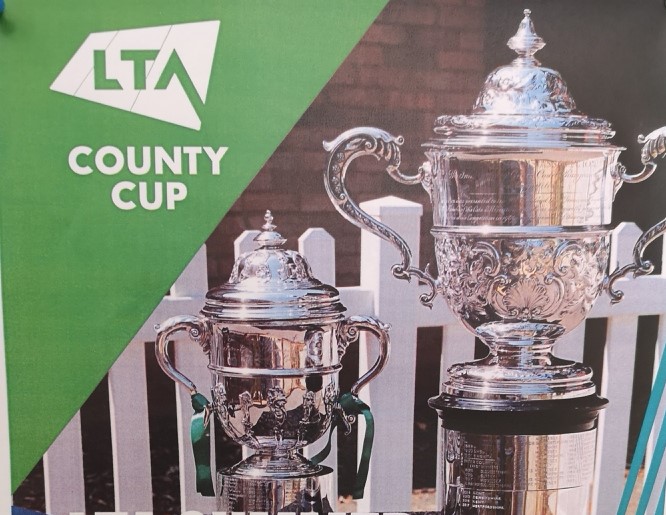 The LTA County Cup 2022
Berkshire Junior Teams Success:
---
LTA 14U County Cup - Qualifying – Saturday 30 April and Sunday 1 May 2022.
14U Girls Group D (finished 5th) – Wimbledon, SW19 4RF Centre: Middlesex, Warwickshire, South Wales, Surrey Berkshire
Team: Namfon, Gabriella, Elizabeth, Prisha and Mazie
Very tough matches for the Girls against strong opponents but a great learning experience for all.
14U Boys Group H (finished 3rd) - Norwich, NR9 5DX: Norfolk, Gloucestershire, Berkshire, Bucks and Suffolk.
Team: Marcel, Daniel, Matteo, Zachary, James and Conrad
The Boys did very well and came 3rd in the group.
https://www.youtube.com/watch?v=Fbly8-YkZKw
---
LTA 10U County Cup Qualifying - Saturday 21 and Sunday 22 May 2022
The girls finished runners up in their group behind Warwickshire. They won their matches comfortably, with a good performance overall. They have all shown improvements in their games and things are looking bright for the future
Thanks to the parents for their support and encouragement, and to the organisers for a great event.
According to team captain Richard, the boys did extremely well over the weekend. They were unlucky to lose 2 tie break shoot outs and finish 3rd in the group. Salim the vice captain helped with the warm up and gave some great advice to the players.
The atmosphere was positive and supportive, particularly from the fab players parents!
---
LTA 11U County Cup Qualifying - Saturday 18 and Sunday 19 June 2022
11U County Cup Weekend Roundup . Well done to both teams for finishing second in their respective groups! 🥈
The girls team (Group H): Prisha, Anna, Lana, Nishta and Georgia, were playing in Oxford and put in some strong performances against teams from Bucks, Warwickshire, Nottinghamshire and Oxfordshire. Full results here
The boys team (Group B): Henry, Matthew, Aditya, Riley, Joseph, played their ties in Leicester and showed great support and teamwork in their matches against Leicestershire, Bucks, Northamptonshire and Nottinghamshire. Full results here
We're all super proud of you all and hope you enjoyed your County Cup experience 👏
---
8U Inter County Event
A good weekend (26 June) for both the girls and boys teams, with the girls finishing in third place (taking the bronze) and the boys in sixth. The combination of these results meant that Berkshire finish in 4th position overall. Well done everyone!
---
The LTA County Cup (Junior) Upcoming
LTA 12U County Cup Qualifying - Saturday 17 and Sunday 18 September 2022
---
The LTA County Cup (Adult) upcoming
Men's Group 4 West Worthing - Berkshire, Somerset, Nottinghamshire, Warwickshire, Dorset and Durham & Cleveland
Ladies Group 4 - Havan - Berkshire , Buckinghamshire, Derbyshire, Sussex, South Wales and Lincolnshire
Ladies - Friday 29 to Sunday 31 July 2022 – Group 4A- Kent, Berkshire, Dorset and Nottinghamshire
Men - Friday 12 to Sunday 14 August 2022 – Group 3A – North of Scotland, Bedfordshire, Berkshire, Oxfordshire
---
18U County Cup 2020
Berkshire Boys - Group 3a against Suffolk, Dorset and Derbyshire @ NewPort. Coaches - Damian Fuller and Selena Coburn
Berkshire Girls - Group 6b against Devon, Shropshire and Isle of Man @ ELLESMERE, Shropshire. Coaches - Jamie McKindon and Rob Ventin
Great win and promotion for the Girls team . The Boys had some matches but managed to remain in Division 3
2021 - with revised structure
18U Ccounty Cup - cancelled 5 January 2021
12U County Cup
Qualifying – Saturday 24 and Sunday 25 April 2021
12U Boys Group C @ Bromley TC (came 3rd)
12U Girls Group D @ Sherbourne (came 4th)
Finals – Friday 7 to Sunday 9 May 2021
14U County Cup
Qualifying - Saturday 1 and Sunday 2 May 2021
Girls - Group D @ Sutton Tennis
Boys - Group D @ Banstead Downs B
Finals - Friday 14 to Sunday 16 May 2021
10U County Cup
Qualifying - Saturday 22 and Sunday 23 May 2021
Finals - Friday 11 to Sunday 13 June 2021
9U County Cup
Qualifying - Saturday 15 May 2021
Finals - Sunday 6 June 2021
11U County Cup
Qualifying - Saturday 19 and Sunday 20 June 2021
Finals - Friday 9 to Sunday 11 July 2021
Men's & Ladies Summer County Cup
Monday 19 - Friday 23 July 2021
Men's & Ladies Winter County Cup
Friday 10 to Sunday 12 December 2021
2019 - Draws & Results (click on highlighted group name and venue to access results)
Over 35 County Cup
Ladies Event - Friday 30 July to Sunday 1 August 2021
Men's Event - Friday 20 to Sunday 22 August 2021
Seniors County Cup
Formerly organised by Seniors Tennis GB
Friday 1 April to Tuesday 30 November 2021
---
18U Girls Team 2020 - Winner and Promotion
WATCH annual video for the Girls 18U county team: https://www.youtube.com/watch?v=mECyMUnLthA&t=2s
---
9U County Cup - Bromley Tennsi Centre 17/8/19
" I'm so proud of the Berkshire Team. They gave 100% through out the day and the team support was brilliant. Each match consisted of 3 Boys singles, 3 Girls singles, a Boys doubles, a Girls doubles and a Mixed. Rob and I were able to sit on court during the matches, which was tough as we had 3 courts playing but we managed to spend time with every player! Those players who weren't playing, were still on court cheering their team mates on. It was great to see the team spirit and all the players getting on. There were lots of wonderful matches and big comebacks, we came very very close to beating Essex and Sussex.
I want to thank the parents for taking their sons and daughters to Bromley and especially the players for making the day so much fun. I'm looking forward to getting back to training with you all, to reinforce the points we discussed on court.
Richard Downs/Rob Flynn (Berkshire Coaches)
---
County Cup events give players the opportunity to represent their county in team competition in national/regional stages. Events are held at different times of the year and in order to compete players have to be selected by their county.
There are separate County Cup competitions for five age groups, 18U, 14U, 12U, 10U and 9U, each held at different times of the year.
Our aim will be to select the team which in its judgement will perform best as a team and in representing Berkshire.
In making its decision, we will take into account a player's rating, ranking or recent form, age, the level of tournaments played and results over the past 12 months as well as any Talent ID feedback together with any other factors it considers relevant.