LTA Inclusion Strategy
The strategy set out in this document, which builds on our previous work, is focused primarily on embedding long-term cultural change. If people coming to tennis from different backgrounds see and experience a culture which is truly Relevant, Accessible, Welcoming and Enjoyable, they will want to stay involved.
This will lead to increased diversity across our sport. We believe embedding an inclusive culture is the key to ensuring that we do not just Open Tennis Up but that it is Opened Up for good.
Our aim is that this more inclusive culture will enable us, over time, to get to a place where the people involved in tennis, whether it be as players, volunteers or working in the sport, truly reflect the diversity of the communities around us. This is what Tennis Opened Up means. Anything less is not good enough.
This strategy also comes with a clear commitment to measurement and accountability as we progress towards this aim. Measurement does matter – data is what will help us understand whether or not our strategies are working and, importantly, what needs to change.
My fellow Board members and I will hold ourselves and the wider business to account for constant and consistent progress towards this aim of a sport that reflects our communities.
To this end, we have set ourselves clear objectives for the period to 2023.
Download the FULL LTA 2021-23 Inclusion Strategy here
Download the Inclusion Strategy summary document here
​Rachel Baillache
LTA Board Inclusion & Diversity Champion
---
DID YOU KNOW?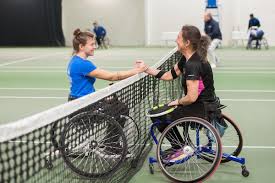 Wheelchairs can be played on all court surfaces without causing permanent damage to courts. This includes grass, clay and artificial surfaces.
Some general adaptations that may help you to deliver tennis to disabled people include:
• Change the size of the court
• Use smaller tennis rackets
• Change the scoring method – for example in Mini Tennis
• Change the ball used; sponge, mini Red / Orange / Green, a sound ball for those with a visual impairment
The Tennis Foundation provides funding, equipment, advice and training to support disability participation.
---