Play tennis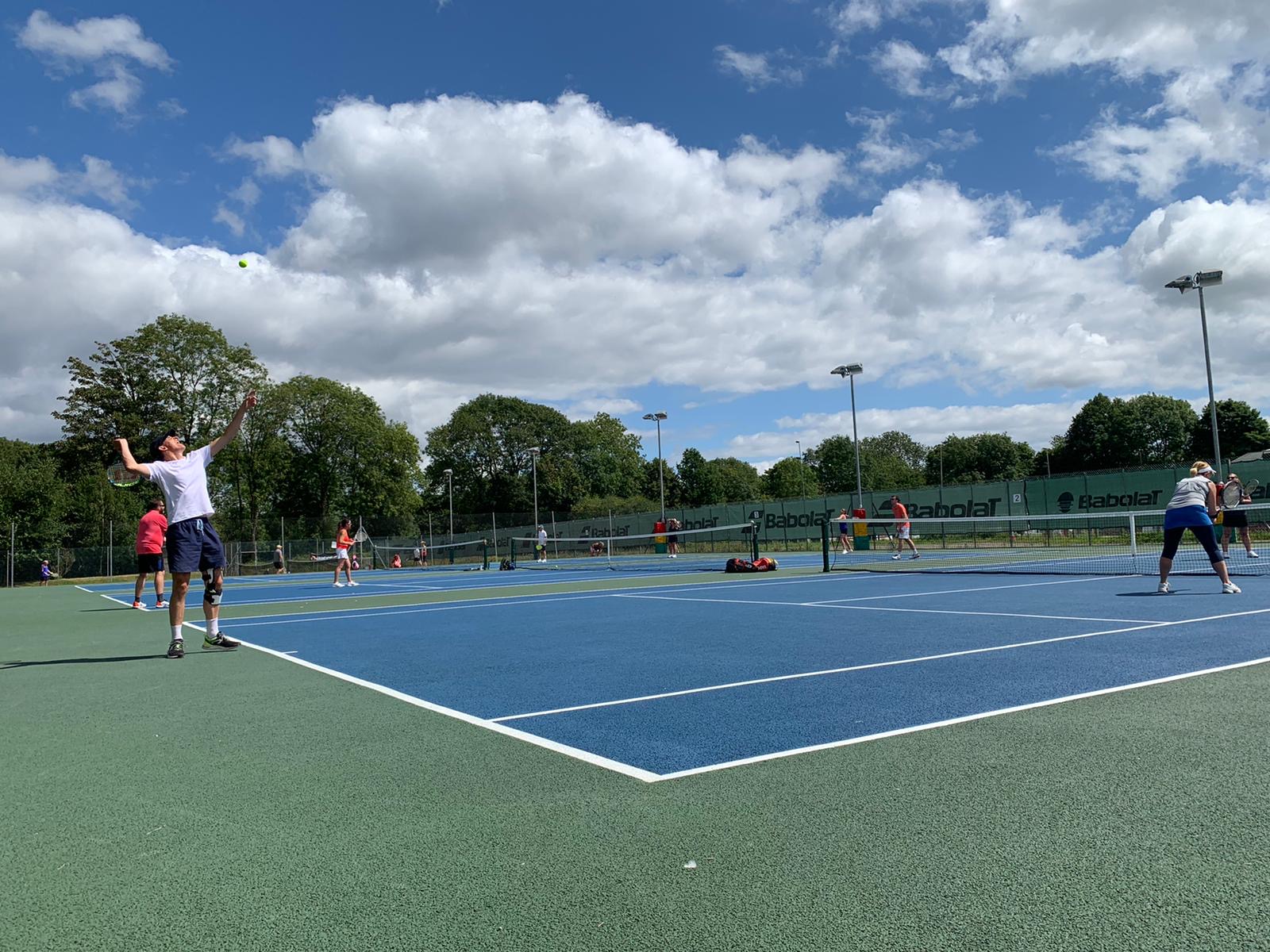 We want to assure you that the Club is closely following Government and LTA guidance regarding the coronavirus. Please see our CLUB NEWS for the latest.
Please use this link to register for weekend club socials: Attendance Registration
Our courts can also be booked by non members- see below.

To order our club kit please click on this link: Club kit
This is available for any member to order.
For members only:
SOCIAL TENNIS
We have two levels of tennis available to members: Club Level and Improvers:
CLUB LEVEL ADULT: Social tennis (primarily mixed doubles) is open to all members. The timings are: Saturdays from 1.00 pm until dark and Wednesdays from 5pm (with floodlights in the winter). Please note that there is no finish time for our tennis socials - they are open for those that would like to start earlier but also those who cannot begin until later. We also have a Friday morning social tennis session from 10.30am for those that can make it- all levels welcome.
IMPROVERS SOCIAL TENNIS: Sundays 11am- 1pm and Thursday evenings. This is aimed at those who are less experienced in doubles play and would like more practise to gain confidence and learn positioning.
JUNIORS: Friday junior social 4 -5.30pm. Last Friday of each month Apr- Sep. See the tab above for more information. Craig will be organising TEAM CHALLENGE tennis compeition for junior members. Click here for more information: Team Challenge
TEAM PRACTISE
Men's tennis- aimed at Mens A & B team level: Sundays 8.30- 11 a.m. Please enquire for more information.
Ladies' practise- aimed at Ladies A & B team level: Sundays 8.30- 11.30am. onwards. Please enquire.
DOUBLES DRILLS
Please see under COACHING > Adult Groups: open to members and non-members
SOCIAL - COMPETITIVE
Box Leagues
We run both singles and doubles box leagues for members (see the tabs above). Please contact Steve Spikings for more information:
American Tournament (social)
This is a fun sociable tournament which we hold several times a year. We play mixed doubles and you will change partner for each mini match. There is a prize for the person who has won the most individual games. Please see the tab at the top for more details of the next tournament.
Winter League (social)
Our Winter League runs in 6 or 10 week blocks (depending on the number of teams) beginning from mid September through to the end of November approx, and then picks up again in February through to March. We run this on a Monday from 7pm on floodlit courts. The cost is £3.50 to cover new balls and floodlights.
This is a fun, social, in-house doubles competition where teams of six players (ideally 3 men and 3 women) compete against another team on the night. Each player will play with every member of his/ her team in five, 20 mins mini matches. The team who has won the most number of mini matches overall wins the match.
Any level of player can enter the Winter League and we will match you opposite someone of a similar standard.
COMPETITIVE
Box Leagues
We run both singles and doubles box leagues (see the tabs above).
External matches
We have six teams (2 men's doubles , 2 ladies doubles and 2 mixed doubles) in the Watford District Tennis League which runs from April - August. We also have teams in the Hot Rackets competition with matches on Sundays.
During winter months we have three teams in the Aylesbury District Winter League which runs from September to April. We also have a Men's Vets team during winter months.
Club Champs (in-house competitive)
Open to members- from June to September
COURT BOOKING
Please use the BOOKING tab.
Please note that matches have priority on the courts followed by social and coaching sessions.
Floodlights can be used 6 days per week until 21.30, NOT Sundays. Court 5 should be used with floodlights first, followed by Court 4 , Court 3, Court 2 and then Court 1 in that order. If you wish to purchase tokens for the floodlights @ £2 per 30 mins you can buy them from coaches Craig & Natalia, Brian Stone 07495 738366, Steve Spikings or Ali Lyons 07980 897087
Members can book free of charge; non members can book online at a cost of £5 per hour. Visitors (playing with a member) fee £2 per hour - please give this to any committee member. This excludes club social and is only designed for occasional use.
Thank you to the sponsors of our score posts: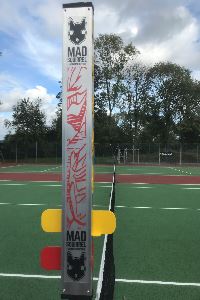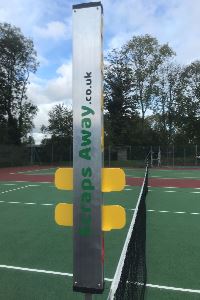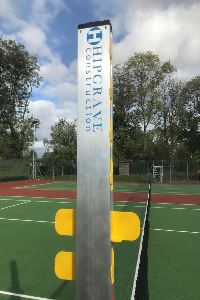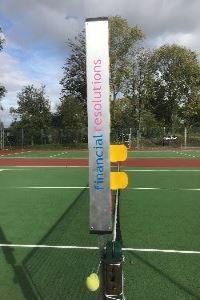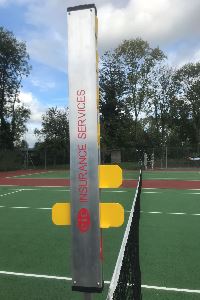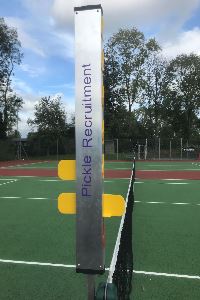 Mad Squirrel: We are Mad Squirrel, a forward-thinking, contemporary brewery in Potten End, Herts. From humble beginnings in 2010, we have continually grown and evolved, often in unexpected ways, but always with a boundless enthusiasm for quality, an inquisitive approach to flavour and a restless desire to better ourselves.
Our focus is on producing unfiltered beers for maximum flavour. This approach has resulted in us winning numerous awards including being voted best brewery in Herts and best beer in Herts for our flagship beer, $UMO American Pale Ale.
Our full range of innovative beers can be tried at our nearby Taprooms in Berkhamsted, Chesham Amersham, High Wycombe, Potten End, Harpenden and St. Albans and select beers can be found in many good independent outlets across the local area. We run frequent brewery tours which can be booked via our website: https://www.madsquirrelbrew.co.uk/
ScrapsAway.co.uk is the largest website in the UK for those looking for local scrap metal dealers or scrap metal prices. We currently have over 690 scrap metal and scrap car dealers just a few clicks away.
The scrap metal industry in the UK is worth an estimated £11 billion annually, with over 420,000 tonnes of scrap metal being processed and sold on each year. With the ever-fluctuating metal markets seeing prices go up or down in the blink of an eye, it is beneficial for you to secure the best price for your scrap metal and ScrapsAway.co.uk can help.
We aim to provide an easy to use website that helps members of the public and commercial sellers find the best service for your needs and the best scrap metal prices available in the UK today. Whether you have a small amount of scrap metal in your garden at home or you are a nationally operating demolition contractor, don't let this valuable resource go to waste – arrange to get the scrap metal collected and get paid!
Hipgrave Construction has been established for over 30 years, and specialises in:
Construction
Refurbishment
Pub / Bar fittings
Specialist Joinery
Refurbishment
Decorating and specialist decorations
Extensions
Plumbing and heating
Electrical installations
House building
All commercial work
Bar fitting
The ranges of contracts vary, but for a quote, feel free to contact us.
Accounts: [email protected] Phone: 01442 251790 http://www.hipgrave-construction.co.uk/
Financial Resolutions Ltd: Based in Bovingdon, Hertfordshire, Financial Resolutions offer a 'cradle to grave' financial advice offering, and our service includes:
Mortgages for property purchase, re-mortgage or buy to let/commercial
Personal & business insurances across life and health
Savings and investment advice – including children's savings and Lifetime ISA's earmarked for first time property purchase
Pension and retirement income advice (including pre-planned retirement forecast service)
Business finances advice (director pension contributions, business investment, tax efficient money extraction, keyman and shareholder insurance protection advice)
Inheritance tax mitigation planning
If you think we may be able to assist you, please call Kevin Wilks on 01442 800810 or 07958 518589, or email him on [email protected] You can also visit our website www.finres.co.uk for more information
EIC Insurance Services Ltd: Welcome to EIC. Traditional in essence but modern in our ventures, EIC are an independent insurance broker based in Tring, Hertfordshire.
We have been providing personal and business insurance protection that is broad in scope to those in the Home Counties of Bedfordshire, Hertfordshire, Buckinghamshire and beyond since 1973.
[email protected] 01442 286910 www.eicinsurance.co.uk
Pickle Recruitment. We offer a bespoke, personal recruitment service across a variety of industries, at the most competitive rates. We are a local business, but have recruited as far as Canada! Please get in touch to discuss your business requirements to see how we can help you find the right people.