Social
Club Sessions 2021
Sat, 08 May 2021 00:00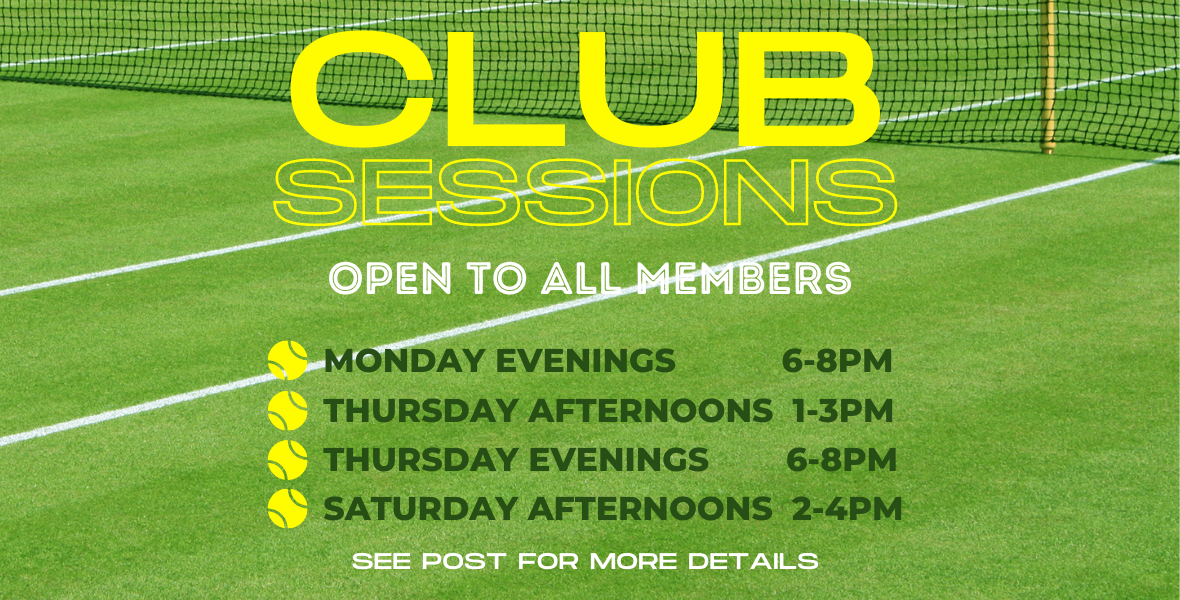 𝗖 𝗟 𝗨 𝗕 𝗦 𝗘 𝗦 𝗦 𝗜 𝗢 𝗡 𝗦
𝗙𝗮𝗻𝗰𝘆 𝘀𝗼𝗺𝗲 𝘀𝗼𝗰𝗶𝗮𝗹 𝘁𝗲𝗻𝗻𝗶𝘀 𝗮𝘁 𝘁𝗵𝗲 𝗰𝗹𝘂𝗯?
Then why not come to one of our club sessions available to all our members (beginners and new joiners welcome) :
𝗠𝗼𝗻𝗱𝗮𝘆 𝗲𝘃𝗲𝗻𝗶𝗻𝗴𝘀 𝟲-𝟴𝗽𝗺
𝗧𝗵𝘂𝗿𝘀𝗱𝗮𝘆 𝗮𝗳𝘁𝗲𝗿𝗻𝗼𝗼𝗻𝘀 𝟭-𝟯𝗽𝗺
𝗧𝗵𝘂𝗿𝘀𝗱𝗮𝘆 𝗲𝘃𝗲𝗻𝗶𝗻𝗴𝘀 𝟲-𝟴𝗽𝗺
𝗦𝗮𝘁𝘂𝗿𝗱𝗮𝘆 𝗮𝗳𝘁𝗲𝗿𝗻𝗼𝗼𝗻𝘀 𝟮-𝟰𝗽𝗺
If you want to sign up to any of these club sessions then please contact Will Burgess (mobile no. 07801 743968) to add you to the relevant WhatsApp group.
*Please note the evening club sessions will eventually change to 7-9pm when the evenings get lighter.