Club
Project Update 11
Wed, 08 Mar 2023 00:00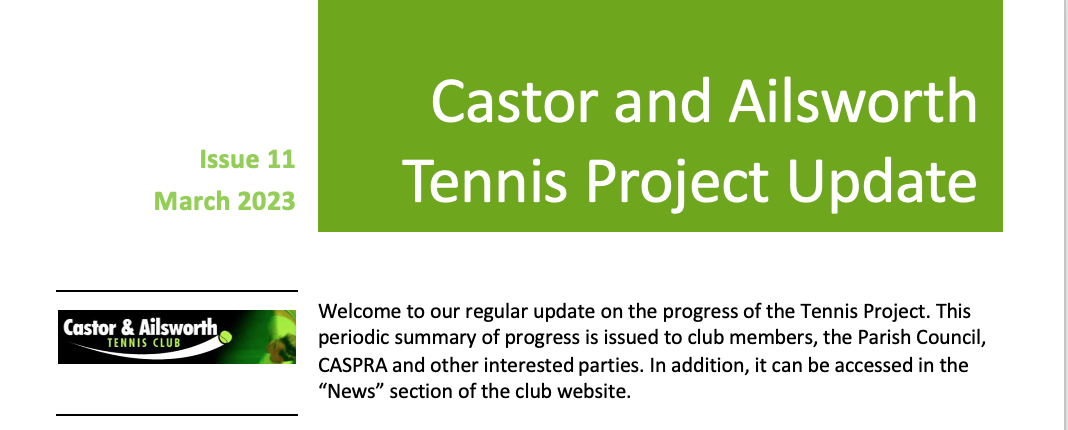 Where we are now
We have:
Achieved Outline Planning Permission for two one and a half storey residences on the Holme Close site.
Marketed the site and are in receipt of offers in order for an eventual sale to release the funds to relocate the club to new, purpose built, all-weather, whole year facilities at the Woodlands, Castor site.
Developed plans comprising five all-weather tennis courts, three of which will be floodlit, two Padel Courts and 2 Pickle Ball courts. All the facilities will be available to members and non-members through an online booking system.
Confirmed that a longstanding possible obstruction to the proposed site of a foul water drain under the control of Anglian Water is no longer an issue.
Begun a process to sign off the necessary formal lease having already agreed a Heads of Terms agreement with Nene Park Trust to secure land on a lease basis involving 50 years duration, ground rent, storage, an eventual shared clubhouse facility, etc.
Continued to communicate regularly with members and other interested parties through circulating the "Summary of Progress" documents which are also stored on the club website.
What's coming up
The date of the next meeting of the Project Committee is Wednesday 5 April 2023.
Want to know more?
If you have questions at any stage about these developments, then please do not hesitate to contact a member of the Project committee:
Will Burgess williamburgess511@btinternet.com 07801-743968
Richard Ingham ringham01@gmail.com 07989-856155
David McPartlin dp.mcpartlin@hotmail.co.uk 07707-036009
Bill Sansom bill.sansom@icloud.com 07836-283964
Kevin Tighe tighe1608@gmail.com 07826-181479
David McPartlin
on behalf of Castor and Ailsworth Tennis Club Project Committee