Covid-19 Info (updates)
UPDATE (9th Nov 2020):
The Welsh Government have announced new updated changes allowing more options to be able to play safely.
PLEASE MAKE SURE YOU READ THE GUIDELINES BELOW CAREFULLY AND ARE COMPLIANT AT ALL TIMES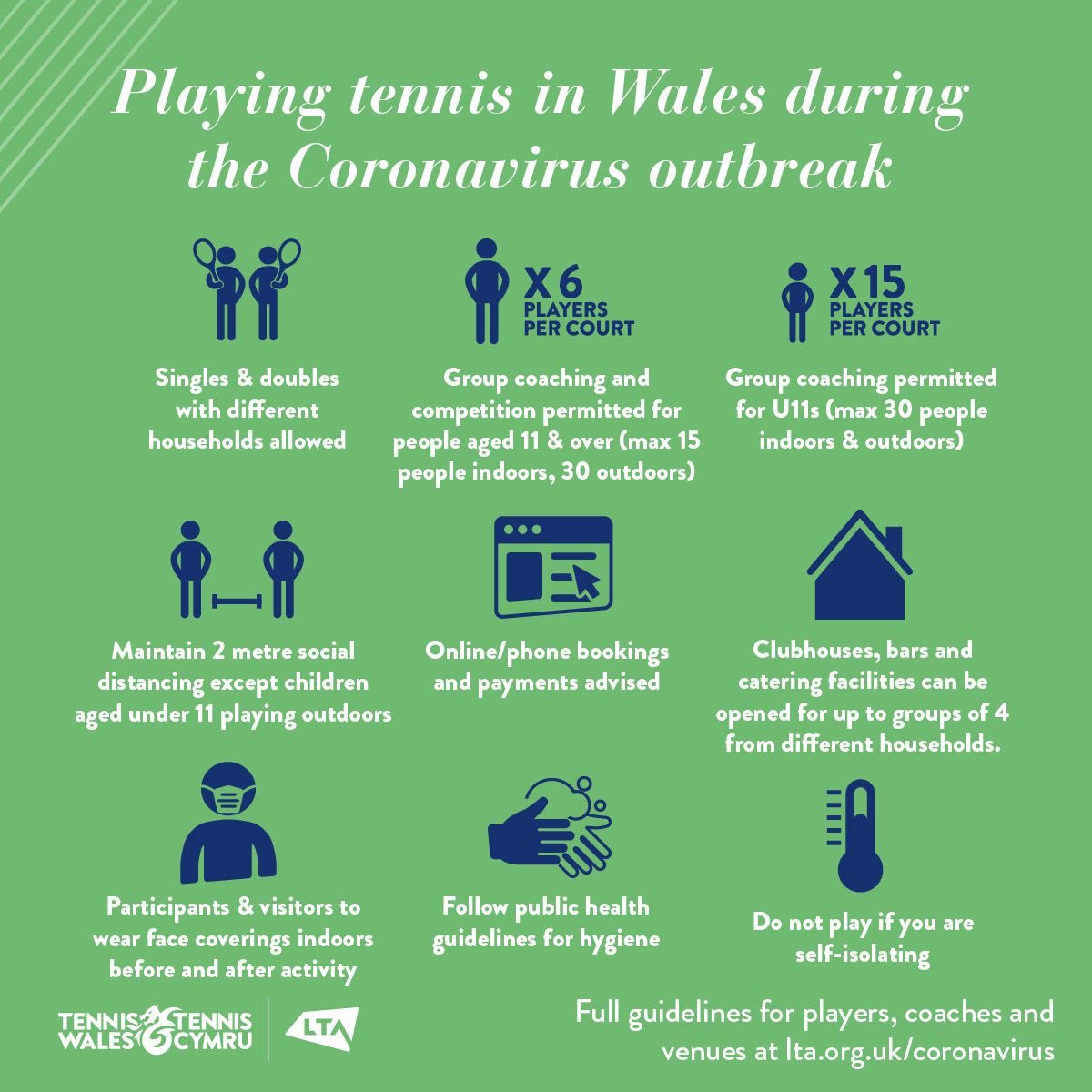 THE CLUB RULES
Online court bookings essential
Please do not turn up and play without booking.

Maintain social distance (2 meters at all times)

Coaching is permitted outdoors with groups up to 30

Do not attend the club if you have any symptoms

Groups of up to 4 from different households allowed in the clubhouse/bar

Face coverings must be worn at all times in the Athletic Club

You will also find these rules and more information at the court entrance and on our cabin notice board.
For the latest up-to-date LTA guidance on tennis in Wales, please click here.
HOW DO I GET ON COURT?
New Members
If you would love to get outside and play some tennis, now is a great time! We are offering greatly reduced membership rates for the 2020/21 year. Simply join here and we will email you the gate access code. You can then follow the step by step process as below for existing members.
Existing Members
We know that you're keen to get back on court so we have tried to make things as simple as possible for you. There's no need to renew your membership before you get on court and you will be able to use the same padlock code from last year until Monday 13th July when it will be changed. We would ask that you renew your membership before this date should you wish to receive the new code and continue using the club facilities.

For now though… simply sign in, book a slot, and play!

STEP 1:
SIGN IN TO THE CTC WEBSITE
You should already have a login/account from last year. If you don't know your login details, visit forgotten your password?.

STEP 2:
BOOK A SLOT
At the top-right area of the page, navigate to the day you would like to play, find an empty court/time slot below and click on it to book it in your name. Remember: Please only book a 1hr slot for peak time and up to 2hrs any other time.

STEP 3:
PLAY!!