Competition
Cheshire County Championships 2021
Thu, 16 Sep 2021 00:00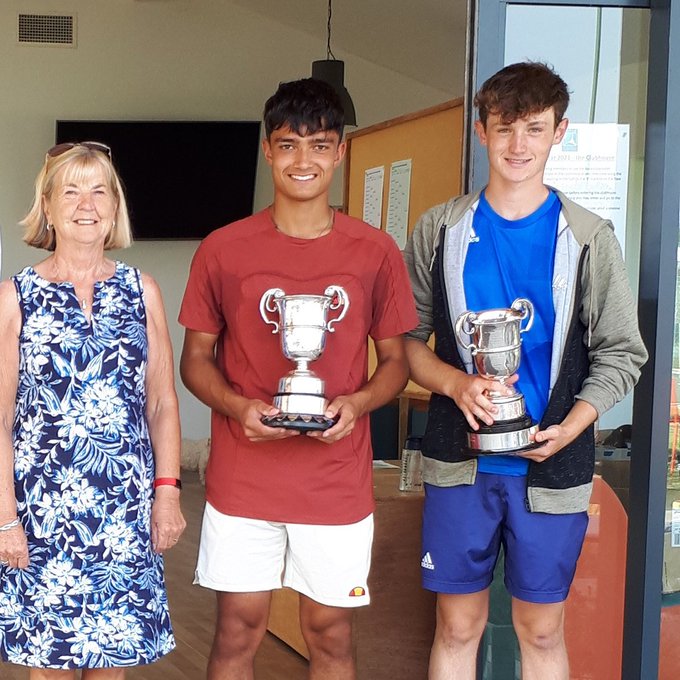 It was great to be able to hold our Cheshire County Championships once again after the enforced break last year. Many thanks to all players, supporters, officials and so many people who work hard behind the scenes to make this tournament a success.
Hoole LTC was, once again, a wonderful host. It was a good sized entry with qualifying events required for both the Men's singles and doubles.
In the Men's singles final qualifying round there was a particularly noteworthy comeback by Matty Bhunjan who was a set and 4 – 0 down to Luke Brierley and then won the next 6 games to take the match into a tie break which he then won 10 – 6. Matty then achieved a fine win in the main draw first round against Mattias Matellini, in another match which went to a final set tie break which Matty took 10 – 6. His next opponent was the number 2 seed Pedro Ocana who played at a totally different level and who progressed into the semi finals where he met an in form Andy Brisdon who had recently won the Cheshire U18 singles and doubles titles. This proved to be one of the matches of the tournament with Andy & Pedro playing some outstanding rallies. The first set went to a tie break which Andy won7- 5, however, Pedro bounced back winning key points in a number of games to take the second set 6 – 2. Pedro's greater experience and consistency made all the difference in the final set tie break winning it 10 – 4. In the top half of the draw top seed Jonah Gethin, who like Andy still has another year playing junior tennis, played consistently well dropping only 6 games in two matches against Louis Harvey – Mitchell (6 – 0, 6 – 1) and Matthew Cooper (6 – 1, 6 – 4). The semi final against Lewis Denton proved to be a much greater challenge with Lewis winning the first set 6 – 4, however, Jonah managed to stay level with Lewis during another close set which he just won 6 – 4. The momentum was now with Jonah and he took the initiative and made fewer mistakes to win the tie break 10 – 4. In the final against Pedro Jonah made a hesitant start and Pedro raced into a 3 – 0 lead and went on to take the first set 6 – 3. The second set was a much closer one with Jonah having a set point but he was not able to convert it. Pedro put increasing pressure on Jonah's serve to break it at 5 – 5 and then serve out to win the final and take his first Cheshire Men's singles title.
In the Ladies singles event there were a number of players taking part who had already having shown their quality at the recently played Junior County Championships. Junior players Debra Abraham, Ashira Murray, Abi Redman & Phoebe Mitchell all won the first round matches in straight sets. The pick of the quarter final matches was Ashira competing really well against number 1 seed and holder Ellie Tsimbilakis before losing 6 – 3, 6 – 4. Debra Abraham played number 3 seed Alice Shields and this was another close match with Alice putting her greater experience to good use winning 7 – 5, 6 – 3. Number 2 seed Jemma Cave faced Lara Wedd and won convincingly 6 – 1, 6 - 2, whilst Phoebe (No. 4 seed) came through a very close first set 7 – 5 against Abi (the youngest player in the tournament) and then played more consistently to win the second set 6 – 2. In the top half of the draw Ellie played a very good semi final against Alice and ran out a 6 – 3, 6 – 2 winner. The score line didn't reflect how close the match was. Meanwhile in the bottom half of the draw doubles partners Jemma & Phoebe played each other in the second semi final. Jemma gained early control of the match with Phoebe struggling to find any consistency and Jemma took it 6 – 0. The second set was totally different with Phoebe eventually finding her range after Jemma had raced in to an early lead. It looked at one stage as if the match would go to a final set tie - break but Jemma showed great resilience and won the second set tie break convincingly 7 – 1. The final between Ellie & Jemma contained a lot of long rallies and was extremely close until the closing stages of the first set when Ellie made fewer mistakes to win it 7 – 5. The confidence Ellie gained from winning the first set proved significant and she won the second set 6 – 2. This win is particularly noteworthy as it is a hat trick of single titles for her. Many congratulations to Ellie. Jemma like Andy Brisdon in the Men's event will still be competing as a junior in 2022 and only goes to show what talented junior players we have in Cheshire.
The Ladies and Men's doubles events proved to be both entertaining and very competitive. Conor Keohane & Jamie Oakes won the qualifying event and went on to defeat Ilias Hirani Worthington & Faris McGrath 6 – 2, 6 – 1 in the main draw, before losing to the number 1 seeds Matty Cooper & Jonah Gethin in the semi final in the closest of matches 4 – 6, 6 – 2, 10 – 6. The number 2 seeds Andy Brisdon & Oliver Hague showed their quality and did not drop a set on their way to the final. They maintained their excellent form and defeated the number 1 seeds 6 – 3, 6 – 3 to become the youngest ever winners of the County Men's doubles title. An outstanding achievement!
The ladies doubles produced some very close matches. Alice Shields & Abi Redman, who had just won the U18 Junior doubles title lost out to the more experienced pair of Aimee Kaye & Vicky McNeight who then surprised the number 2 seeds Jemma Cave & Phoebe Mitchell winning 2 – 6, 6 – 3, 10 – 8 which secured them a place in the final. Top seeds Ashira Murray & Ellie Tsimbilakis looked to be assured of a place in the final when leading 6 – 2, 5 – 2 against Abi Redman & Lara Wedd but proceeded to lose the second set in a tie break. The championship tie break could not have been any closer with both pairs saving match points before Ashira & Ellie finally won it 14 – 12! The first set of the final was dominated by Ashira & Ellie taking it 6 – 1, however, Aimee & Vicky provided more resistance in the second set before just losing the second set 6 – 4. So it was a very successful weekend for Ellie and Ashira's first County title.
John Hilton (Tournament Organiser)
September '21