Club
Corona Virus Update
Wed, 13 May 2020 00:00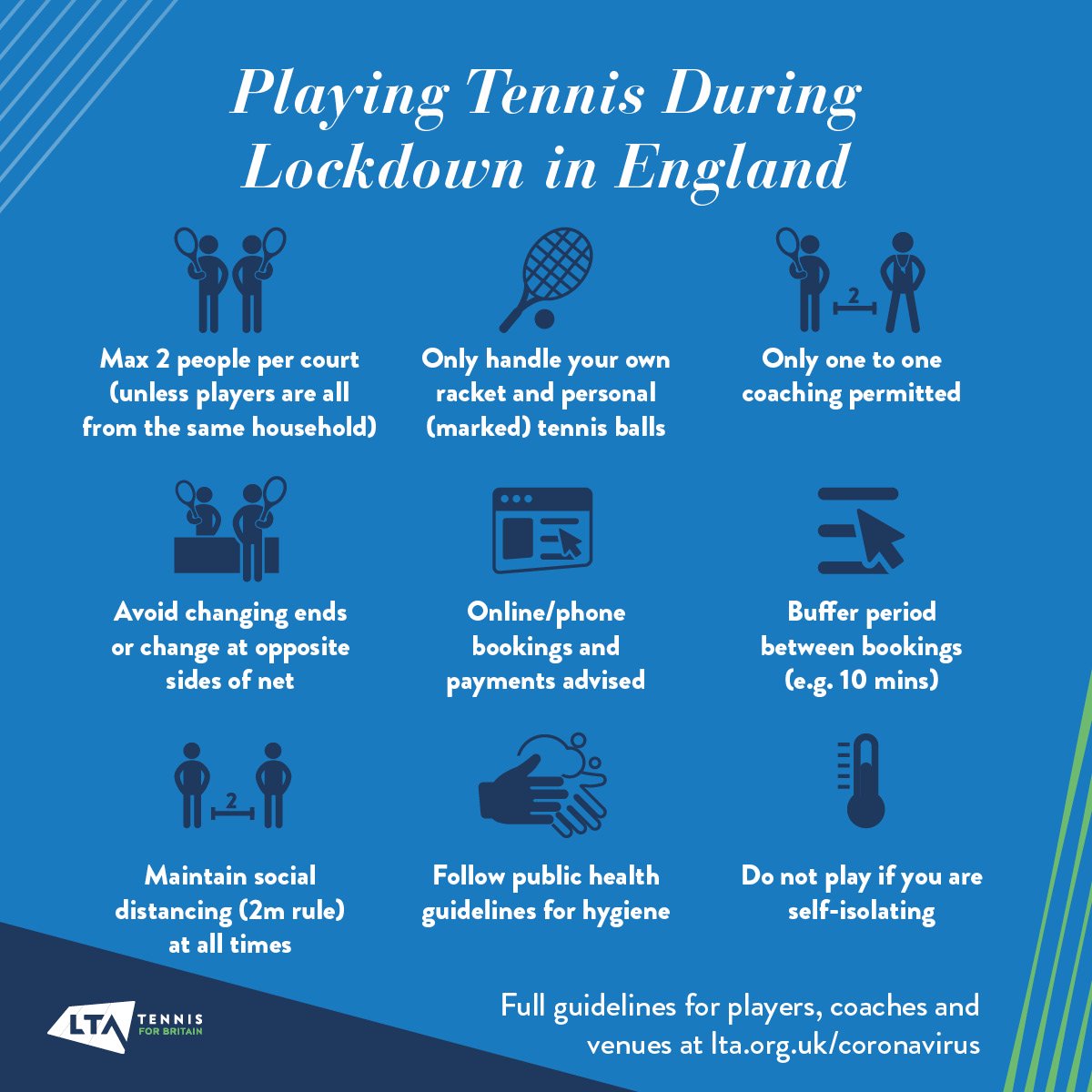 Good News: Following the latest Government advice and subsequently more detailed guidance from the LTA we have opened the courts for booking.

The following play is allowed:-

* Singles play - players can be from different households.
* Doubles play - where all players are from the same household.
* Coached sessions - limited to one to one coaching.

For our Club the following specific rules must be followed too:-

* All courts must be booked prior to play.
* Players should go on court 5 minutes after the start of their designated booking time.
* Players should stop play and leave court 5 minutes before the end of their booking slot, to avoid contact with players from the next booking.
* Players must have registered the car registrations with the Club Manager before booking the courts - access to the onsite screens for registering car number plates is not available.
* Take hand sanitiser with you and if possible clean gate handles with it when you leave.
* Stay at least two metres away from other players at all times (including during play, when taking breaks and before and after play).
* Do not make physical contact with other players (such as shaking hands or high five).
* Stay on your side of court and avoid changing ends, or agree to change ends at opposite sides of the net.
* Avoid chasing the ball down to another court if other players are using it.
* Use your own clearly marked tennis balls.
* Avoid using your hands to pick up tennis balls that aren't yours - use your racquet/foot to hit/kick them to your opponent or return them to another court.

Also please note the following:-

* To avoid having to use the floodlights court bookings will be closed at dusk - currently 8.30pm.
* The Clubhouse is closed so no toilet facilities are available.
* Please do not bring guests with you to the Club.
* Booking rules are currently unchanged, but if the courts become very busy, we may have to reduce the maximum length of bookings, so everyone who wants to play can.
* The First Aid Box is located just inside the indoor courts, please notify Bill or Max if use any of the contents, so we can restock it.

We anticipate government advice will change in June and will keep you up to date with any news. LTA guidance for players can be found by following this link:-

https://www.lta.org.uk/globalassets/news/2020/lta-guidance-for-tennis-players---covid-19.pdf

For the latest Government advice follow this link:-

https://www.gov.uk/government/publications/staying-alert-and-safe-social-distancing/staying-alert-and-safe-social-distancing

Courts are only bookable by members. If you are struggling to find a member to play with or want to play someone new, you should them join this WhatsApp group to be able to organise a game. https://chat.whatsapp.com/HFlhwJJZFGKCQva0fNynta

If you have any queries, please feel free to contact me. Looking forward to getting back on court!