Club
Corby Tennis Centre Singles Championships 2020
Sun, 23 Aug 2020 00:00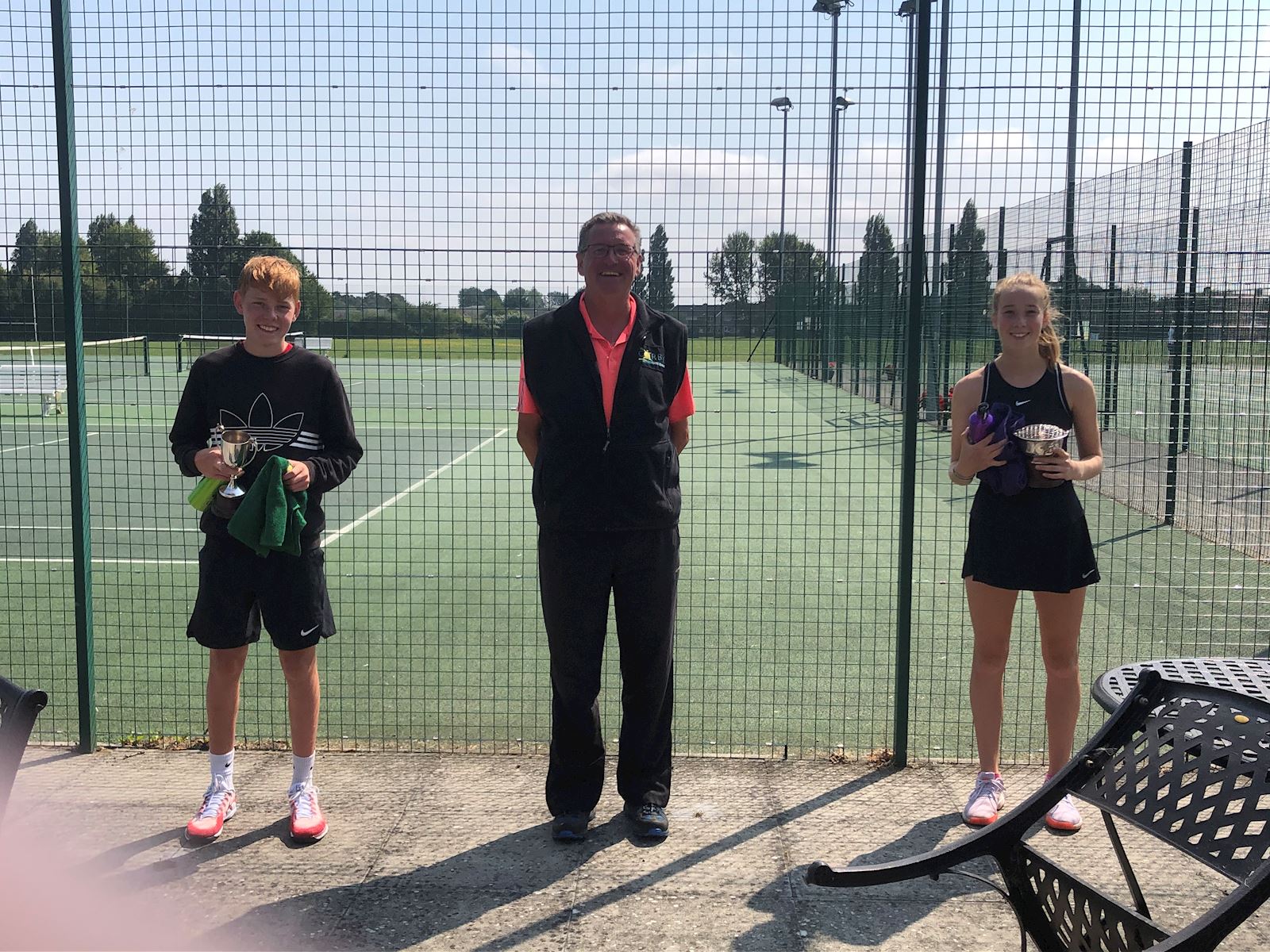 Corby Tennis Centre Singles Championships 2020
Sunday August 9th 2020 saw the conclusion of our first club Championships for 20 years, and we had two good finals for the 25 spectators to enjoy. In the ladies singles event, top seed Emily Pollard beat Othelia Agar Stallbom 9-2. The match began with Othelia trading hard groundstrokes, and she broke Emily in her opening service game. The youngster looked a little tight with nerves in the opening exchanges, and made a few errors, which saw Othelia open up a 2-0 lead. Emily soon settled down, and started to dominate with some aggressive serving and excellent baseline play, and was soon in her stride. Once she had opened up a 5-2 lead, Emily took complete control of the match, and dominated play until the end, which saw her a 9-2 winner.
Playing at the same time as the ladies singles, the mens final was between the top two seeds, in Jakob Bonnet (1) and Neil Shorrock (2), in another battle between top junior and good adult. Giving away over 40 years is no mean feat, but Neil gave it his all. The match began in similar fashion to the ladies, with Jakob making a few errors, while Neil was doggedly steady and gave nothing away. Jakob started to find his range after also going 0-2 down, and showed good maturity in keeping calm and focussed, and his game soon started to come together. Neil was a tough opponent for Jakob in terms of playing style, as the youngster is a great counter-attacker and likes his opponents to press, much like Andy Murray, but Neil works his opponents around the court and crafts his points really well, without having a huge weapon to hit players off the court. Jakob started to dominate, especially off his backhand side, and throughout the match, he hit six quite beautiful straight backhand winners, along with 3 or 4 well executed drop shot winners. It was a terrific match, and great to see someone of such a young age keep his composure so well throughout the match. Jakob came back from his 0-2 position, and soon went into a 5-3 lead, with a number of the games being closely contested. Once he had edged ahead , he then took control of the match, and closed out to win 9-4.
The two winners of the singles were presented with their trophies by Centre Manager, Craig Haworth, and it was at this point that Emily's mother, Kerry realised that she had also won the event back in 1997! The two winners then drew lots to see who would play in the exhibition doubles with Jack Haworth, and who would play with Kyle Rae, who had both kindly given their time to play for us. All the spectators stayed to watch, and were treated to a really good doubles, with Kyle and Jakob beating Emily and Jack by 9 games to 6. It was a really good level of tennis, and a big treat for the two juniors to team up with two of the Northants County top men players, and was an experience they will remember for a long time.
The event was staged to help give the members a chance of playing some competitive tennis in a safe environment, which was achieved. All the matches were played outdoors, and we had 18 men, and 10 ladies taking part. This event is something we will look to replicate again next year.
To watch video highlights of the day please click here.