Club
Cycle Challenge
Mon, 02 Aug 2021 00:00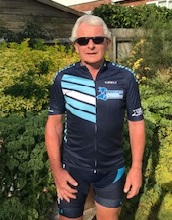 Did you know that committee member Nigel Osborne is off on a solo 200-mile cycle challenge in September? It's all in aid of the fundraising plans we have in place for the club to raise £15,000 to be able to start work on court number five!
The cycle challenge will start in Caernarfon on 17 September with Nigel wheeling his way along the coast, through Aberaeron, and reaching the club at 17:00 on Saturday 18 September. If you would like to join Nigel on the final leg – from Port Talbot to Cowbridge – then we can provide you with the details.
If you aren't much of a cyclist, then we are hoping that we can encourage as many club members and our community to join us at the club from 16:30 to cheer Nigel home and celebrate his Herculean efforts to support the fundraising cause.
What's more, 20% of the money raised from the cycle challenge will be donated to Prostate Cymru.
We have set up a JustGiving page for the new tennis court, which you can find here: www.justgiving.com/crowdfunding/cowbridge-tennis-new-court. Please show your continued support for the club by sharing this with your friends and family.
The cycle challenge will be promoted across the club social media, so if you are inclined to use Facebook or Twitter, please do give any of the posts a like / retweet.