Club
Covid-19 Update (13th May 2020)
Mon, 11 May 2020 00:00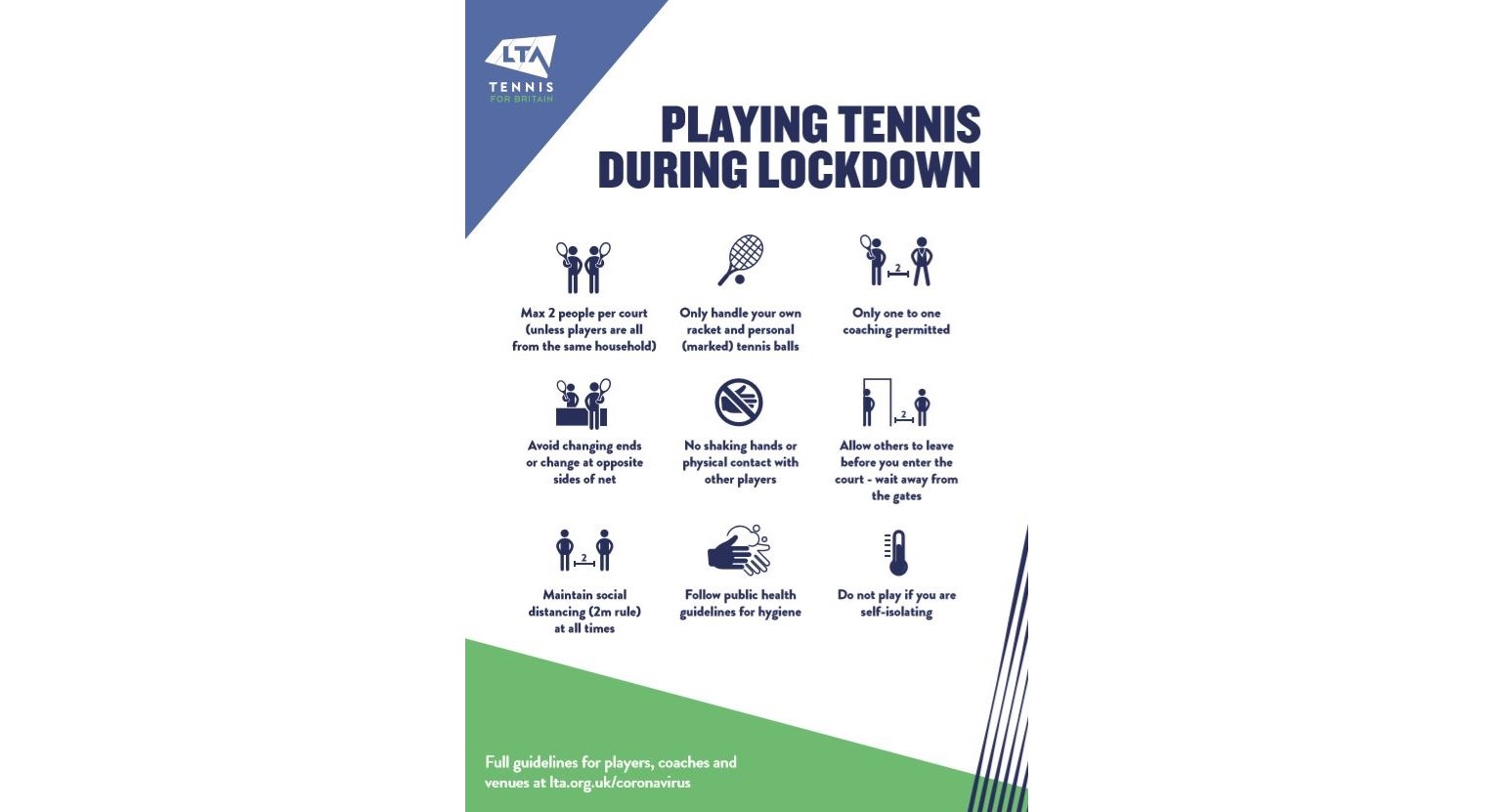 We hope you are all keeping well in these very difficult times.
It is unprecedented that our tennis club has had to close its doors for the first time as a result of the Coronovirus. Thankfully, we are now advised that we can begin to play singles only with a family member either from our own household or from one other household obviously following the social distance/hygiene rules.
We would like to share with you the agreed strategy to deal with the above. We feel it is a fair way forward for all our members.
1. The clubhouse will remain closed until government guidance indicates otherwise but the courts will be open from Wednesday.
2. Members who have paid their fees will be added to the court booking whatsapp group and given the padlock code.
3. The booking system will ensure limited numbers are at the club at any one time and members should take their own balls; gloves; sanitiser etc.
4. Consideration has been given to the membership renewal subscriptions for 2020-21 season, to both recognise those members who have already paid their full annual renewal, as well as those suffering financial hardships.
For members who have already paid their full years membership, there will be a pro-rata deduction in fees for 2021-22 season based on the number of weeks the club remains closed for tennis during the whole of the 2020-21 season.
Members who have not yet paid their fees for 2020-21, are reminded to do so now and any subsequent further club closures will be taken into consideration. This will be calculated on an individual basis and deducted from 2021-22 subscriptions, as above.
We may have to cap the deductions on 2021-2022 fees to ensure that the club remains financially stable should the club be closed for some considerable time. If indeed this is necessary we will inform all members prior to implementing.
We hope you will all appreciate that the committee is committed to keeping the club both safe and financially stable on your behalf during this period. We would like to thank everyone who has been able to pay their Membership subscription to date. Each and every member is important to us and we recognise that some members are suffering financial hardship at the moment. We do not want any member to feel that they are unable to be part of the tennis club due to financial circumstances and I would ask anyone who is temporarily experiencing difficulties to contact [email protected] in strictest confidence and we will endeavour to sort out an arrangement for you.
Please all stay safe and well and I hope to see everyone back on the courts in the not too distant future.