Racket in need of a restring?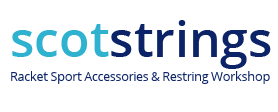 We're delighted to tell you that Dunfermline Tennis Club has appointed Scotstrings as the club's preferred racket stringer.
Scotstrings is a full-time professional racket restringing company based in Fife.
The company uses state-of-the-art electronic stringing machines, and offers a fast, reliable and highly professional service.
As members of Scotstrings' club discount scheme, we'll receive 10% discount from purchases of restrings, grips, dampeners and other racket accessories. Scotstrings will also offer an on-site restringing service during tournaments and Open Days.
You can book a restring online, by email or telephone, or just by giving the racket and restring instructions to Graeme. Scotstrings will visit the club twice each week to deliver and collect rackets. At the moment, this is arranged for Tuesdays and Fridays (late afternoon).
Check out Scotstrings' website and the poster on the club noticeboard. If you order online, remember to quote the club's discount code: CDS001.