Club
Latest Covid-19 Advice
Sat, 03 Oct 2020 00:00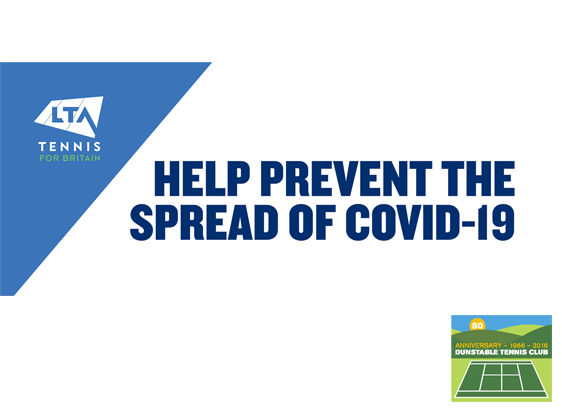 3/10/20 – Version 8
New LTA guidelines for tennis came into force from 02 October.
For Dunstable Tennis Club, the following updated guidelines apply for all members;
Face covering must be worn when entering the gate to the club grounds and should only be removed when playing tennis or when seated with your group at a table drinking.
Informal social evenings/club nights on Wednesday and Friday are suspended. The courts have been returned to bookable by members and on these evenings there will be no charge for floodlights.
The organised social sessions on Tuesday and Friday mornings along with the Winter League (alternate Sundays) can continue, with restrictions.
Coach led junior sessions on Monday evenings and Saturday mornings can continue, with restrictions.
Follow the rule of 6. In all cases when playing and socialising at the club and for parents attending junior sessions please keep to your group. Do not mix with others both before and after play. As most play is doubles stick to your group of four if you wish to socialise after play and most definitely no more than 6 and keep to the same group, do not inter-mingle or form larger groups.
Unlike previous social gathering rules, this will be law and can be enforced through a £100 fine for individuals and a £10,000 fine for the club.
For NHS track and trace, outside of organised sessions, no play can take place without the court being booked beforehand. Anyone remaining at the club after play and using the bar must sign the register or use their NHS App (a QR poster is on display). Data is kept for 21 days.
Anyone attending the club (players, coaches, staff, visitors), should undergo a pre-attendance self-assessment for any COVID-19 symptoms using the information on the NHS website before leaving home. No-one should leave home to participate in tennis if they, or someone they live with, has symptoms of COVID -19, currently recognised as any of the following:

A high temperature
A new, continuous cough
A loss of, or change to, their sense of smell or taste
Should an individual have demonstrated any such symptoms, they must follow NHS and PHE guidance on self-isolation

If you are required to self-isolate for any other reason then you should also not exercise outside your own home or garden and should not exercise with others. This includes if you have been asked to isolate by NHS Test and Trace because you are a close contact of a known COVID-19 case, or if you have returned from a travel destination not included on the Government's travel corridor list. In all these instances, you should not leave your home to play tennis.
Coached sessions for children are now possible for group sizes of no more than 15, plus coach(es). For adults, the LTA recommends no more than 12 players on one full-size tennis court and surrounding areas at any one time, to ensure social distancing can always be maintained.
Hand hygiene is imperative -use anti-bac or wipes to clean your hands after touching a shared surface (consider bringing your own)
Players do not now need to use their own clearly marked tennis balls – however, if you choose to use shared balls then extra care must be taken to ensure you do not touch your face during play, and you should clean your hands before play and immediately after finishing.
The clubhouse should always remain closed , apart from at bar opening times. Use of toilets is allowed. The Kitchen is not to be used, the water supply to the cloakrooms is drinkable.
Bookings are mandatory and are restricted to 90 minutes. A maximum of 4 x 90-minute sessions can be booked in a 7-day period up to 2 weeks in advance.
Waste paper hand drying towels should be placed in the lidded bins provided. All other rubbish should be taken home with you.
All subject to change when necessary.
The full guidance from the LTA can be found here;
https://www.lta.org.uk/about-us/tennis-news/news-and-opinion/general-news/2020/march/coronavirus-covid-19---latest-advice/