Social Tennis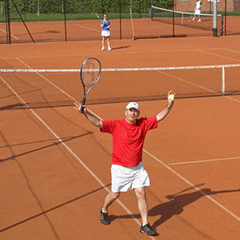 The club has 4 social tennis sessions each week. Primarily for adult members, the sessions give you a chance to meet up with other tennis members. The sessions are free but you will need to pay for light tokens if it's dark. You do not need to commit to playing every week, join in when you feel like it. The days/times are shown below. The format is doubles played in a friendly atmosphere - but don't think your tennis won't be challenged!

All sessions tend to run on doubles pairings switching after the first hour (except Friday morning which is only an hour). The doubles pairings for the Saturday and Sunday sessions are organised in advance of the session. Tuesday and Friday night sessions are a little more ad hoc but will mix up during the two hour session. For the Friday morning Doubles you stick with the same doubles partner each week and play 12 games each week against a different pair. If you don't have a partner we can find you one.
Whatsapp Groups

A number of WhatsApp groups have been set up to help organise our social tennis sessions. If you are interested in coming along to a social tennis session you will need to join the relevant WhatsApp group and indicate that you want to attend a particular session. The Saturday afternoon social group and Friday morning doubles in particular are very popular. There are 16 spaces and are run on a 'first come first served' basis. After that you will be on the 'reserve' list so you can play if someone drops out.
Pop-up Tennis: This is separate from the organised sessions above. If you want a game at any time, post a message to the Pop-Up tennis Whatsapp group and see if there are any others who want to play either Singles or Doubles.
If you would like to be added to any of the Social Tennis WhatsApp groups or you want to try out any of the social sessions and see if it's for you then please e-mail [email protected].