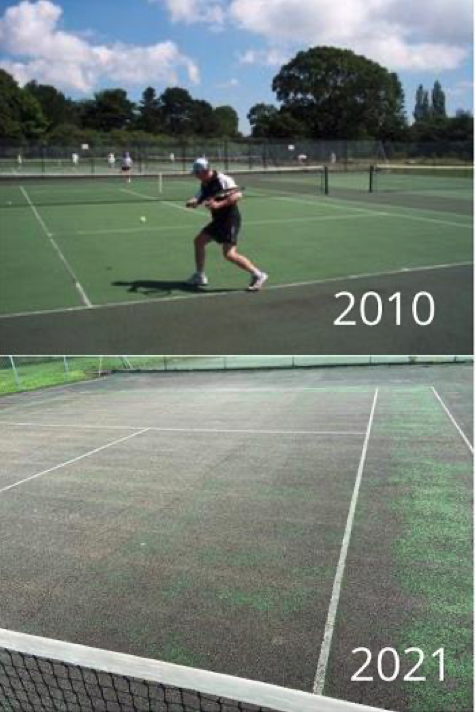 We know that many local authorities and council groups are struggling to finance the heavy maintenance costs of tennis park facilities across Wales. The 4 courts at Hawarden will need an estimated annual sinking fund of £4,800 put aside to ensure there is enough finance in place to resurface in the years to come.
We estimate that a full resurface of the tennis courts at Hawarden would be in the region of £50-£70k.

At present, 2 of the tennis courts are in extremely poor condition and the council do not currently have a budget for the tennis courts. If this continues, the courts will become unplayable and unfit for purpose and ultimately will disappear meaning that tennis is lost for the future generations of Hawarden and the community.

The Lawn Tennis Association warned 40 per cent of public tennis courts in the UK are "poor or unplayable", harming the prospects of kids taking up the sport. Emma Raducanu started off her tennis journey on a local park court with her dad. If this park court hadn't have been there would she have taken up tennis?
SOLUTION TO SAVE THE COURTS - ONCE IN A LIFETIME INVESTMENT FROM TENNIS WALES
An exciting opportunity has arisen for potential investment from both the LTA & Tennis Wales into Hawarden to grow the sport locally and to ensure long term sustainability of the courts using Gate Access technology, ClubSpark & LTA Rally.

Ultimately, Tennis Wales want to invest and help open tennis up to the local community in Hawarden, get more people playing being physically active and ensuring the long term sustainability of the tennis courts at your park

Tennis Wales want to help drive participation at Hawarden as well as improve the health and wellbeing of local people in the area. The courts at Hawarden present a real opportunity to work together and secure the long term future of tennis in the area.

It is important to note that Tennis Wales is a not-for-profit organisation and all income generated is to be reinvested into Hawarden Park to ensure the longevity of tennis facilities.
BENEFITS TO HAWARDEN
Investment into local area. Hawarden would become the first Tennis Wales In The Park site in North Wales to receive investment.

Improved Health & Wellbeing of local people

Helping to reduce anti-social behaviour

Links with local education establishments
(primary & secondary schools and higher education)

Generate income through low cost bookings and family subscriptions to develop a sinking fund to ensure the long term sustainability of the tennis facility. £39 for a full year family subsciption allowing unlimited usage, or £4.50 per hour pay and play.

FREE organised activity will be provided to local people.

Management, administration and on-going maintenance of the tennis facility provided by tennis experts (Tennis Wales)
WHAT IS THE TENNIS WALES OFFER
Invest 10k Install LTA Gate Access Technology to manage court bookings and offer low cost
family / student subscriptions all online.

Take on a licence from the council to manage the tennis facility, including covering the annual maintenance costs of £5k per year

Provide low cost playing opportunities, free
community events, school competitions, professional coaching and disability tennis

Design and install vibrant new signage (1.5k)

Work in partnership with Mike Herd Tennis to provide high quality coaching programme for all.
Free Tennis Opportunites
Free coaching sessions provided by professional coach Mike Herd

Free community open days 2-3 times per year attracting hundreds of local families. We would encourage councillor engagement at these events to create good news / PR stories for local press.

Free educational tennis roadshows to thousands of local students

We will work in partnership with Mike Herd Tennis to provide free sessions for people who have lost their jobs or are struggling with mental health issues.

Establish an LTA 'Open Court Programme' at the facility to put on specific sessions for disabled users.

Free court usage at certain times (to be discussed with the council)
Tennis Wales in the Park Opportunity
Take on a long term licence to manage tennis provision at Hawarden Park on behalf of community council.

Invest 11.5k up front to install Gate Access and new signage at the site.

We will manage all tennis court maintenance with an annual sinking fund of 4.8k pa.

Develop a ClubSpark website for the park to enable court bookings and low cost subscriptions.

Use our expert knowledge and experience to drive participation, develop large scale community events, low cost and free playing opportunities.

Reinvest income back into the facility to protect long term sustainability.
Negatives
One of the main negatives of the potential investment is no longer having free access to the courts 24/7. However if the current model stays how it is then the courts will not be here long term.

Tennis Wales are keen to offer ample opportunites for free tennis and low cost playing opportunites for the community.
Risks of not proceeding
Should the project not be supported, the venue will need to source significant investment in the future to maintain the tennis facility in the area.

The council will need to set aside £4,800 per annum to develop a sinking fund for annual court maintenance. Courts currently need to be professionally cleaned and painted to be safe to use and extend longevity of the current surface.

The courts will need resurfacing in the coming years estimated in the region of 50- 70k for a four court facility.

Court surface will continue to deteriorate with the open access currently in place with non tennis activity being undertaken on the courts.

If funding is not obtained for future maintenance there is a risk of tennis being lost to the community.
We need your help
We need the council to hear your views / thoughts. Tennis Wales put the proposal to the full council in January 2021. We are still waiting for a decision on the investment 10 months on. There is only so long that Tennis Wales will wait before they look to invest elsewhere and this opportunity would be lost. Please write to Clerk & Financial Officer - Sharron G. Jones. [email protected]