Club
COVID-19 UPDATE 12TH MAY 2020
Tue, 12 May 2020 00:00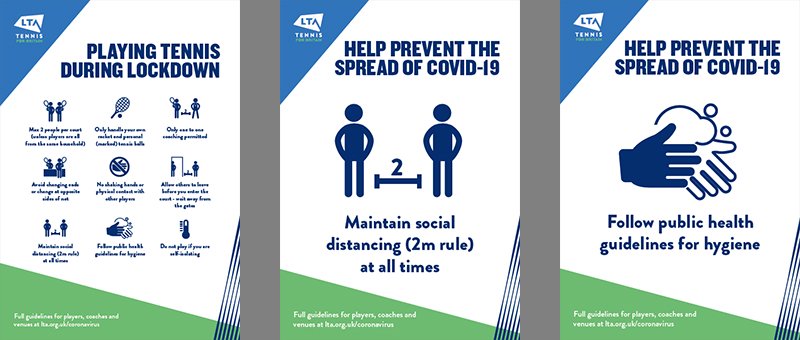 CORONAVIRUS COVID-19
As this is a rapidly evolving issue, please refer to this page regularly for the latest advice and guidance from the club.
Update 12th May 2020
It has now been agreed that tennis can start again from Thursday 14th May, but under the very strict conditions shown below. Please also read and adhere to the latest government and LTA advice (links below).
STRICT CONDITIONS OF OPENING
We want the club to remain open - it is up to you to comply, or risk closure. It is each and every individual's responsibility…..
In accordance with Government advice (https://www.gov.uk/coronavirus) and LTA guidelines to date (https://www.lta.org.uk/about-us/tennis-news/news-and-opinion/general-news/2020/march/coronavirus-covid-19---latest-advice/), & to help combat the spread of Covid-19, the following measures will be implemented at the club:
Do not come to the club, if you or anyone you have been in contact with shows symptoms of coronavirus, in particular a dry cough or high temperature

You must sanitise/wash your hands thoroughly before entering the premises
General govt. hygiene recommendation - Avoid touching your face, as the virus is transmitted through eyes, mouth and nose
Social distancing (min 2m) must be observed at all times (no shaking hands etc)
The clubhouse will remain CLOSED until further notice
Only players with an advanced booking (and their opponents) are allowed to be at the club. No spectators
Access is only by booking in advance
Singles play only, unless it's with other members of your household
Please use the court number you booked. There will only be 2 courts available to book - the remaining courts will be closed and will act as buffer zones between members of different households
Players must be mindful of the time slots. Vacate 10 minutes before the end of the session.
Bring your own balls and take them home after play
No club or group sessions, or floodlit play until further notice
Please take all rubbish home
You must sanitise/wash your hands thoroughly after leaving the club. If you develop any symptoms within 3 days of playing at the club, inform us asap.
Additional notes which must be read in conjunction with the general rules and information previously posted on the news page of our website. https://clubspark.lta.org.uk/HelsbyLTC/News/485322ed-0b92-4310-90c2-0db4c2fc938e
Who can I play with?
Singles – please note you must travel separately to the club if players are not in isolation together
Doubles only with other members of your household you are currently in isolation with.
Online booking notes
You must log on with your registered details.
Only court 1 and 3 are available to book. Should you require a mini court please book court 3.
Booking slots are for 30 minutes but a maximum of 4 slots can be booked at the same time
To allow a safety buffer for change of players, please leave the courts 10 minutes before the end of your allocated time.
At this time a maximum of 3 bookings may be made each week
Problems
If you have any problems with bookings please email [email protected] which will be regularly monitored
For urgent queries, please contact 07598 284987 or 07714 325356
In due course and when appropriate, the above conditions will be updated accordingly.
It's our club, let's show we can manage it responsibly between us!!