CORONAVIRUS COVID-19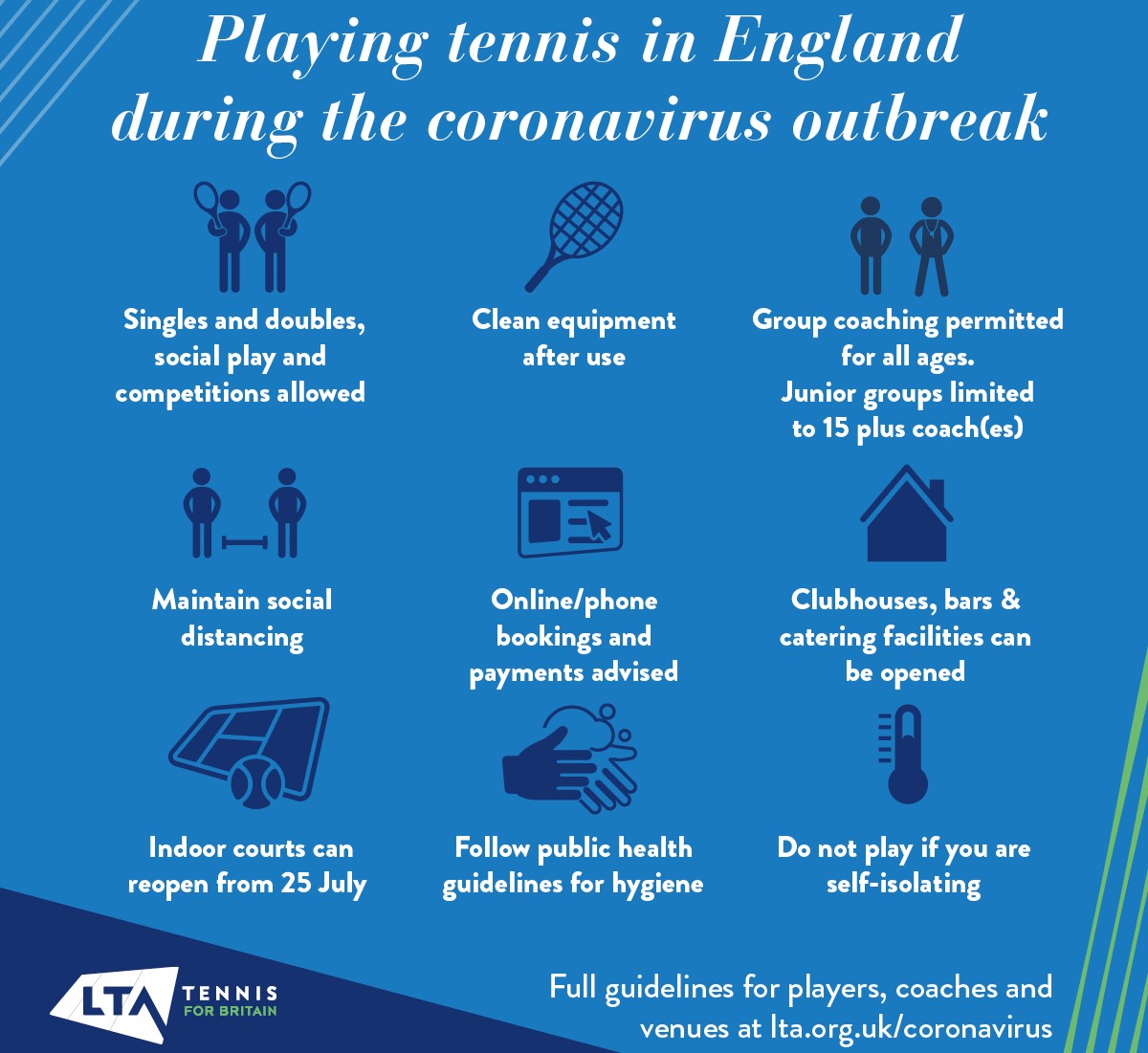 New national restrictions for England between Thursday 5 November – Wednesday 2 December mean that the Club is currently CLOSED.
You can read the latest LTA statement here: FULL STATEMENT
As this is a rapidly evolving issue, please refer to the LTA's dedicated coronavirus information page regularly for the latest advice and guidance.
We will also update this page once tennis can resume at the club.
*****************
Wednesday 13th May
It has now been agreed that tennis can start again from today, but under the very strict conditions shown below. Please also read and adhere to the latest government and LTA advice (links below).
STRICT CONDITIONS OF OPENING - UPDATED 04/09/20
We want the club to remain open - it is up to you to comply, or risk closure. It is each and every individual's responsibility…..
In accordance with Government advice (https://www.gov.uk/coronavirus) & to help combat the spread of Covid-19, the following measures will be implemented at the club:
Do not come to the club, if you or anyone you have been in contact with shows symptoms of coronavirus, in particular a dry cough or high temperature

You should read and follow the latest LTA guidance which forms part of these conditions and can be downloaded here: https://www.lta.org.uk/globalassets/news/2020/lta-guidance-for-tennis-players---covid-19.pdf
You should sanitise your hands on entering & when leaving the site.
Social distancing (min 2m) must be observed at all times (no shaking hands etc).
The clubhouse is currently open for access to the toilet only - maximum of 2 at any one time, in the Ladies & Men's. Entry through the main clubhouse door - your membership card will give you access. However the showers are out of use for the time being.
The kitchen & club room remain closed, apart from the SAS (Social Activities Squad) and coaches who are allowed access. If you need your water topping up, use the tap on the outside of the clubhouse (behind courts 9/10).
No membership card access through the gate until further notice.
Only players with an advanced booking (and their opponents), or members who have booked onto an organised session (eg. Club Night), are allowed to be at the club. No spectators (except parents of minis and juniors).
Access is ONLY by the PIN code generated by the booking. The member who has made the booking should give the booking PIN to their opponent.
EVERY person entering through the gate should use the booking PIN and then ensure the gate is closed behind them (even if someone else is waiting to enter). Do not hold or leave the gate open for anyone.
DO NOT arrive more than 15 minutes before your booking start time as your PIN will not work.
Both singles play and doubles play is now permitted with people from outside of your household, as long as you remain 2 metres apart as far as possible – meaning that four people from different households can now play doubles.
Use ONLY the court number shown on your booking - If others are using your booked court when you arrive you should politely ask them to vacate it.
Players must be mindful of the time slots (you must drag the AC courts where applicable before departure) and vacate the club promptly and safely.
Bring your own balls and take them home after play.
Please put your trash in the bins provided outside the courts and do not leave anything on court.
You must sanitise/wash your hands thoroughly after leaving the club. If you develop any symptoms within 3 days of playing at the club, inform us asap.
In due course and when appropriate, the above conditions will be updated accordingly.
It's our club, let's show we can manage it responsibly between us!!