Club
Covid-19 Update
Mon, 01 Jun 2020 00:00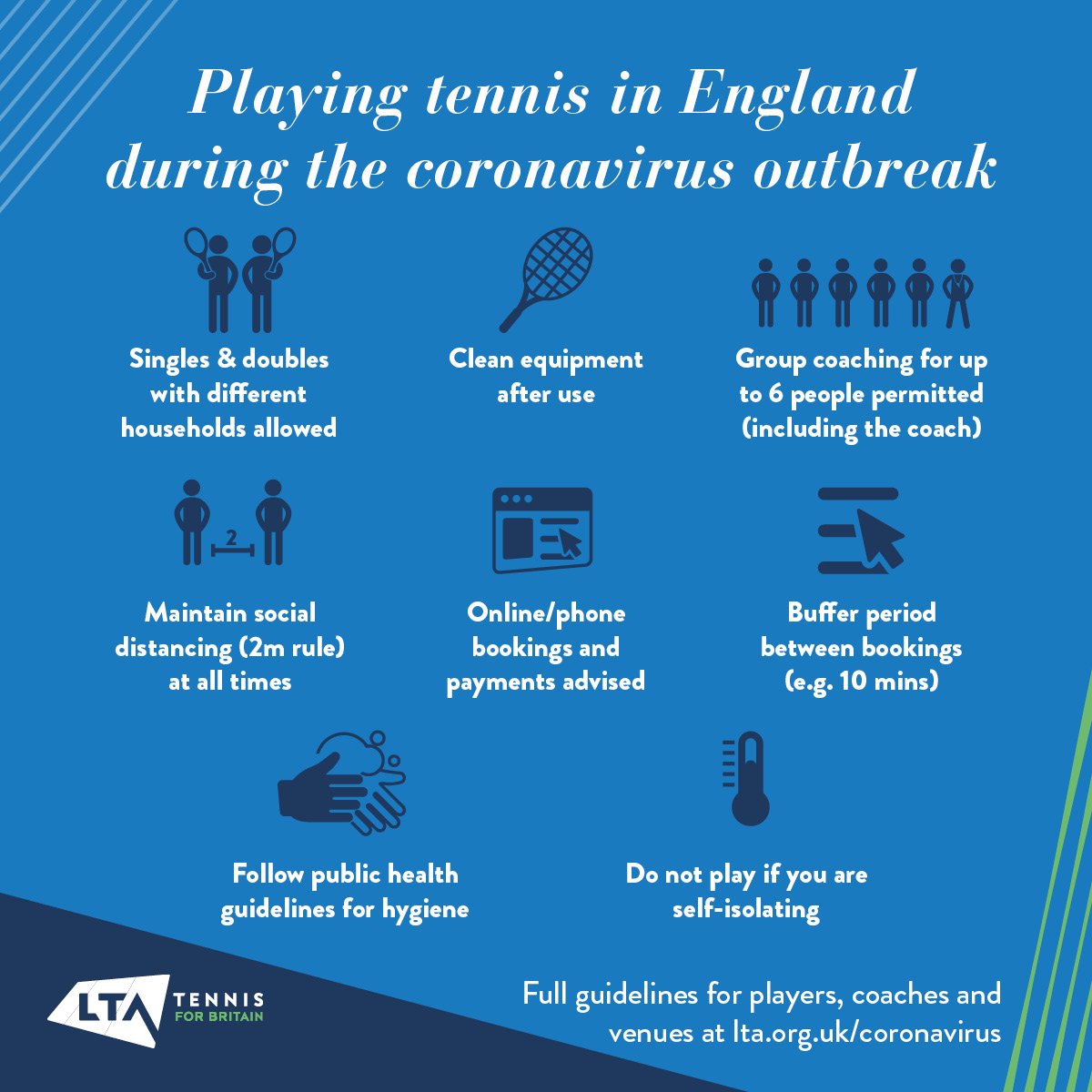 In accordance with the latest Government and LTA guidelines, we are pleased to announce that from Monday 1st June, the resumption of doubles for players from different households and small group coaching is permitted, as long as social distancing is adhered to.
We would encourage all members to read, and at all times adhere to, the LTA Guidance for Tennis Players (https://www.lta.org.uk/globalassets/news/2020/lta-guidance-for-tennis-players---covid-19.pdf).
Please note the following:
Players must adhere to the Government's social distancing guidelines at ALL times.
Courts must be pre-booked, via the KTC Clubspark booking system (https://clubspark.lta.org.uk/KnebworthTennisClub/). You will need to renew your membership to be able to book a court; the early payment discount has been extended until 30th June. Should you wish to discuss payment options please contact Simon Barfoot ([email protected] tennisclub.co.uk).
Please bring hand sanitiser with you and use it after touching any court gates, fences, benches, etc., and avoid doing so where possible.
Players do not now need to use their own clearly marked tennis balls – however, if you choose to use shared balls then extra care must be taken to ensure you do not touch your face during play, and you should clean your hands before play and immediately after finishing.
Please immediately retrieve tennis balls yourself if they go over the fence.
Please take your tennis balls home with you.
Members only, no visitors for now please, to protect our membership.
Avoid congregating on or around the court after playing to allow access for others
Players to use the pathway considerately, allowing other players to pass at a safe distance.
The clubhouse will remain closed; there will be no access to the toilet for the time being, a basic first aid kit is available in a sealed box outside the clubhouse.
Small group coaching, up to 6 people including the coach, is now permitted

We would like to stress the use of the Clubspark booking system to book all court time, without exception - this is to avoid the congregation of players and any unnecessary waiting.
If you would like to book a lesson with Dan Clegg, our new club coach, please contact him on 07816 154950. Payment will be electronic and Dan will provide the details.