Club
Covid-19 Update
Tue, 12 May 2020 00:00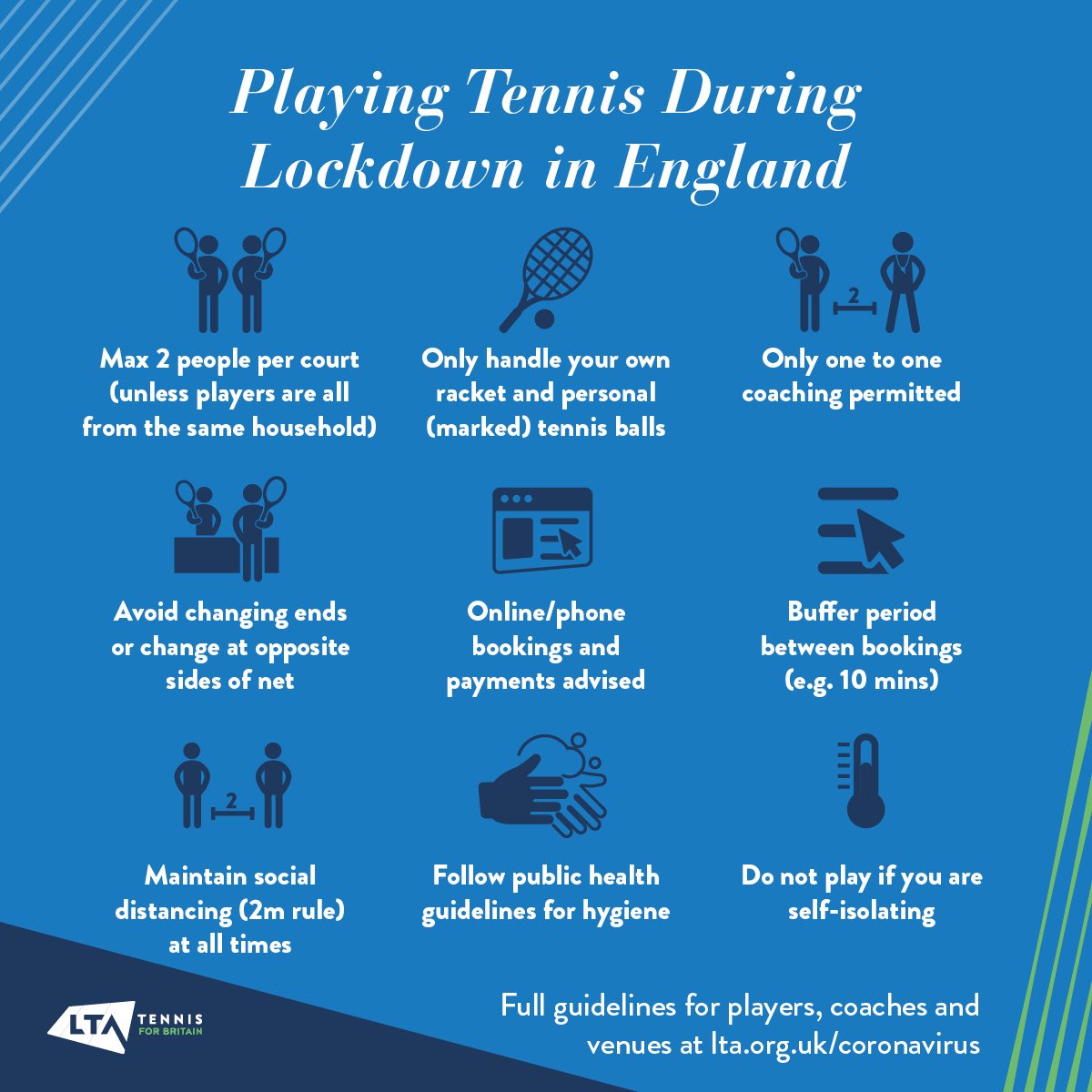 We want to allow as many members the opportunity to play tennis as soon as possible and as safely as possible and we will be following the LTA guidelines as closely as practical for our club.
Before returning to play we would encourage all members to read, and at all times adhere to, the LTA Guidance for Tennis Players (https://www.lta.org.uk/globalassets/news/2020/lta-guidance-for-tennis-players---covid-19.pdf).
In accordance with the latest Government and LTA guidelines, we are pleased to announce that from tomorrow (Wednesday 13th) the following will apply:
Players must adhere to the Government's social distancing guidelines at ALL times. This includes changing ends at opposite sides of the net.
Singles tennis only, except where players are from the same household when doubles is permitted.
Courts must be pre-booked, via the KTC Clubspark booking system (https://clubspark.lta.org.uk/KnebworthTennisClub/), to avoid any waiting players. The booking rules have been temporarily modified to enable members to book a court 7 days in advance for 1 hour time slots. You will need to renew your membership to be able to book a court; the early payment discount is still available. Should you wish to discuss payment options please contact Simon Barfoot ([email protected] tennisclub.co.uk).
Players should bring their own tennis balls which are clearly marked.
Please immediately retrieve tennis balls yourself if they go over the fence.
Please take your tennis balls home with you.
Members only, no visitors for now please, to protect our membership
No mix-in's or social tennis for now please, to minimise congregation of players.
Players to arrive at their booking time, not before, and leave the club promptly after finishing playing.
Players to use the pathway considerately, allowing other players to pass at a safe distance.
The clubhouse will remain closed; there will be no access to the toilet for the time being, a basic first aid kit will be made available in a sealed box outside the clubhouse.
Coaching will be limited to one-to-one coaching.
We would like to stress the use of the Clubspark booking system to book all court time, without exceptions - this is to avoid the congregation of players and any unnecessary waiting.
If you would like to book a lesson with Dan Clegg, our new club coach, please contact him on 07816 154950. Payment will be electronic and Dan will provide the details

We look forward to playing tennis again and we appreciate your co-operation and understanding as we move forward in a safe and considered way. We shall update this as soon as further guidance becomes available.