Tennis
COVID -19 UPDATE
The LTA have published the following advice for playersClick here
COVID -19 CLUB UPDATE
As part of the gradual easing of the lockdown, the government has announced that limited tennis can be played from Wednesday 13 May. This is what it means for our Club:

1. Singles Tennis may be played outdoors by members of the same household, and also by members of two different households.
2. Doubles may be played ONLY if all members are from the same household.
3. All courts MUST be booked through our new booking system - for more details see below.
4. Social Tennis sessions remain cancelled until further notice.
5. We are closely monitoring LTA guidance, in order to manage a safe re-opening of Club facilities.

Please continue to adhere to social distancing rules at all times.

For additional protection, hand sanitisers will be provided at both entrances to the Club, and must be used before and after playing tennis, and in particular before touching the locks and net handles.

The Clubhouse will remain out-of-bounds, except for emergency use of the toilet facilities. Hand sanitisers will be available for use before leaving the Clubhouse.

After such a long period without tennis, we're expecting there could be quite a big demand from members to play. So a court booking system has been introduced, which allows members to book courts directly online. Here's the link to the court booking page.

If you are having difficulty booking a court please send a text to either Jenny Nicol on 07507 782469, or Jane Hulley on 07989 680605. You may book up to 4 one-hour sessions in any 7 day period. Please keep the message short and be sure to include your name. You will receive a return email confirming the booking.

Just to remind you that the lock codes have changed - the new code was given in the Club brochure, which was emailed to you when you paid this year's subscription.
All courts are now looking pristine clean.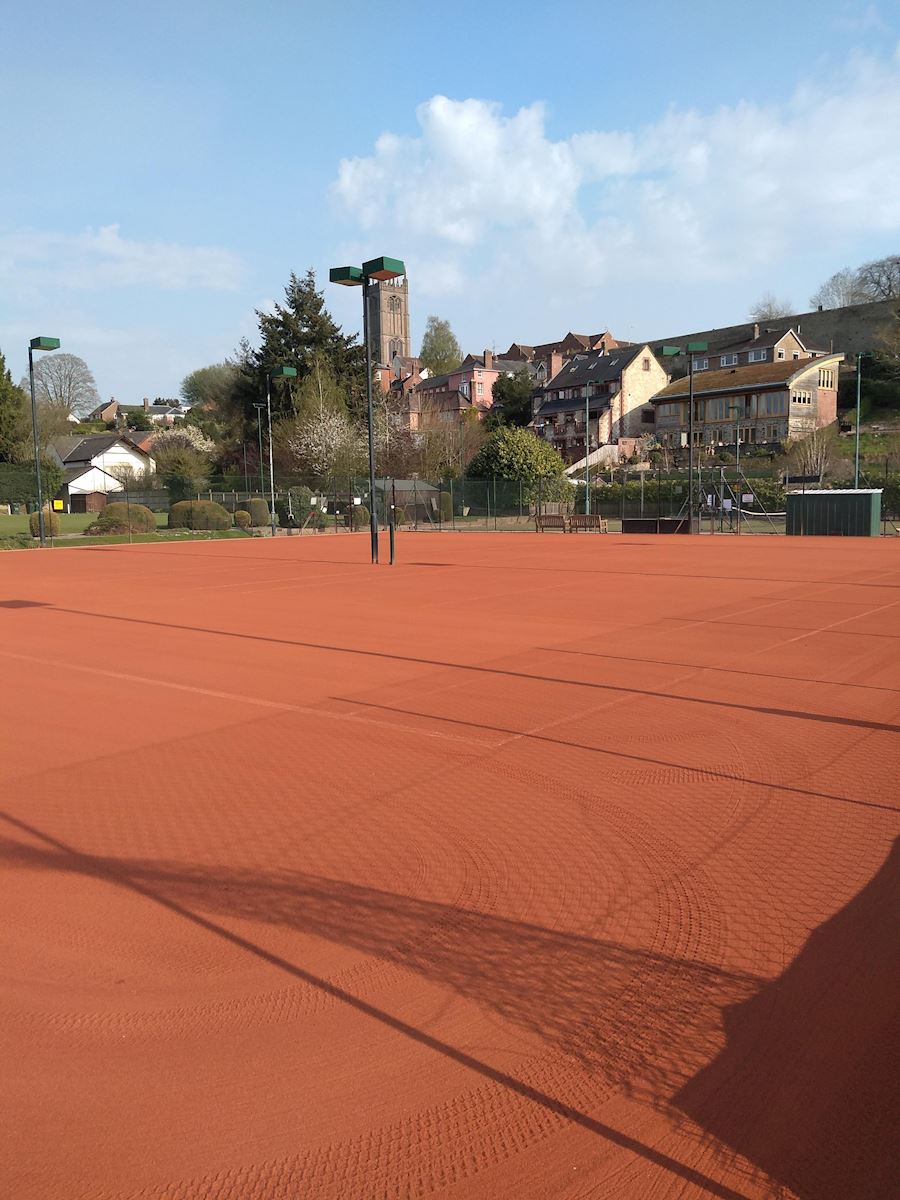 THANK YOU SPORT ENGLAND FOR A £5,000 GRANT TO HELP US MEET COSTS OF COURT CLEAN UP
New hooded club tops/sweatshirts available - click here
---
Winter Floods in Ludlow
Some photos below of the Ludlow floods taken on 16th Feb - Fire Rescue and Sandbags onTemeside, flooded courts, the Rugby Club and Tennis Club drive, bottom of Old Street , The Linney Playing fields showing rear of Rugby Club. The Club has been hit hard, but we are not alone. Rejuvenation work which was due to take place on courts 3 and 4 has had to be postponed for the time being.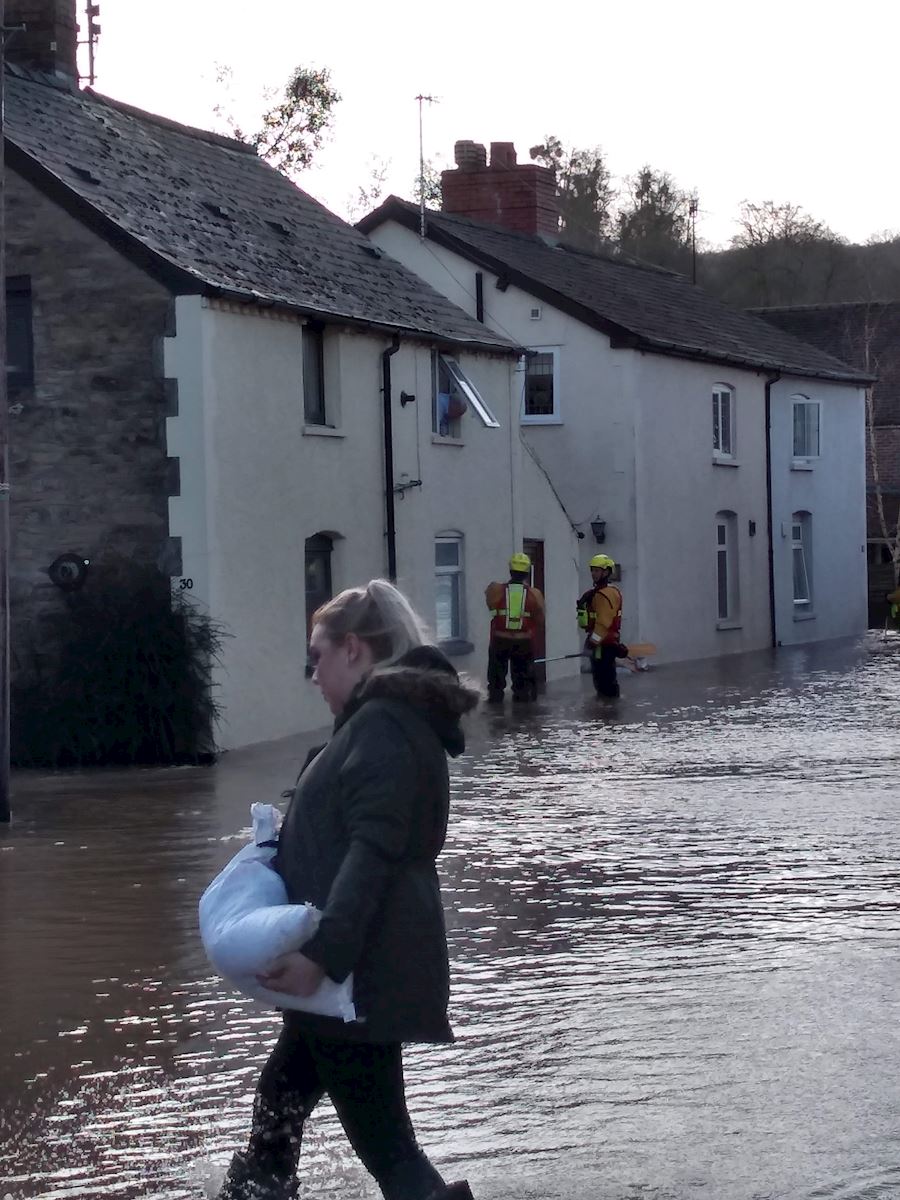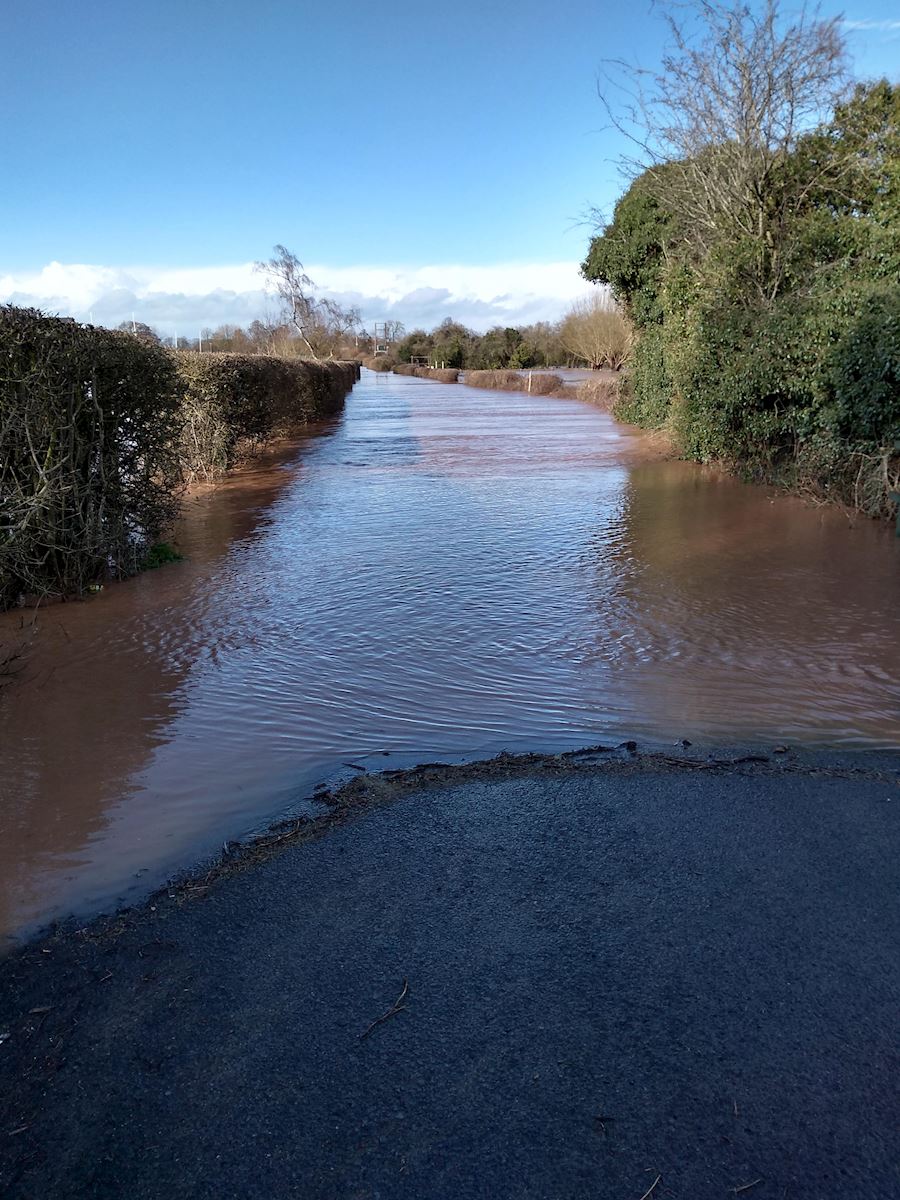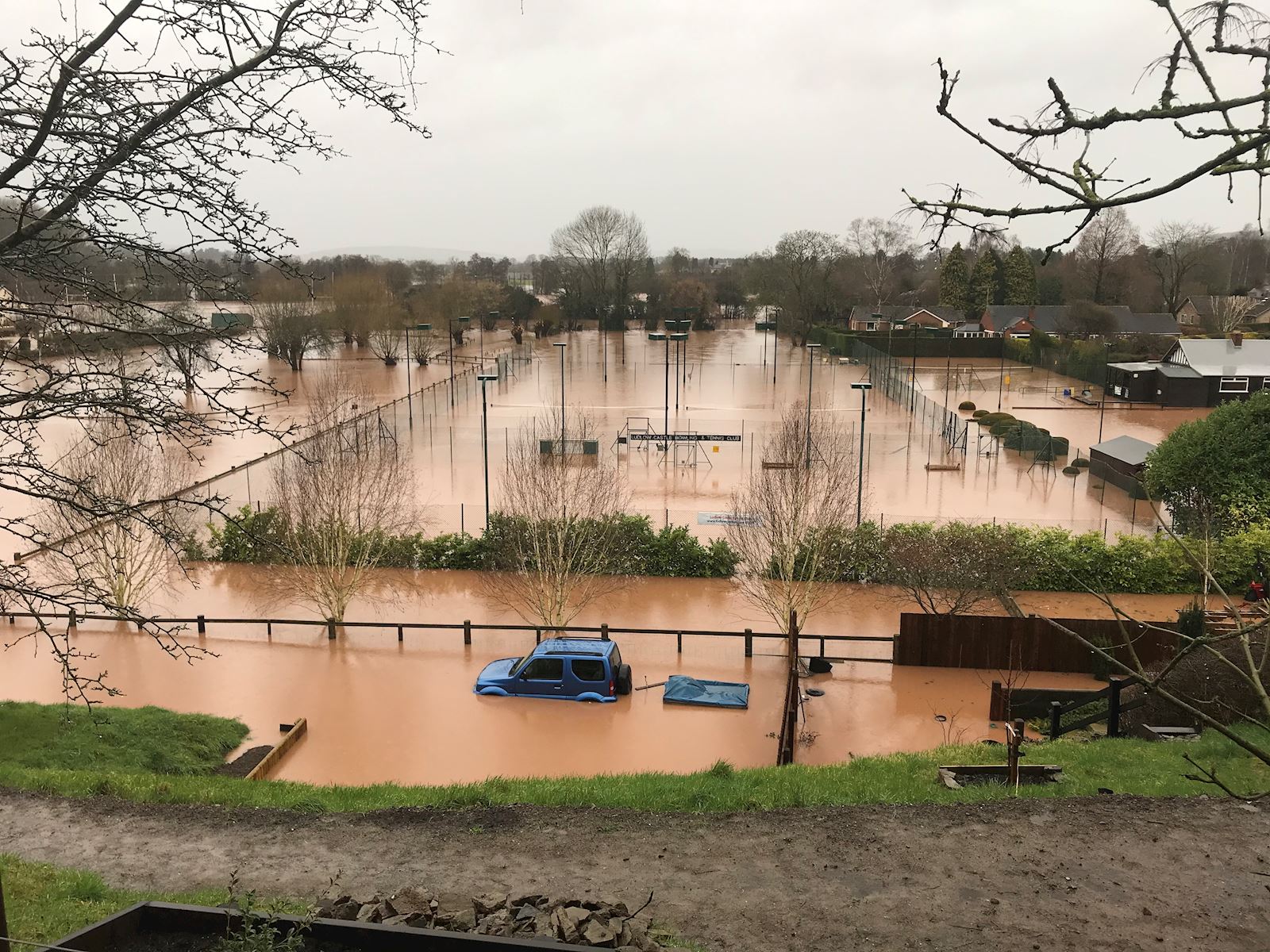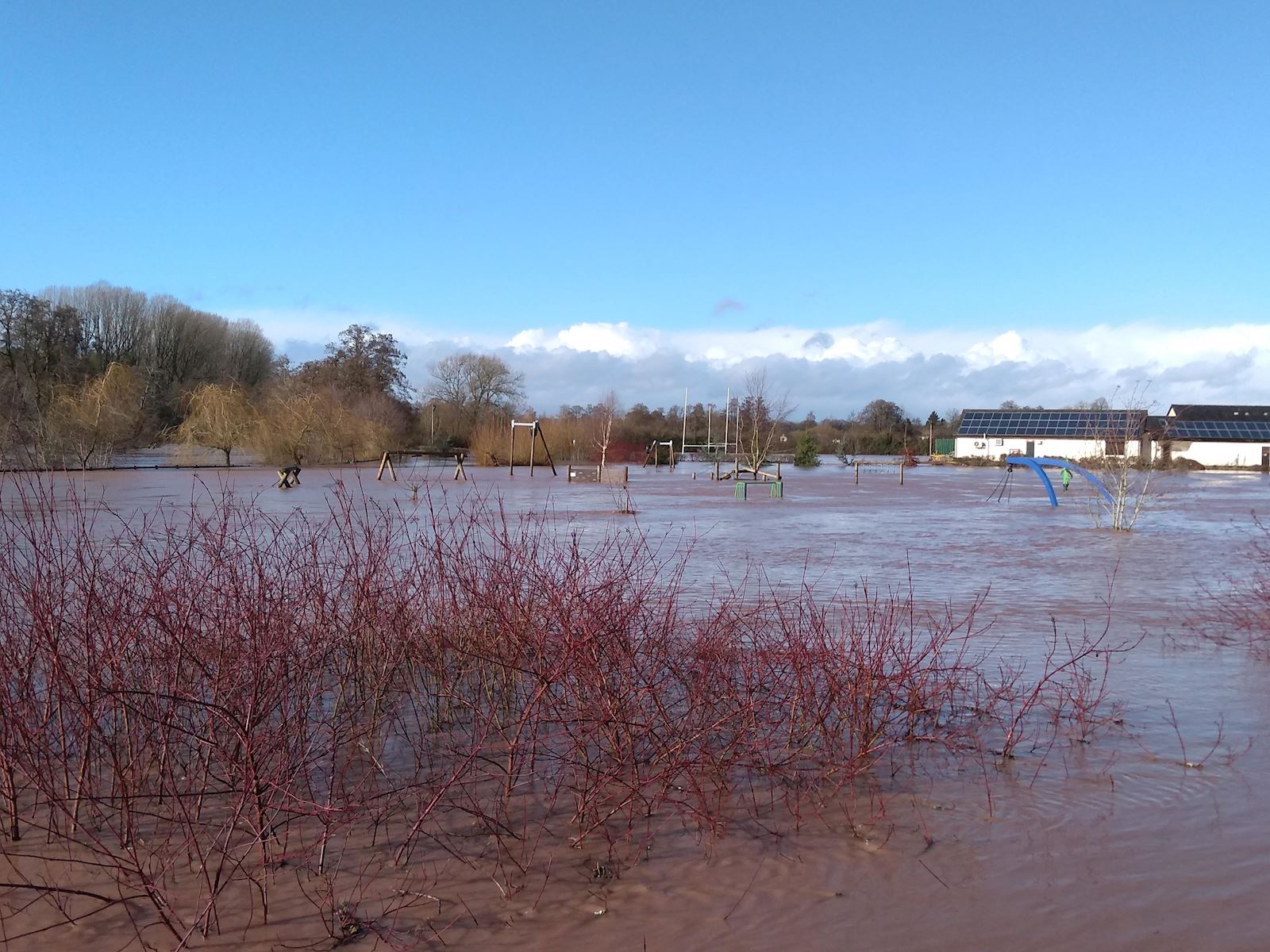 Fun Tournament - the results!
Well done to everyone involved in this year's Fun Tournament! We raised a total of £211 for the local charity Hope Support who work with young people in our area.
A special thanks to Christine Hood, who organised the whole day. And to all the 'elves' who cleared water from the courts, then hacked, swept and sweated in clearing ice during the morning. The sun shone on us in the end! The cooks and decorators did a great job, and almost all the festive food disappeared, together with the mulled wine!
Below are this year's winners, Julie Humble and Jane Hulley with the Richard Dixon Trophy and the Hope Support banner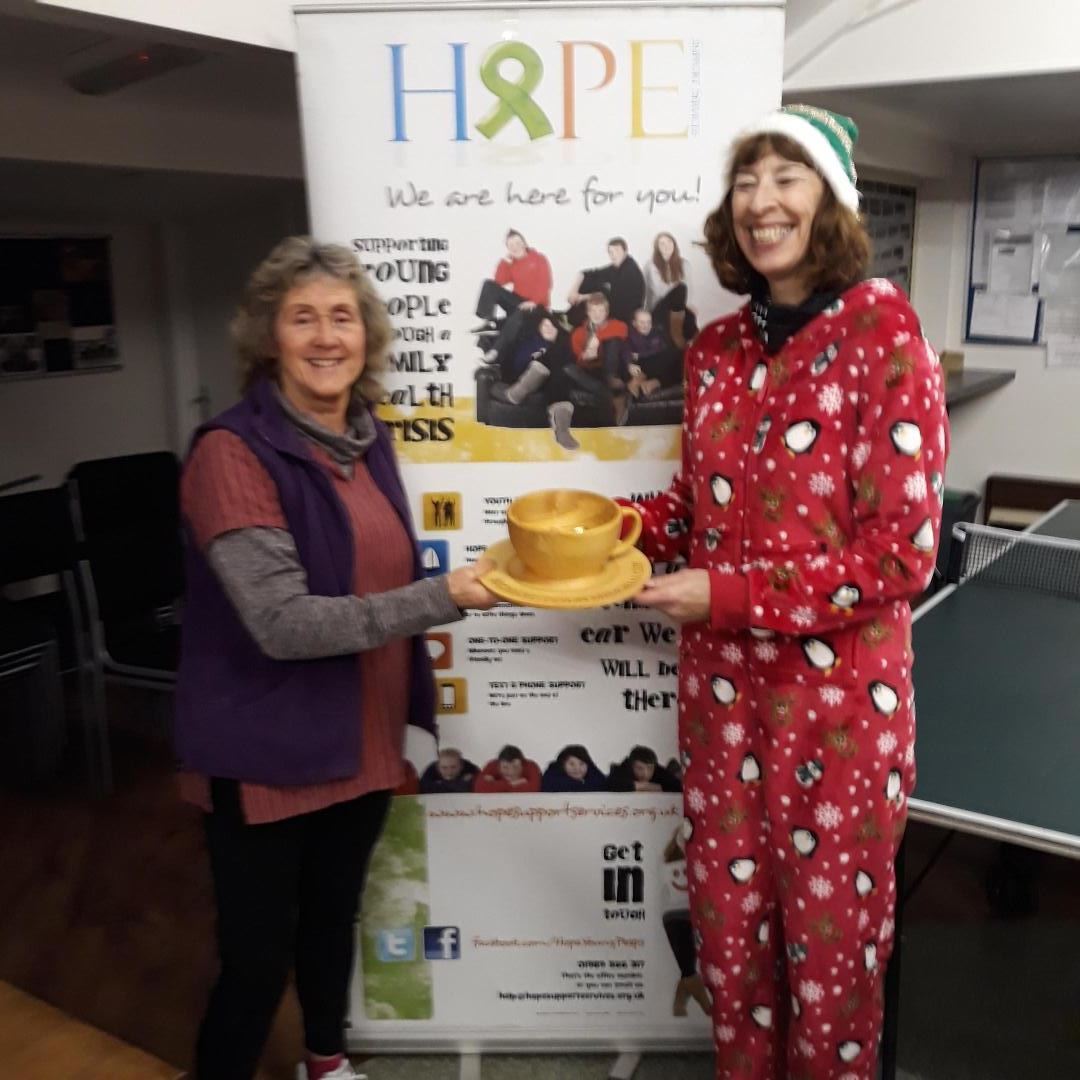 And more photos from the day: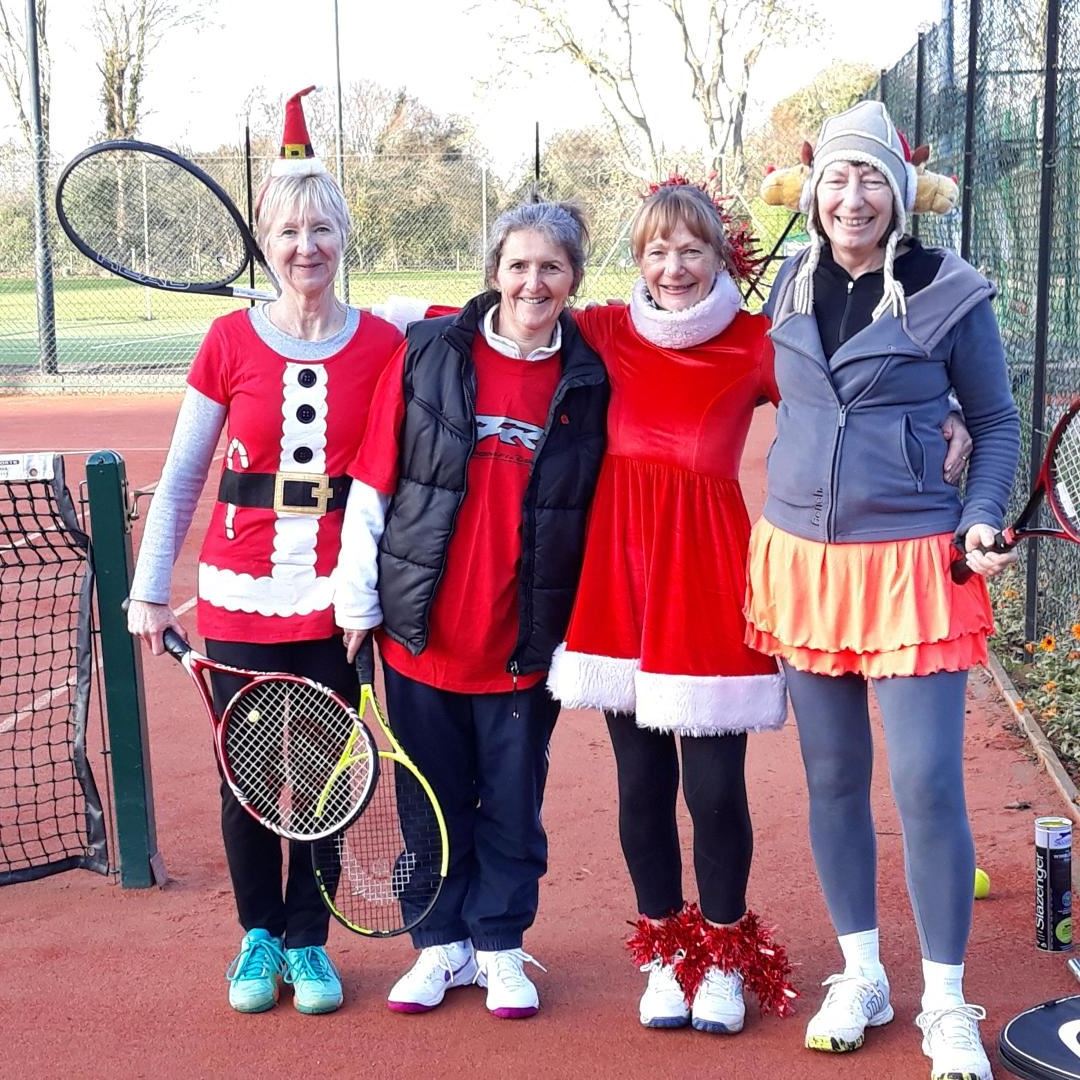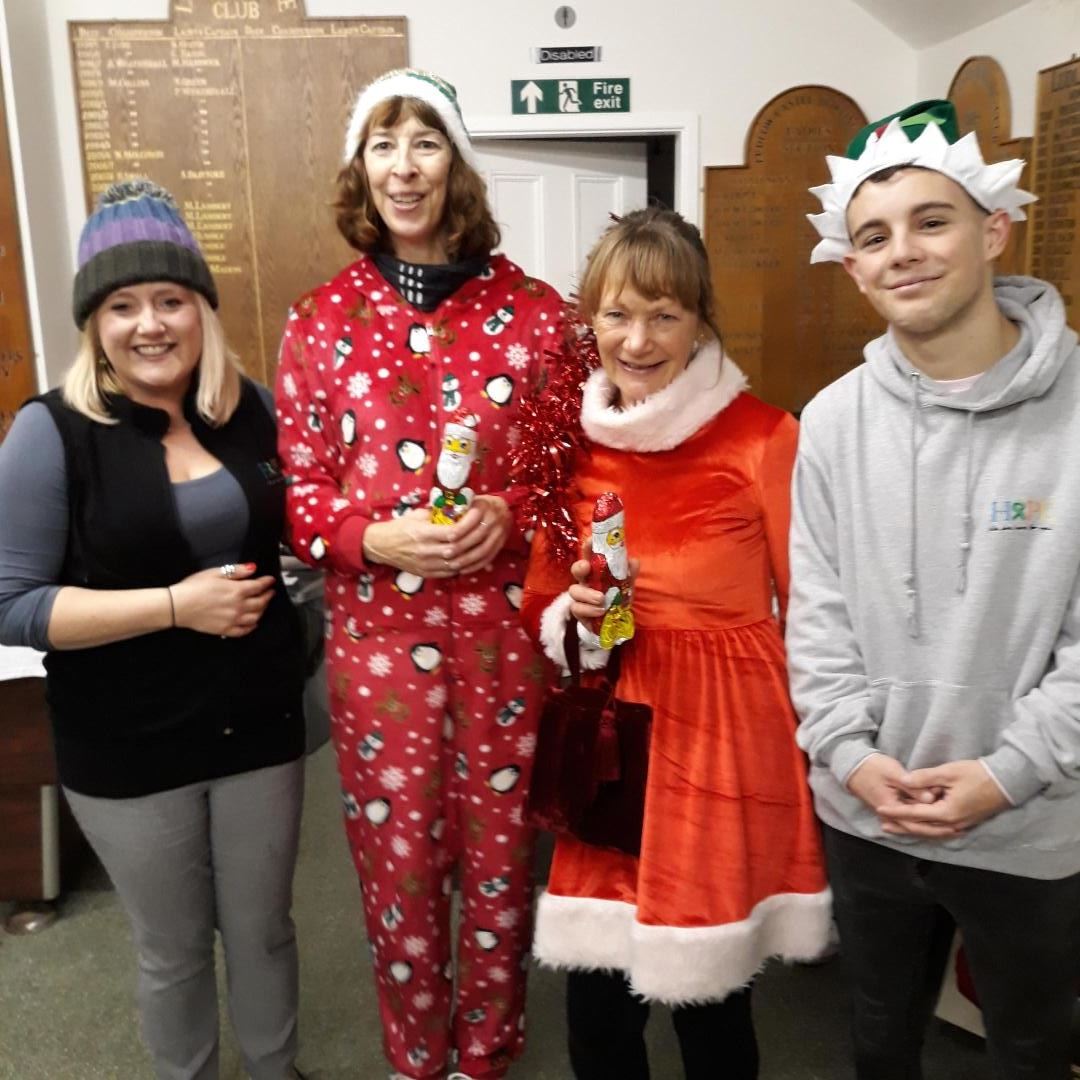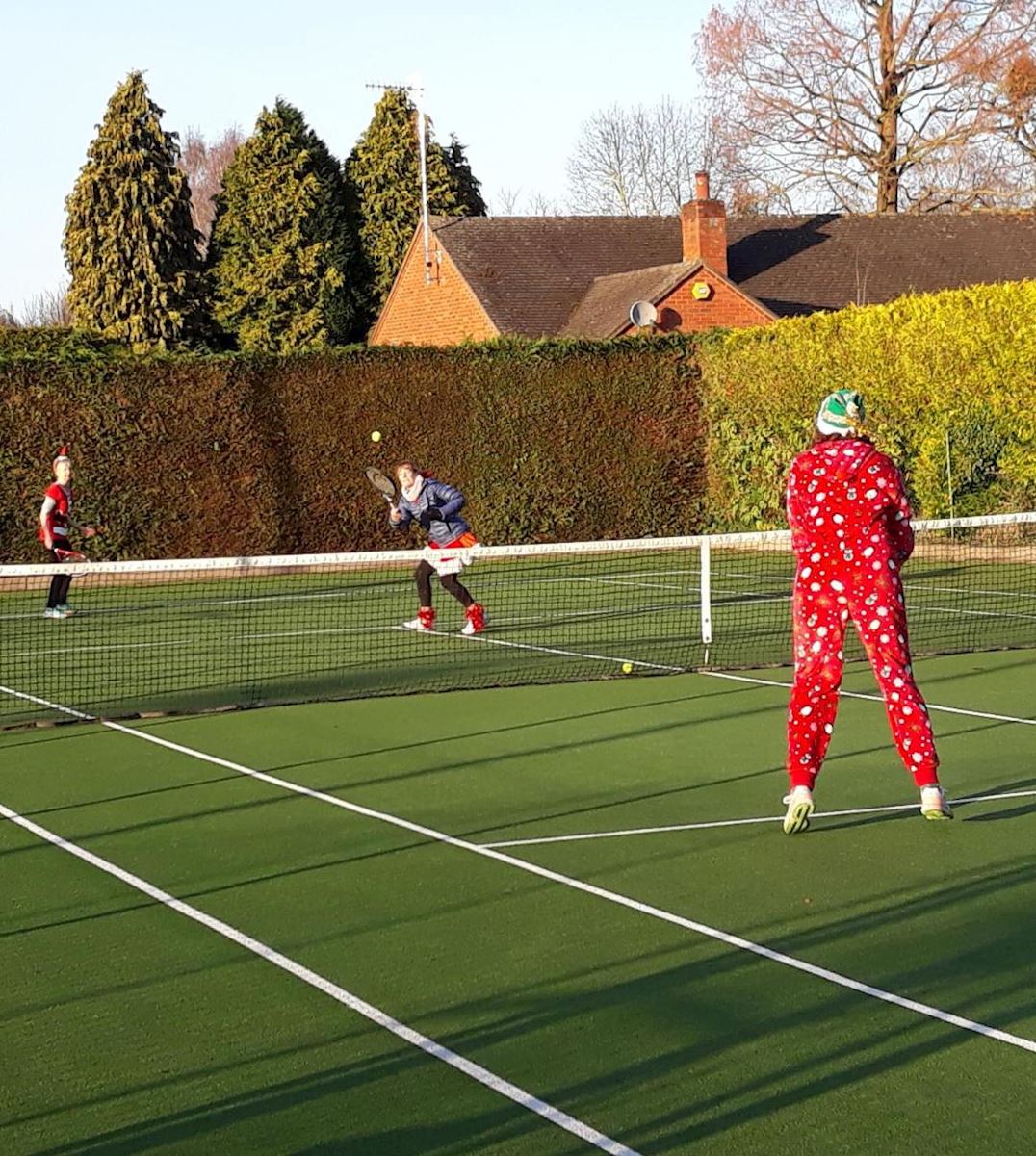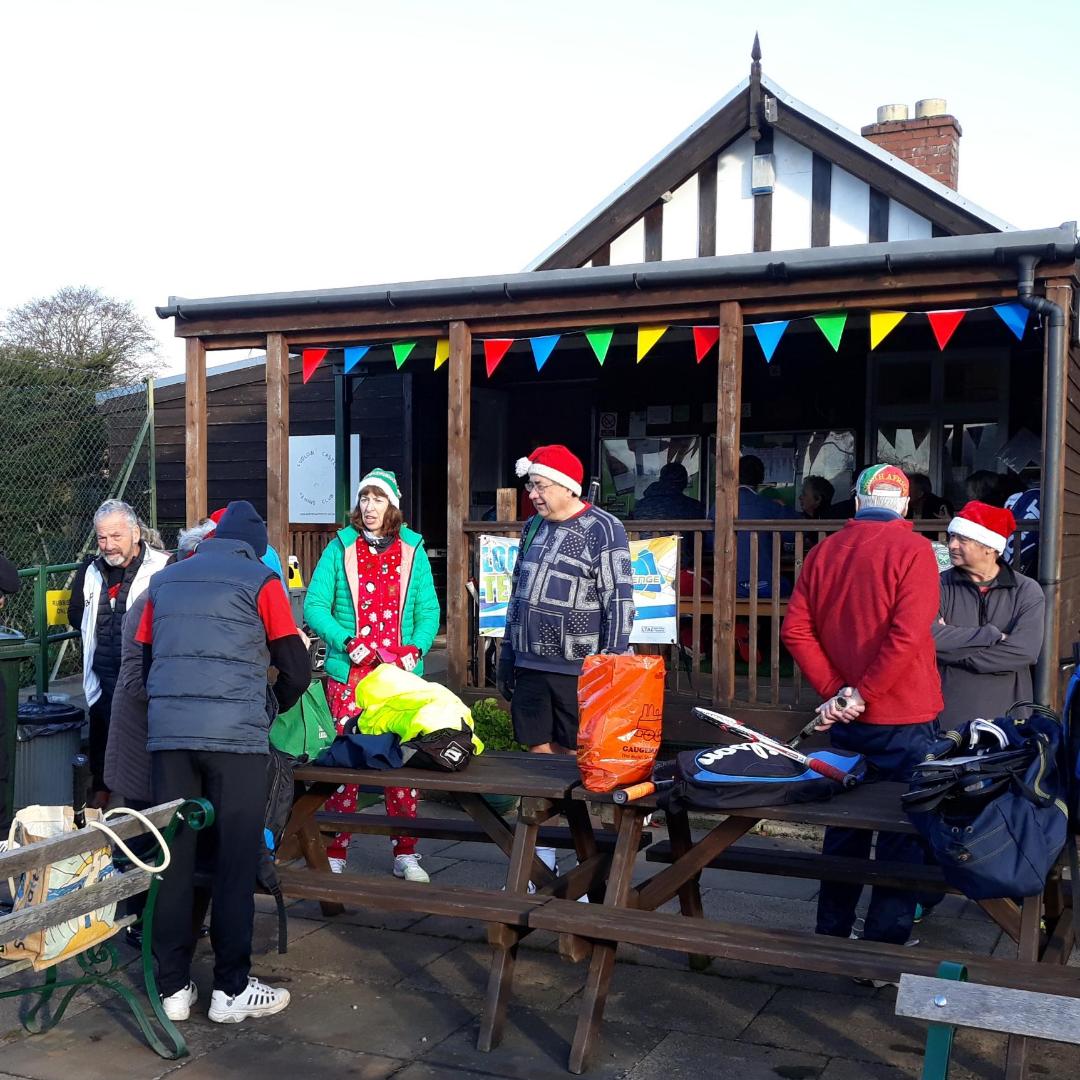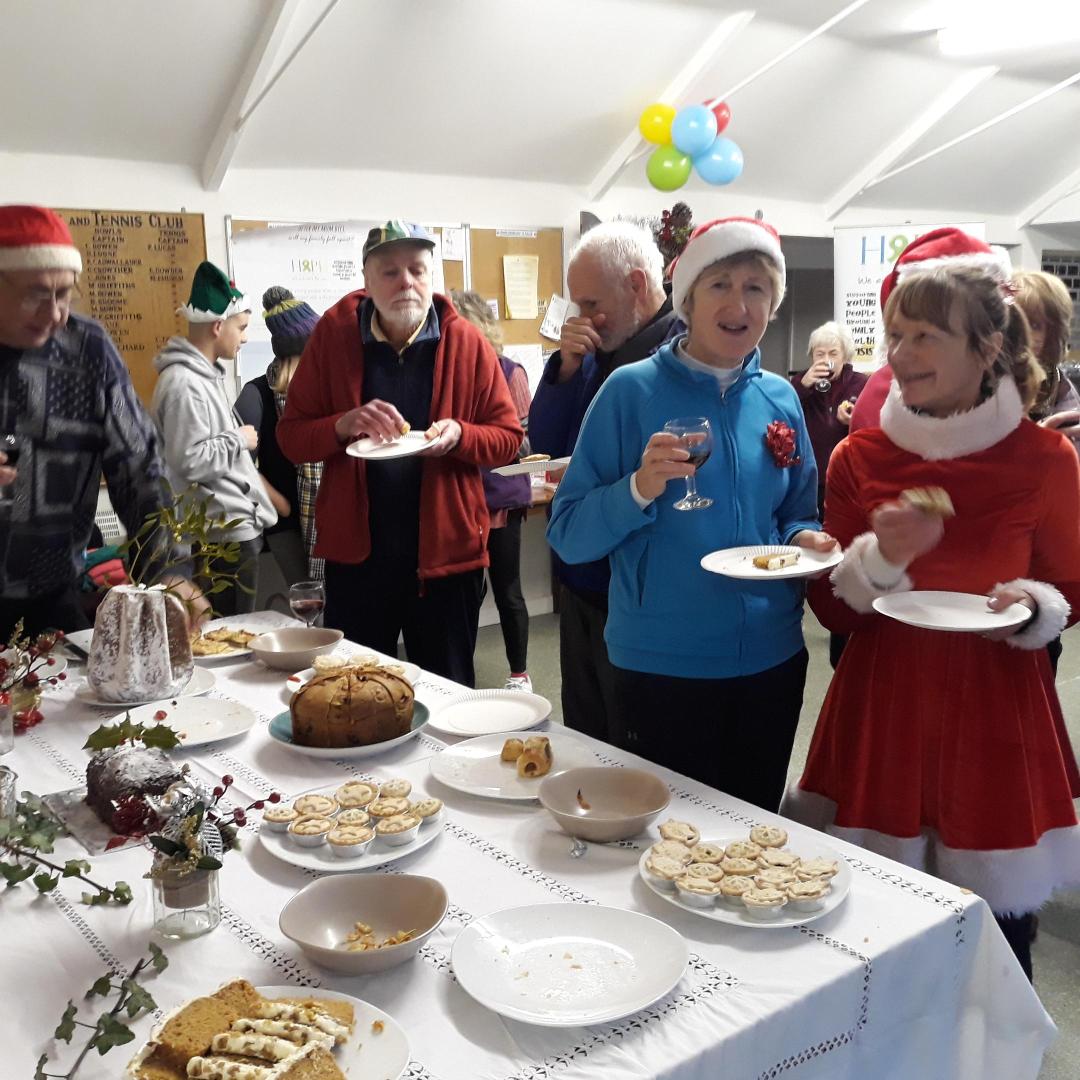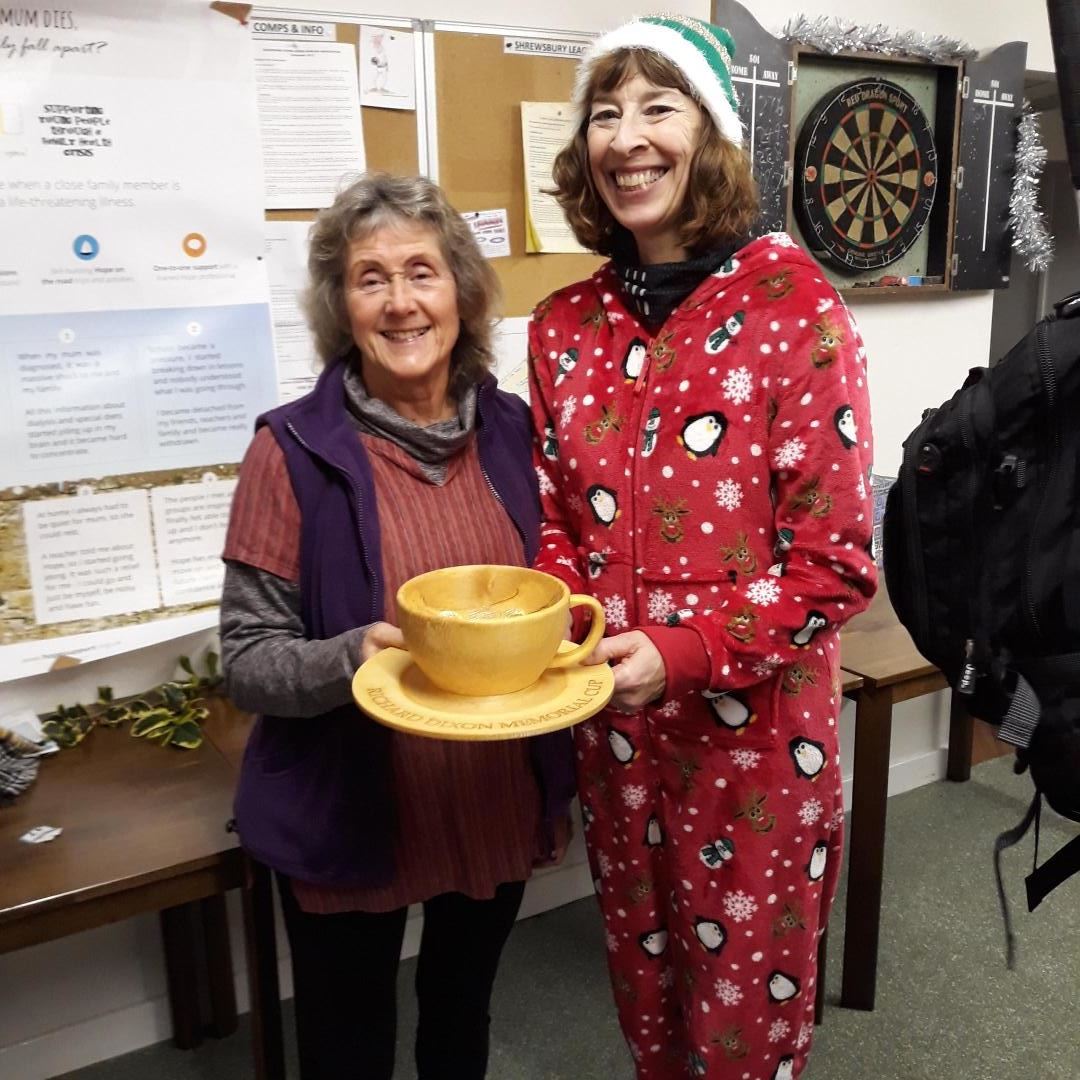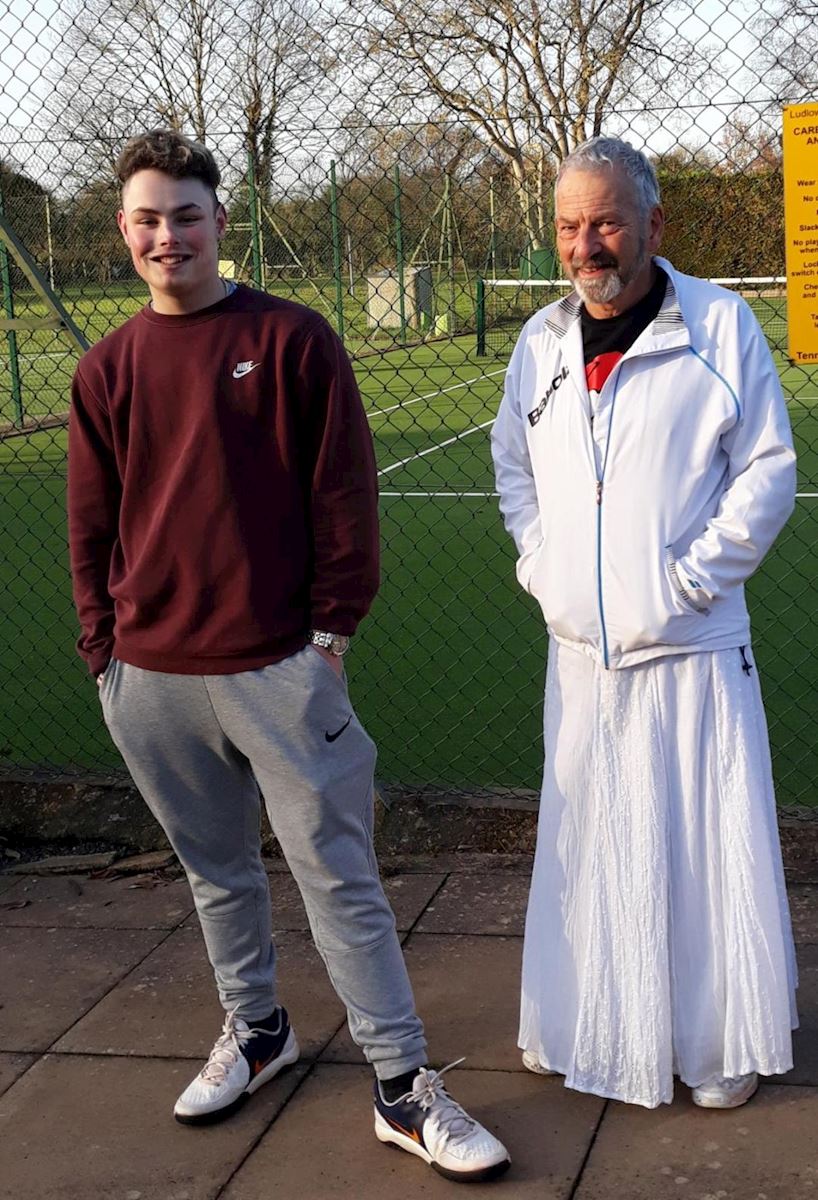 This last one is Aled Morris along with Iain Macdonald wearing his "handicap dress" to give other players a chance!
................................................................................................................................................
Ladies Social Tennis at their Christmas get-together : tea and cakes at The Green Cafe - yummy!

---
CLUB CHAMPIONSHIPS 2019 - some of our players who took part in the Club Championships earlier this year
---