Welcome to
Matchpro Tennis
Current News
Upcoming Events
Half Term Camp - Will take place at Haydon School Tuesday 28th - Friday 31st May. Bookings are now being taken on our camps page.
Touchtennis - Starts Wednesday 5th June at Haydon School. This is a great alternative to the main game, played on short courts with foam balls. Open to anyone over the age of 16. Everyone welcome! To book go to getset4tennis site www.clubspark.lta.org.uk/getset4tennis/coaching
Super Saturday - This will be held at Haydon school on Saturday 8th June. A fun afternoon of tennis games and prizes! To book go to www.clubspark.lta.org.uk/getset4tennis/coaching
Congratualtions to Anu and Shreeyansh Sarkar who won our Quorn Family Cup doubles! They will now go on to represent the club in a grass court national final!
Summer Term
We are proud to annoucne that our participation number is now 820 across schools, nursery, weekend and disability number. This is an amazong number of children and adults playing tennis through Matchpro Tennis and Get Set 4 Tennis, and we welcome the Alexandra school to our disability programme and Chesham Grammer to our school programme for the summer term.
There is still availability in some session so head over to our coaching page for more information and to book!
Wimbledon Ballot
The lucky winners of this years tickets are....................
Lisa Wildman, Adrian Ericson, William Hall, Sarah Grimshaw and Linda Wildman
I hope you all have a fantastic day!
Get Set 4 Tennis with Bright Ideas for Tennis have raised a massive £5191.39. Its an unbelievable amount and we would like to say a massive thank you to everyone who took part and gained sponsorship and for everyone who donated money!All money raised will go to the GS4 development fund for the rennovations on the Haydon School courts
Congratulations to Head Coach Jon Wildman for passing his LTA Level 4 Senior Club Coach qualification!! 🎾👏🏻
Matchpro Tennis are delighted and proud to announce we were nominated for Club of the Year 2018 for Middlesex. This is huge recognition for all our work with grass roots tennis and we would like to thank all the children, parents and coaches for their support of the programme!
AWARDS EVENING 2018 - KINDLY SPONSORED BY SILVER GLASS
This years awards evening was once again a huge success. Thank you to everyone who came and supported us. There are a few pictures posted above. If you attended the event and would like pictures of your children please contact me directly.
CHECK OUT THE GET SET 4 TENNIS WEBSITE
www.clubspark.lta.org.uk/getset4tennis
Danny Sapsford and Jocelyn Rae provide top class coaching for all! **** UPDATE
We are delighted to announce our fundrasing total for the day was £1404!! Well done and a huge thank you to everyone that participated. We are going to be involved in Bright Ideas for Tennis next fundrasing event which is a 24 hour tennis marathon in February so watch this space!
Matchpro Tennis would like to thank Louise Baker for all her hard work and wish her good luck in her new life.
Welcome to Leroy who started yesterday!
News
Matchpro Tennis are delighted to announce the launch of our inclusive tennis programme in September at Coteford Infant School. Sessions will run on two lunchtimes for all children, with the support of the Tennis Foundation.
Our snazzy racket wraps are available to purchase using the following link!
https://racketwraps.co.uk/product/matchpro-tennis2

If you have any further questions or would like to attend any of our events then please do not hesitate to contact Lisa on 02032912984.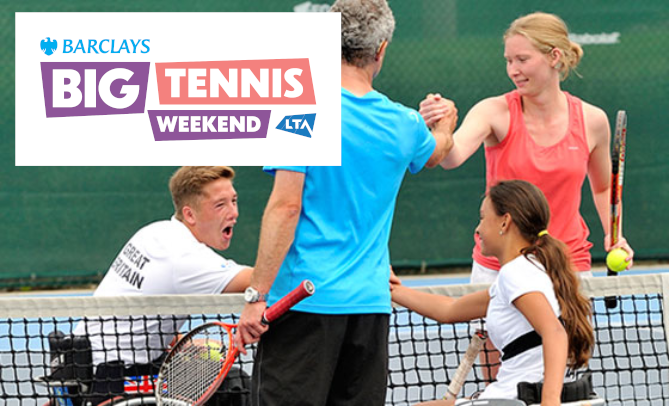 We're hosting a Nature Valley Big Tennis Weekends event!
Try tennis for free this summer at a Nature Valley Big Tennis Weekends event! Rackets and balls will be provided, so whether you've never picked up a racket before or you're a seasoned regular – there is fun to be had.
How to find us
Haydon School Wiltshire Lane PINNER Middlesex HA5 2LX