Club
Any Old Rackets?
Sat, 20 Jul 2019 00:00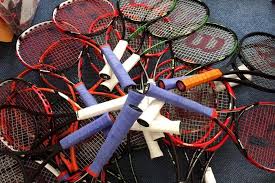 The club has a stock of spare rackets that it keeps in the clubhouse. The idea is that these rackets are kept as spares ready for members and guests to use as required.
However, the stock is dwindling.
Do you have a racket that is no longer used and gathering dust at home?
Would you consider donating it to the club?
We're looking for all size of racket – minis, juniors and adults. Mini and Junior rackets are especially sought after as they can be used by the Crossover, Family and Junior sessions when a spare racket is often required.
If you think may have a racket you can donate then please email liss.tennis@gmail.com, speak to Julie or simply leave it in the tennis cupboard in the clubhouse.
All donations really appreciated.