Coaching is offered to all levels in a structured programme by the club's resident coaches. Group coaching, for adults and juniors, takes place in organised sessions.
The junior programme is organised to comply with the National Coaching and Competition frameworks defined by the LTA. The programme covers age ranges from 4 to 18 years. This includes camps during school holidays and half term breaks.
Our spring 2019 coaching programme starts on 7 January and runs until 1 April. Download details and application form by clicking on the timetable below.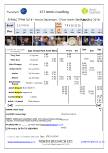 Individual lessons are also available and can be booked directly with the coaches.
For general coaching enquiries please call Peter Wright on 07776 130500 or contact him via email (peter@rightcall.co.uk).