Competition
Pensford Club Championships 2023
Wed, 20 Sep 2023 00:00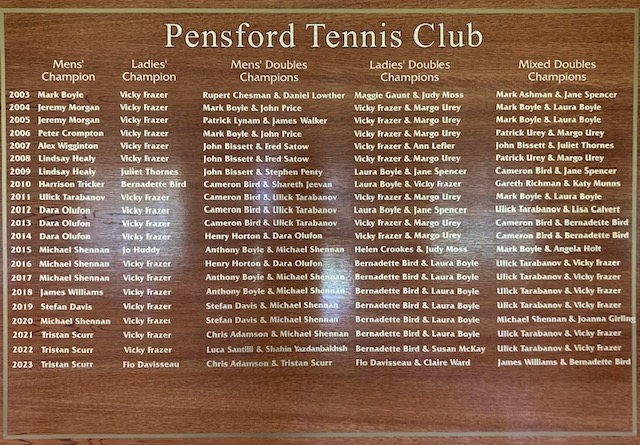 Well, another year passed and another well attended championship happened with some new names to add to the Honours board.
On Sunday 10th September, a very hot summer's day, lots of friends and family came to watch the finals of Pensford's annual club championship. Some matches lasted longer than others to decide who would have their names engraved on the board.
The day started with the juniors battling in the morning and finishing around 12.30pm, followed by the adults' matches in the heat of the day. Everyone worked hard and had a great time under the watchful eyes of Michael and the helpful umpires who volunteered on the day.
Here are the results:
Boys 14 & Under
Guilherme McGhee Beat Derin Ataoglu
6-3, 7-5
Boys 12 & Under
Kit Kroft Beat Arthur Pimenta
6-0, 6-7, 10-6
Men's Singles
Tristan Scurr Beat David Le Broussois
6-1, 6-2

Women's Singles
Florence Davisseau Beat Laura Boyle
5-7, 7-5, 6-3
Women's consolation
Jeri Journeaux Beat Nina Watson
6-2, 6-4

Men's Doubles
Tristan Scurr & Chris Adamson Beat Alejandro Puebla & Oliver Pimblett
4-6, 6-3, 6-2
Women's Doubles
Florence Davisseau & Claire Ward Beat Vicky Frazer & Ela Kaczmarska
7-5, 6-2
Mixed Doubles
James Williams & Bernadette Bird Beat Tristan Scurr & Jane Spencer
3-6, 6-2, 6-3
Men's Veterans Singles
Shahin Yazdanbakhsh Beat Mark Boyle
6-2, 6-1
Men's Veterans Doubles
Cameron Bird & Toby Barton Beat Ray Ferris & Tad Moyseowicz
6-0, 6-0