Club
Pershore Tennis Centre's amazing experience at Wimbledon
Mon, 06 Sep 2021 00:00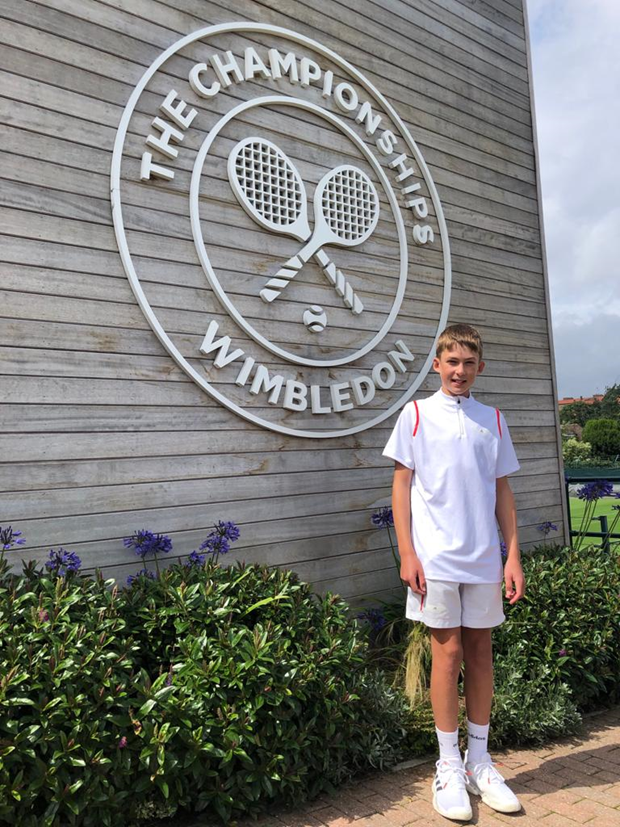 Three Pershore Tennis Centre players enjoyed a brilliant experience at Wimbledon in August.
Pershore Tennis Centre members Ruth Teale, Jack Bulbulia and Alfie Mills enjoyed a fantastic week competing against other 14&U players at The All England Lawn Tennis Club, better known as Wimbledon.
Earlier this summer, over 8000 youngsters from around the UK entered the Road to Wimbledon competition. Jack won the Herefordshire and Worcestershire County Finals so joined other talented children at Wimbledon in August, along with runners up Ruth Teale and Alfie Mills. Once there, Jack and the other players were given a glimpse into the life of a professional tennis player. Eating in the Players Restaurant, changing in the exclusive Players Locker Room and hitting shots on the finest grass courts anywhere in the world. There was even a physiotherapist on hand for the inevitable twists and sprains! And of course, it wouldn't be Wimbledon without rain delays.
Jack's Dad said: "Jack performed well, and qualified from the initial pool stages through to the knockout rounds of the singles completion, before losing to a strong opponent from Cumbria."
Reflecting on his week at Wimbledon, Jack said: "It was an absolutely amazing experience to play at the home of tennis against high quality opposition. I enjoyed every moment and can't wait to return! I'd like to thank everyone who helped me get there, including my club coaches in Pershore and the County performance coaches too. I am also grateful to East Gloucestershire and Boughton Tennis Clubs who kindly allowed me to practice on their grass courts before travelling down to London."
Pershore's Ruth Teale and Alfie Mills were both runners up in the County Finals. Ruth was invited to compete in the main event at Wimbledon and Alfie was invited to attend a coaching clinic with Tim Henman.
Steve Bauer, Head Coach at Pershore Tennis Centre, said: "The Club is extremely proud of what our local junors have achieved. Tennis has given them so many opportunites and we have enjoyed watching them develop."