Club
Pershore brothers win away
Tue, 26 Nov 2019 00:00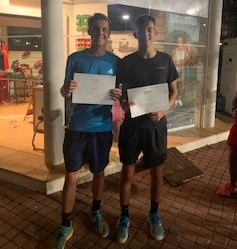 Brothers Max and Jack were joint winners at the PineCliffs Invitation only Open Tournament in Portugal, Algarve - Annabel Croft's Tennis Academy - in October half term 2019. Their prize is a return invitation to the grand final in February 2020, based in Portugal and to win entry into a iTF tournament.
Both Max and Jack Hingley are twins who train at the Club and are coached by Jazzamay Drew.
Thanks to the boys' Dad for the match report.