Club
Pershore Tennis Centre unveil new clay court
Mon, 21 Sep 2020 00:00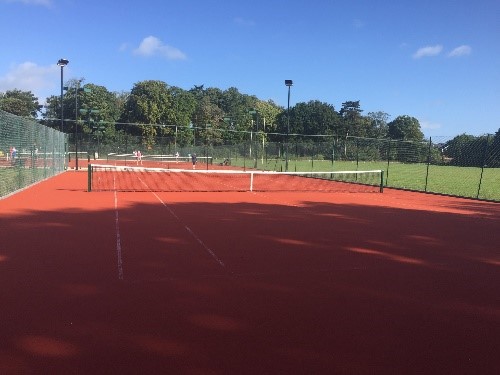 The renovation to court 5 has taken over 2 years to complete. The renovation was split into 2 parts while the necessary funds were raised. In March the LED floodlighting was installed and now the re-surfacing of the old hard court to a new artificial clay court is complete. Many thanks to club members for raising over £30,000, as well as to an £8,500 community grant from Wychavon District Council and a £1000 grant from Persimmon Homes.
This new court will add a much needed upgrade to the facilities at this very popular family club. With tennis participation up by 354% since lockdown Pershore Tennis Centre is seeing increasing demand for its courts. Pershore Indoor Tennis Centre now has 5 all-weather floodlight outdoor courts: 3 artificial clay surfaces and 2 hard courts, plus 3 indoor courts with state of the art LED lighting. Meaning tennis at Pershore truly is an all-weather, all-year round sport.
Cllr Rob Adams, Portfolio Holder for Strong Communities, Culture and Sport at Wychavon District Council, said: "We are very pleased to support Pershore Tennis Centre by providing a grant of £8,500 towards the renovation of court five. The Community Legacy Grant scheme aims to make a tangible and lasting difference to local communities. We hope residents of all ages enjoy this new addition for years to come."
Club Chair, Sarah McCormick, agrees:
"Many thanks to all the club members that have kindly donated and been involved in our fund raising efforts for the past 2 years. We are extremely proud of this new addition and are very thankful to our loyal, generous members, Wychavon Community Loans and Persimmon Homes for making our plans come to fruition. Court 5 is now a fabulous court with an artificial clay surface and brand new LED lighting. Something to which we should all be very proud of."
As seen in the Evesham Journal. and the Worcester Observer.