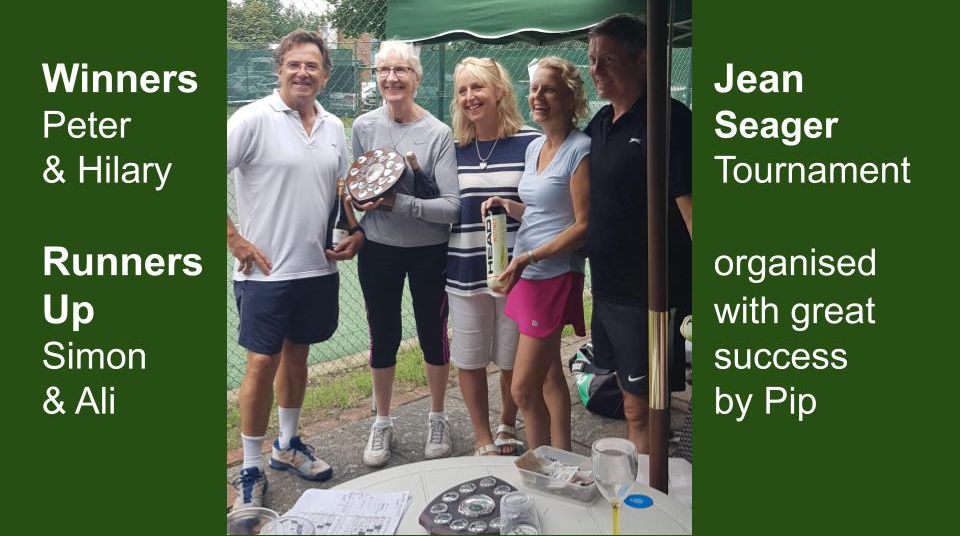 The Club runs summer tournaments for women, men and mixed categories, a one day tournament for over 45s (The Jean Seager Tournament) in the summer, and a ladies winter tournament. The club also takes part in inter-club tournaments in our district.
Summer Tournaments 2019
The Summer Tournament finalists (see above for photos) on September 22nd 2019 were:
Mixed Doubles Winners: Sarah Mee & John Rosevear. Runners-Up: Monika Driscoll & Paul Kelly
Men's Doubles Winners: Kevin & Charlie Barkham. Runners-Up: Guy Francis & Paul Kelly
Ladies' Doubles Winners: Ali Allcock & Jane Tucker. Runners-Up: Barbara Williams & Jayne Hurman
Men's Singles Winner: Charlie Barkham. Runner-Up: Greg Toynton
Jean Seager Tournament 2019
Our one day Jean Seager Tournament (over 45s) on 27th July 2019 was a great success. This was brilliantly organised by Pip Bodilly. Please see the photo on the right of the winners and runners up. Click the link below for a slide show of this event:
To enter the inter-club tournaments please contact Paul Hampson, email: [email protected]
The main banner photo above shows the finalists from the 2019 summer tournaments and the one below shows the finalists from the 2019 Jean Seager Tournament.