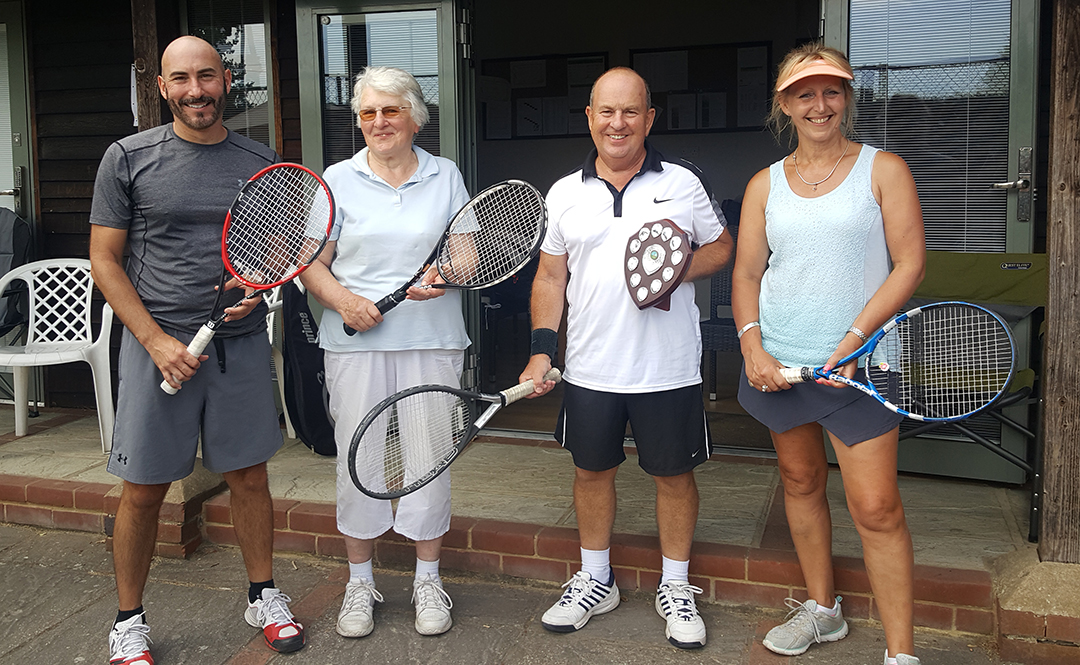 Pirbright Tennis Club runs a summer tournament for women, men and mixed categories, a one day veteran's tournament in the summer, and a ladies winter tournament. The club also takes part in inter-club tournaments in our district.
The 2018 Summer Club Tournament Finals (all except Mixed) were held on Sunday September 16th. The Mixed was held on Sunday 21st October. The results are:
Mens Singles
Nick Cobley had to withdraw the day before so Matt Armstrong stepped in being the runner up in that group.
Greg Toynton bt Matt Armstrong 6-0, 6-4
Ladies Doubles
Sarah Mee & Di Jack bt Janie Shaw & Hilary Gower 6-1, 6-3
Mens Doubles
Kevin & Charlie Barkham bt Greg Toynton & Giles Leadbetter 3-6, 6-2, 6-2
Mixed Doubles
Matt Armstrong & Emily Hirth bt Paul & Linda Kelly 6-1, 6-3
Photos of the 2018 club winners and runners up are shown in the montage above.
The Vets tournament 2018 was held on Saturday 21st July. Congratulations to the winners, Paul Kelly and Pip Bodilly who won the Jean Seager Shield and to the runners up Paul Jones and Brenda Kearsey. Please see photo (above) for the finalists and click on link below to see a short slide show of all the photos: