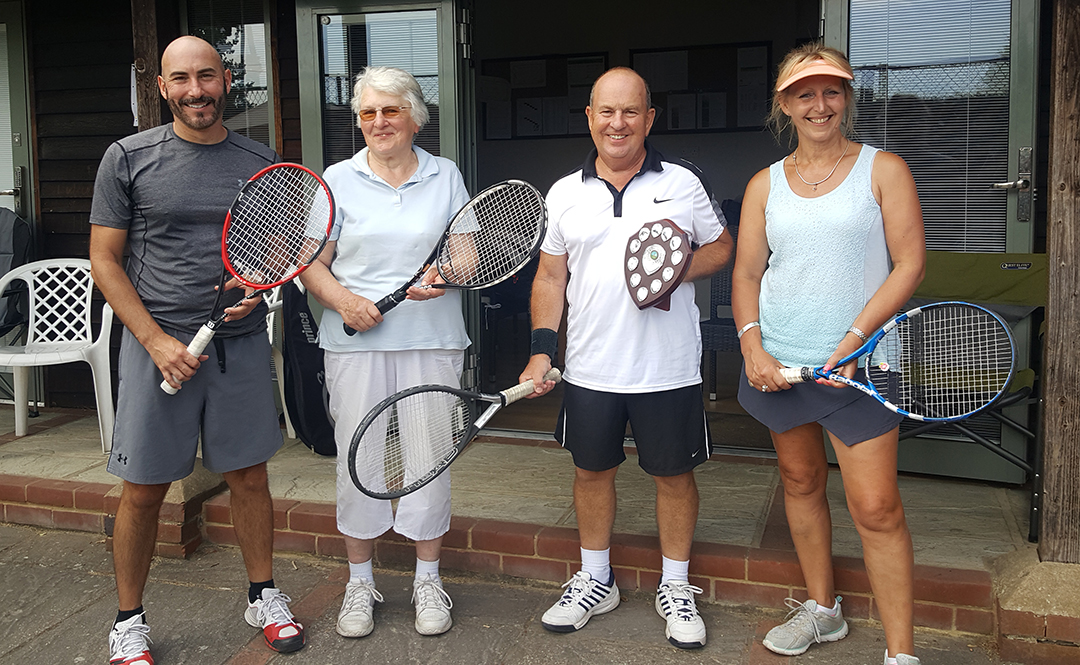 Pirbright Tennis Club runs a summer tournament for women, men and mixed categories, a one day veteran's tournament in the summer, and a ladies winter tournament. The club also takes part in inter-club tournaments in our district. Some of the 2017 club winners are shown above.
The Vets tournament 2018 was held on Saturday 21st July. Congratulations to the winners, Paul Kelly and Pip Bodilly who won the Jean Seager Shield and to the runners up Paul Jones and Brenda Kearsey. Please see photo (right) and click on link below to see a short slide show of all the photos:
For the Tournament Invitation entry form:
2018 tournament invitation entry form
For the Tournament rules click
2018 tournament rules
Please contact Paul Kelly: pkelly_whiterabbits@sky.com or phone: 01483 481713 mobile: 07748 303996 if you would like to enter any of these Tournaments by May 1st or Hilary Gower (Ladies Tournaments only): hilarygower@hotmail.com or phone: 07866 789128.
To enter Ladies and Mixed League Teams: call Paula Dowie 07742 444861 or Men's call Paul Hampson 07760 197222 for more information.
To enter the Sunday American Tournament on 20th May at 12.30pm contact Paul Kelly (details above). Click here for more details.
To enter the Veterans Tournament on Saturday 21st July please contact Gerry Davis: gerrydavis@ntlworld.com