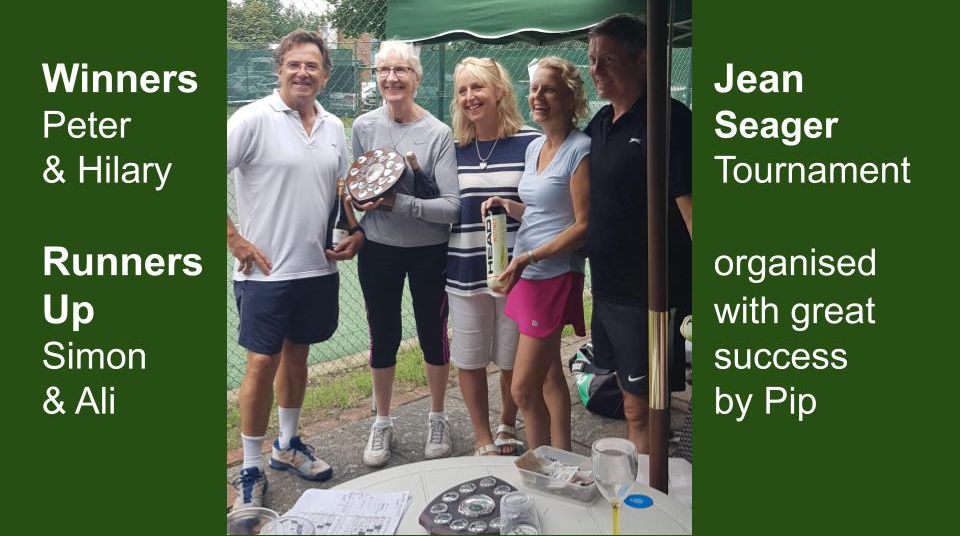 The Club runs summer tournaments for women, men and mixed categories, a one day tournament for over 45s (The Jean Seager Tournament) in the summer, and a ladies winter tournament. The club also takes part in inter-club tournaments in our district.
This summer's tournaments are currently being played. The finals will be on Sunday 22nd September 2019. All are welcome to come and watch. There will be a BBQ from 12.30pm and tea and cakes from 3pm.
Our one day Jean Seager Tournament (over 45s) on 27th July 2019 was a great success. This was brilliantly organised by Pip Bodilly. Please see the photo on the right of the winners and runners up. Click the link below for a slide show of this event:
To enter the inter-club tournaments please contact Paul Hampson, email: paul.hampson8@gmail.com
The main banner photo above shows the finalists from the 2018 summer tournaments and the one below shows the finalists from the 2018 Jean Seager Tournament.