SHTC Adult Programme
These are "drop-in" sessions which it means you don't need to commit for a term or weeks paying in advance, you can attend them whenever you want with no attachments and pay at the end of it.
In these trainnings you can expect to receive instructions on amongst other things: technique, footwork, positioning and tactics as well as enjoying drills and match play. The sessions are usually 1.30 hours long depending on the numbers, 4 or more players the sessions will last 1.30 hours and the price will be £15, if 3 players or less the sessions will last 1 hour and the price will be £15.
Non-members can attend 2 sessions after which time you would be expected to take out a coaching membership.
Please note the coaching team use 'whatsapp' to communicate with all players who attend group sessions. So please download this app and 'register' your interest so we can keep you informed of class changes, cancelations and so on.
Monday morning doubles – 10.00am to 11.30am
Monday Cardio Tennis - 7.00pm to 8.00pm
Wednesday Coffee ladies session - 10.00am to 11.00am
Thursday evening Performance– 7.00pm to 8.30pm
Friday evening beginners – 7.00pm to 8.00pm
Saturday afternoon advanced – 12.30pm to 2.00pm
Sunday morning false beginner / intermediate - 11.00am to 12.00pm
Adult Programme Schedule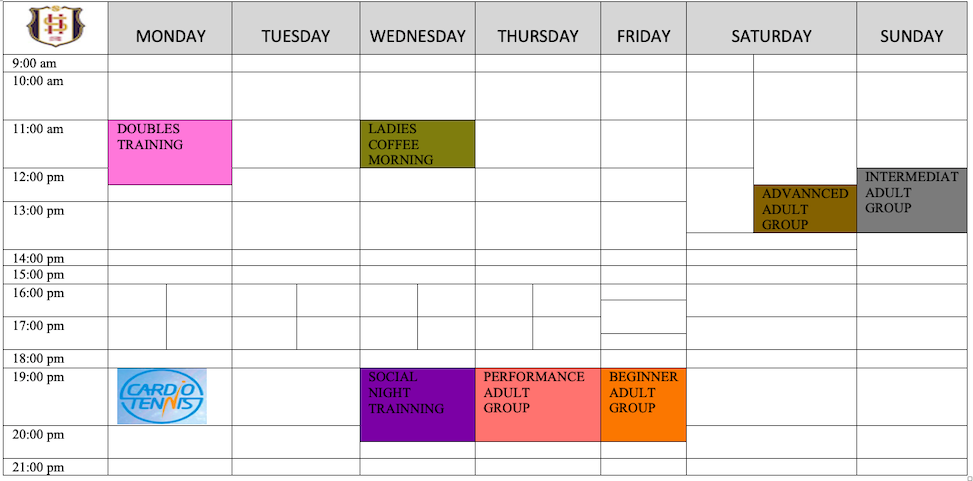 For further information on the above, or to check availability, please contact our coach Eladi on 07760 662119.