The saga of the broken fencing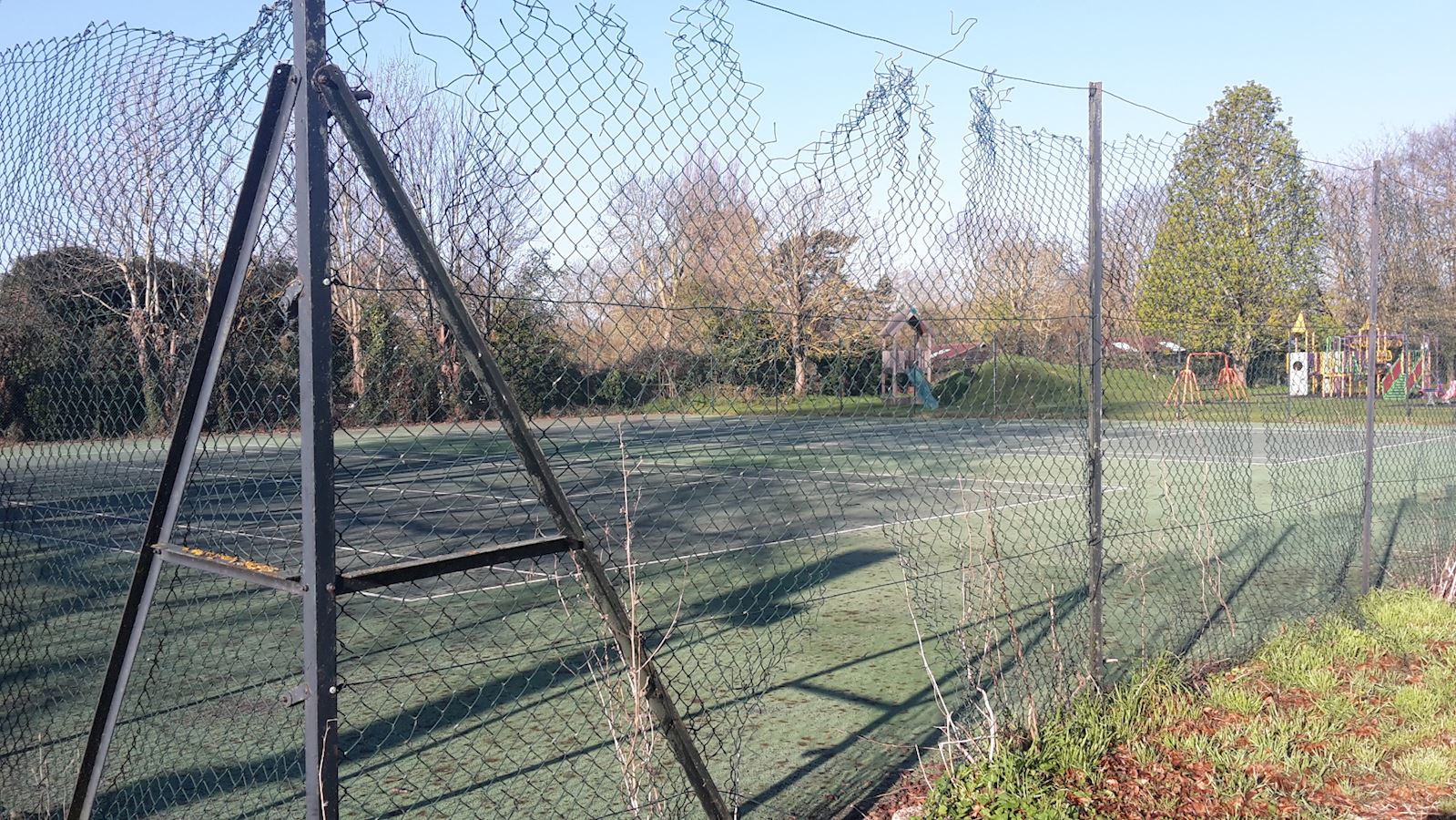 In early April 2020 (after removing the posts and nets without first consulting the club as tenants), the Parish Council wrote to advise of their intention to remove the front part of the courts' fence, citing a "health and safety risk". There used to be a Lleylandii hedge all along this side, which had become much loathed by most tennis players - "the ball-eating monster hedge"! - and had grown through the fence itself, causing damage. After years of debate about what to do with this hedge, the Parish Council finally paid to have it removed in January 2017. As predicted, the remaining fence was in a very poor state, and within weeks Storm Doris came along to add insult to injury. Some propping up and patching of holes then took place. In a June 2017 meeting between the club and the council, we minuted:
| | | |
| --- | --- | --- |
| 3. Fences | Urgently need repairing as one side is currently a danger. It was agreed that the PC would repair the side where the hedge was removed ASAP even if it means putting a temporary fence in place (if the space and boundaries are to change). The PC has started getting quotes on this. | Action: [PC Chairman] |
Throughout the rest of 2017, no lasting repair was made to this fence. So, in the Spring of 2018 the Committee decided we should just get that part repaired ourselves, prior to the main playing season. We found a contractor able to do this at a reasonable cost (a tennis court maintence specialist whom we'd used before for cleaning the courts), and booked them in to make the repairs prior to cleaning the courts; the Club-funded fence repair would have been completed on 25th May 2018, in time for the summer half-term holidays. As responsible tenants, we informed our landlord the Parish Council of our plan and sought their blessing. However, instead of just letting this urgent work go ahead (which would have been paid for in full by the club), the Parish Council Chairman insisted on discussing it at a full meeting of the council, and then at that meeting it was decided that they wanted the whole fence replaced, taking an action on themselves [the Chairman and Clerk] to progress this...
Two years on, as a Committee we feel mightily aggrieved at the suggestion that the club had been negligent in its duty to maintain the facility. Responsibility for the poor state of the fence lies squarely with the Parish Council, who have repeatedly taken this action upon themselves and then failed to follow through. Even as recently as their 12th February 2020 meeting, the council agreed to pay their groundskeeping contractor a specified fee for various works that included "repairs to the tennis court fence" - why has that not happened?
The fact that "People were playing tennis" in March 2020 - apparently prompting the Parish Council's unilateral decision to remove the nets and posts as part of their Covid-19 lockdown response - just goes to show that the current state of the fence, and indeed the playing surface, is not a major barrier to making good use of the courts for healthy and much-needed outdoor exercise. Now that outdoor tennis is allowed again, as from Wednesday 13th May 2020, we asked the Parish Council on Tues 12th May if they were planning to replace the nets; we had to chase up before they confirmed to us on Weds 13th that they were instructing their contractor to re-erect the nets. On Tuesday 19th May the nets and posts re-appeared, although they seemed to have been damaged in the interim: one was held on with a Heath-Robinson collection of cable ties and cir-clips, missing its supporting wire. We've now replaced that centre wire (not an easy task!) and left them at the correct height. We'll be replacing the centre straps as soon as we can repair the fixing points, which has rusted through in recent years.
Meanwhile, we have completed our Covid-19 Risk Assessment as per LTA guidelines, and the courts are suitably adorned with safety information posters and ready for play. Go Play!
For the record, we share below the email we had sent requesting permission to replace that fence in 2018. Three of those who were recipients to that email in 2018 are still Parish Councillors in 2020.
---
From: [Club's Treasurer]
Date: Mon, 2 Apr 2018 at 22:39
Subject: URGENT: Tennis court fence - reply by Weds 4th April, please
To: [Chairman, Clerk and Assistant Clerk]
Cc: [All Parish Councillors, and Club Committee]

Dear [Chairman], Parish Councillors, and Clerks,
We have had a Tennis Club committee meeting last week. We have agreed that we want to ensure that the worst part of the fence is fixed and the court cleaned by the end of May – if we can achieve this then we will keep our 2018-19 membership fees unchanged from last year's reduced rate; if we can't, then we will reduce the fees a bit further. To this end, I have pencilled in our previous cleaning contractor* who has quoted to replace the chainlink fencing on the "ex-Lleylandii" side of the fencing only, plus some repairs to the section to the right of the door, which he can fit in on 23/24/25th May, followed by a pressure wash on 29th May. His quote for the fencing element is £2550 plus VAT.
As a responsible tenant under the terms of our current lease, we feel that we should go ahead and pay for this from our sinking fund, especially now it is clear from your February Parish Council discussion as published that you seem to have ruled out moving the fence for the time being. So all I need to know urgently from the Parish Council is whether you are happy to give this your blessing? Or, if you have an alternative contractor who could definitely commit to doing this work within the same timeframe, then please let us know.
We look forward to hearing from you.
[Club's Treasurer]
(on behalf of the STC Committee).
*Our contractor for your info is 'TCM (the Tennis Court Maintenance company)' of 48 Farmstead Road, Corby, Northamptonshire, NN18 0LG. They have also kindly offered to do a pressure wash of the adjacent children's play area when they clean the tennis courts on 29th May, should you wish this. Do let us know.