Mini Tennis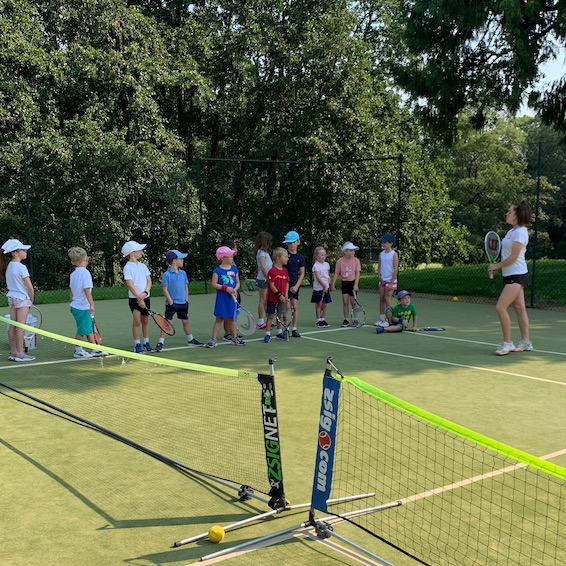 LTA Youth
Already know what you're looking for? Click here
LTA Youth is a series of LTA approved courses which allows the natural progression of young players as their skills develop. Players in all stages of our LTA Youth programme will be offered the opportunity to compete in our tournaments monthly. Some players can go on to compete in tournaments around the country.
Performance - Invitational sessions. (Players must be competing and have individual lessons.) Please enquire if interested
LTA Youth Mini Tennis has 4 stages:
Blue: 4-6 years - Learn the basics
Red: 6-8 years - Serve, rally and score
Orange: 8-9 years - Develop a rounded game
Green: 9-10 years - Test your skills
<iframe width="560" height="315" src="https://www.youtube.com/embed/2y5ChGHlvb8" frameborder="0" allow="accelerometer; autoplay; clipboard-write; encrypted-media; gyroscope; picture-in-picture" allowfullscreen></iframe>
Blue Stage
(Age 4-6)
Young kids are bundles of energy just running around without a care in the world. But the programme is designed to finesse their fine motor skills like balance, agility and coordination. At this stage it's not about winning or losing but just getting to grips with the basics.
Dallington LTC
Saturday 9am-10am
Kings Park Tennis Centre - Indoors
Saturday 9am-10am
Red Stage
(Age 6-8)
This looks a bit more like the tennis you know; overarm serves, rallies, scoring. Kids can use their new knowledge to play in competitions as teams or individuals. It's still soft balls and small courts but they're learning everything they'll need for the game ahead.
Dallington LTC
Tuesday 4-5pm
Saturday 10am-11am
Nether Heyford Tennis Club
Monday 4pm-5pm
Kings Park Tennis Centre - Indoors
Monday 4pm - 5pm
Saturday 10am-11am
Orange Stage
(Age 8-9)
All the skills they've been learning are turning them into tennis Titans. Time to throw in some tactics, extra techniques, problem-solving and leadership too; they're becoming Mini Muzza's before your eyes.
Dallington Lawn Tennis Club
Tuesday 5pm-6pm
Saturday 11pm-12pm
Nether Heyford
Monday 5pm-6pm
Kings Park Tennis Centre - Indoors
Thursday 5pm - 6pm
Saturday 11am-12noon
Green Stage
(Age 9-10)
Where does the time go? They're fast approaching moody teenagers and so it's time to let them loose on real, full-sized courts. Now it's all about fine tuning and refining the techniques they've learned over the years. Welcome to the Big Leagues, junior. This course helps players to further develop the skills that they have learnt throughout the programme and improve on all aspects of their game before moving on to a full compression yellow ball.
Dallington LTC
Tuesday 5pm-6pm
Wednesday 5pm-6pm
Saturday 9am-10am
Kings Park Tennis Centre - Indoors
Tuesday 5pm - 6pm
Saturday 11am-12noon
Teen Tennis (10-18 Years)
Teen Tennis focuses learning and developing techniques and building up rallies - but is delivered in a way more suited to this older age group. Hitting loads of balls, and lots of fitness while playing games and matches. Teen Tournaments are held every other month.
Bronze - Beginners or new to Yellow Ball Tennis (Players aged 11-14)
Silver - Compitent Yellow Ball players (Players aged 13-16)
Gold - Advanced Yellow Ball players (Players aged 14-18)
Dallington LTC
Monday
Silver 6pm-7pm
Saturday
Bronze 10am-11am
Silver 11am-12noon
Gold 12noon-1pm