COVID 19
[email protected] takes the safety of the players who access the club very seriously. We have put together a very thorough risk assessment based on Government and Lawn Tennis Association guidelines. To see a copy of our risk assessment please click here.
Guidelines ALL users of Churchill must follow:
Before Leaving home:
Anyone attending Churchill (including players, coaches, staff and any other visitors), must undergo a pre-attendance self-assessment for any COVID-19 symptoms using the information on the NHS website before leaving home.
No-one should leave home to participate in tennis if they, or someone they live with, has symptoms of COVID -19, currently recognised as any of the following: A high temperature, a new, continuous cough, a loss of, or change to, their sense of smell or taste
Should an individual have demonstrated any such symptoms, they must follow NHS and PHE guidance on self-isolation
If someone who has played at Churchill develops symptoms of COVID-19, they should be directed to follow the Government's 'Test and Trace' guidelines, which can be read on the Gov.uk website
To support NHS Test and Trace, Churchill will keep a temporary record of all those on site for 21 days, and assist NHS Test and Trace with requests for that data if needed.
Undertaking any activity, including tennis, has the potential for increased risk of transmission of COVID-19. Please read the government guidelines on staying safe outside your home which can be found here: https://www.gov.uk/government/publications/staying-safe-outside-your-home/staying-safe-outside-your-home
Travelling, arriving and leaving Churchill:
Hand sanitizers will be available for use at the entrance/exit to Churchill. All players must use these on entering and exiting the venue.
Please arrive at the facility in sports kit as changing facilities will be closed.
No toilet facilities will be available on site.
Players must use the car park when driving to Churchill and use alternative bays where possible. Players must only travel with members of their own household or support bubble.
Please clean your hands with hand sanitiser after touching shared surfaces such as doors.
Entrance and exit to the building will be through the main door for courts 1 & 2. Courts 3 & 4 the entrance will be through the double fire door. Signage will be in place to guide you on arrival. On entrance and exit of the building, two metre markings will be in place.
Please take the minimum amount of equipment with you that you need to play
Clean and wipe down your equipment, including racquets and water bottles before and after use
Bring a full water bottle, do not share food or drink with others
Ensure you take all your belongings with you at the end of the session and do not leave anything on court. Anything left on court will be destroyed as part of the cleaning process
Avoid using public transport if possible-safer travel guidance is provided on the Government website.
Arrive as close as possible to the court booking time.
While Playing:
Singles and doubles can be played with people from different households, and recreational competitions (including club nights), players must adhere to social distancing.
Social distancing between players, and between the coach and players should be maintained at all times
Please avoid running down balls while playing doubles, if it could compromise social distancing
Hand hygiene is imperative – please hand sanitise at any intervals.
Avoid touching your face.
If you need to sneeze or cough, do so into a tissue or upper sleeve and dispose of your tissue in the lidded bins provided. 4 lidded bins will be placed inside the tennis centre, one next to each court.
Please bring your own equipment where possible and sharing of equipment should be limited–however, use of communal rackets can be done subject to thorough cleaning processes between uses.
Churchill will not allow players to congregate on or around the court before and after play.
Please do not interact with anyone outside of the group you are attending Churchill with (e.g. players on another court or in a different coaching group), and you should continue to maintain social distancing from those that you do not live with or are in a support bubble with.
Stay at least two metres away from other players (including during play as far as possible, when taking breaks and before and after play).
Do not make physical contact with other players (such as shaking hands or high five).
Do not chase the ball down to another court if other players are using it.
For doubles, consider agreeing in advance which player will take the shot if a ball travels to the centre of the court.
Non Players:
Where attendance of a parent/guardian (non-participant) is required, or a carer for a disabled player, it is permitted, but will be off court and limited to one per player.
Supporters, parents, and other spectators should remain socially distanced whilst attending events. Spectator groups must be restricted to discrete six person gathering limits and spread out, in line with wider government guidance
Masking tape will be used to mark out boxes at the side of court 4 and court 1 for non players.
First Aid:
Churchill will provide access to first aid with changes to requirements for PPE. Included: Gloves, Apron, Masks, Goggles. The first aid kit is located next to the main entrance. Clear signage is displayed to mark the location of the first aid box.
Arrival Guide:
When arriving please park in the car park and walk down the ramp shown below towards the tennis centre.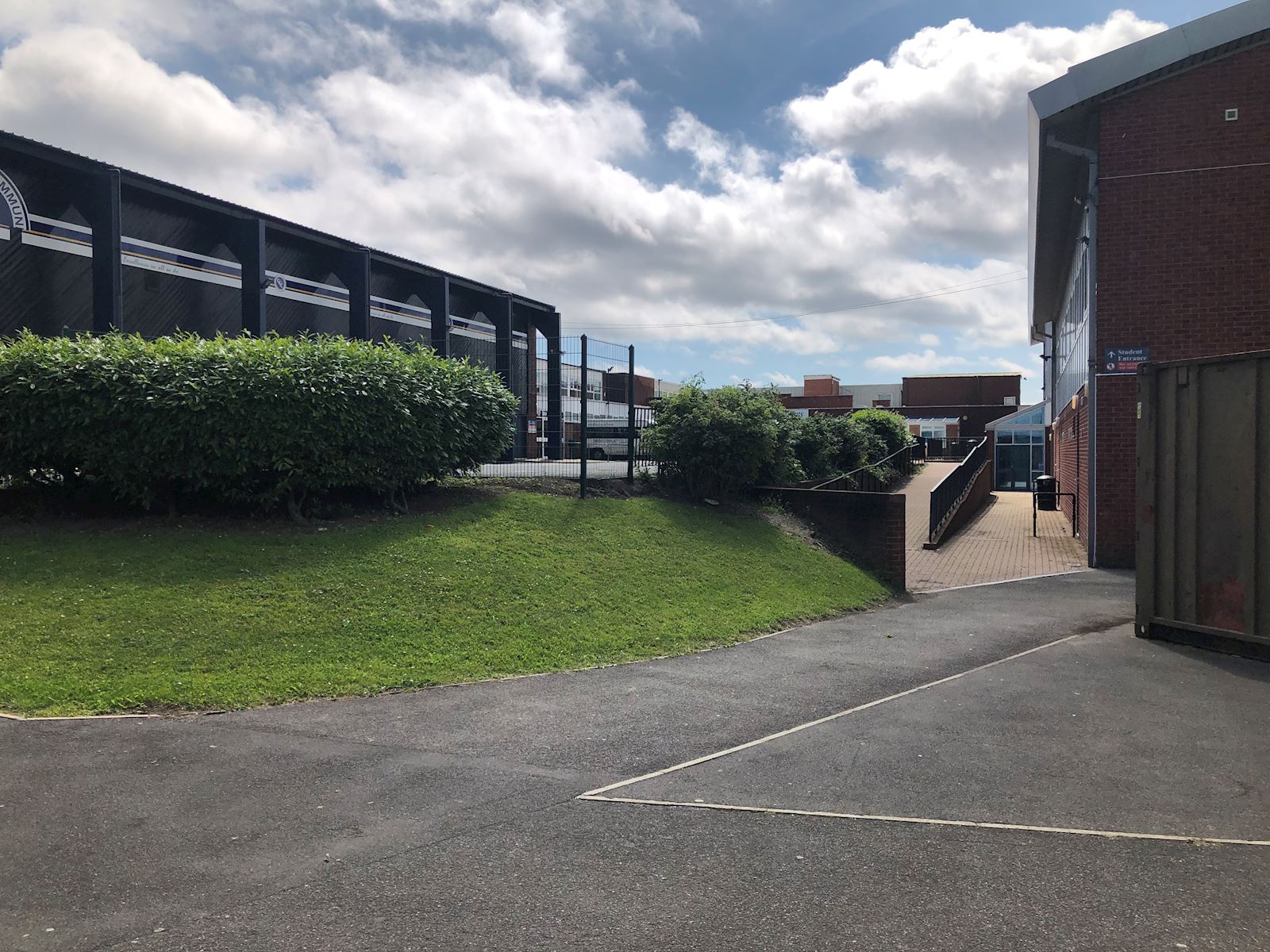 When booked onto Courts 3&4 please use the main entrance shown below.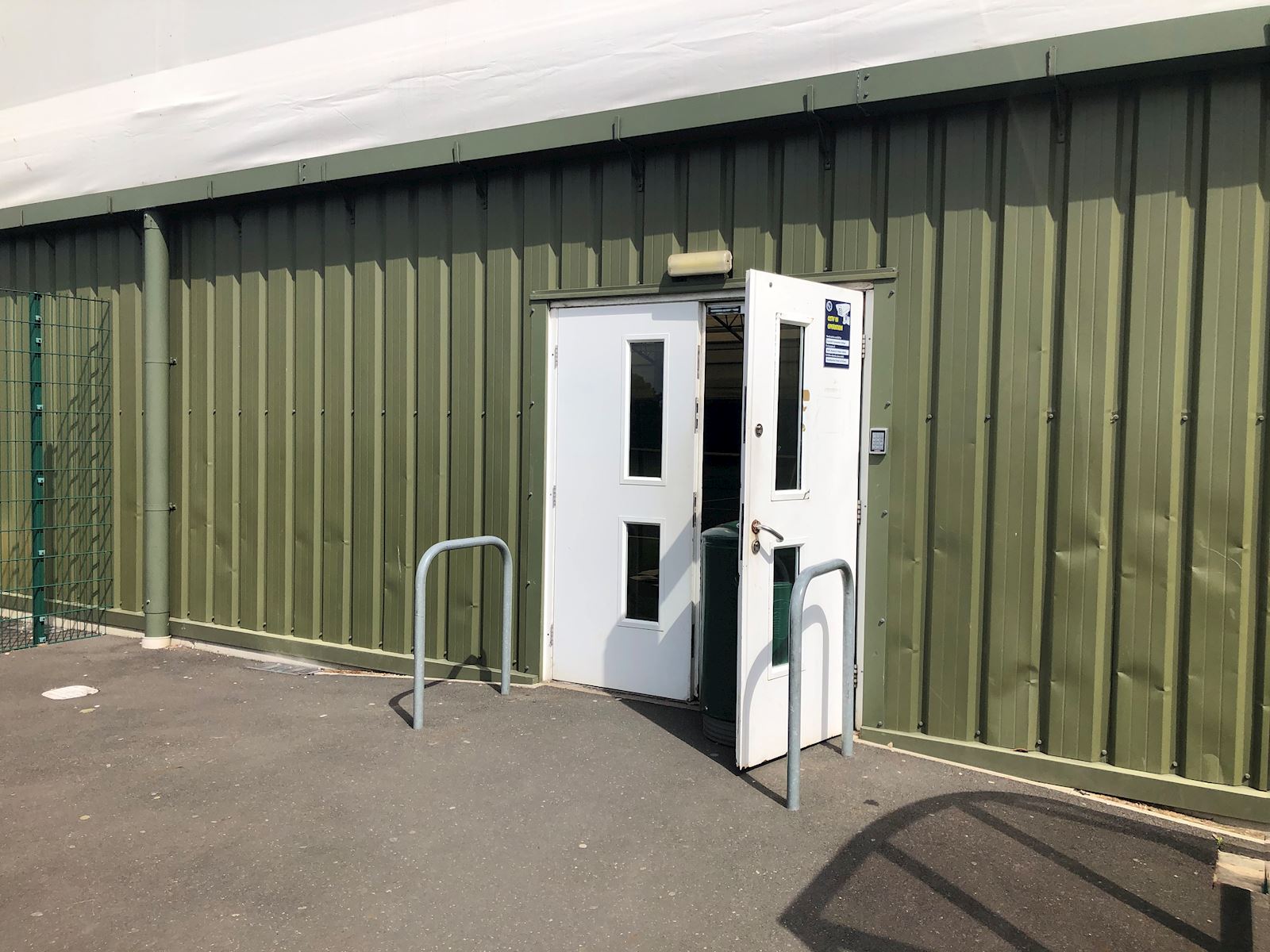 When booked onto courts 1&2 please go through the green gate and entre the building at the far double doors shown below.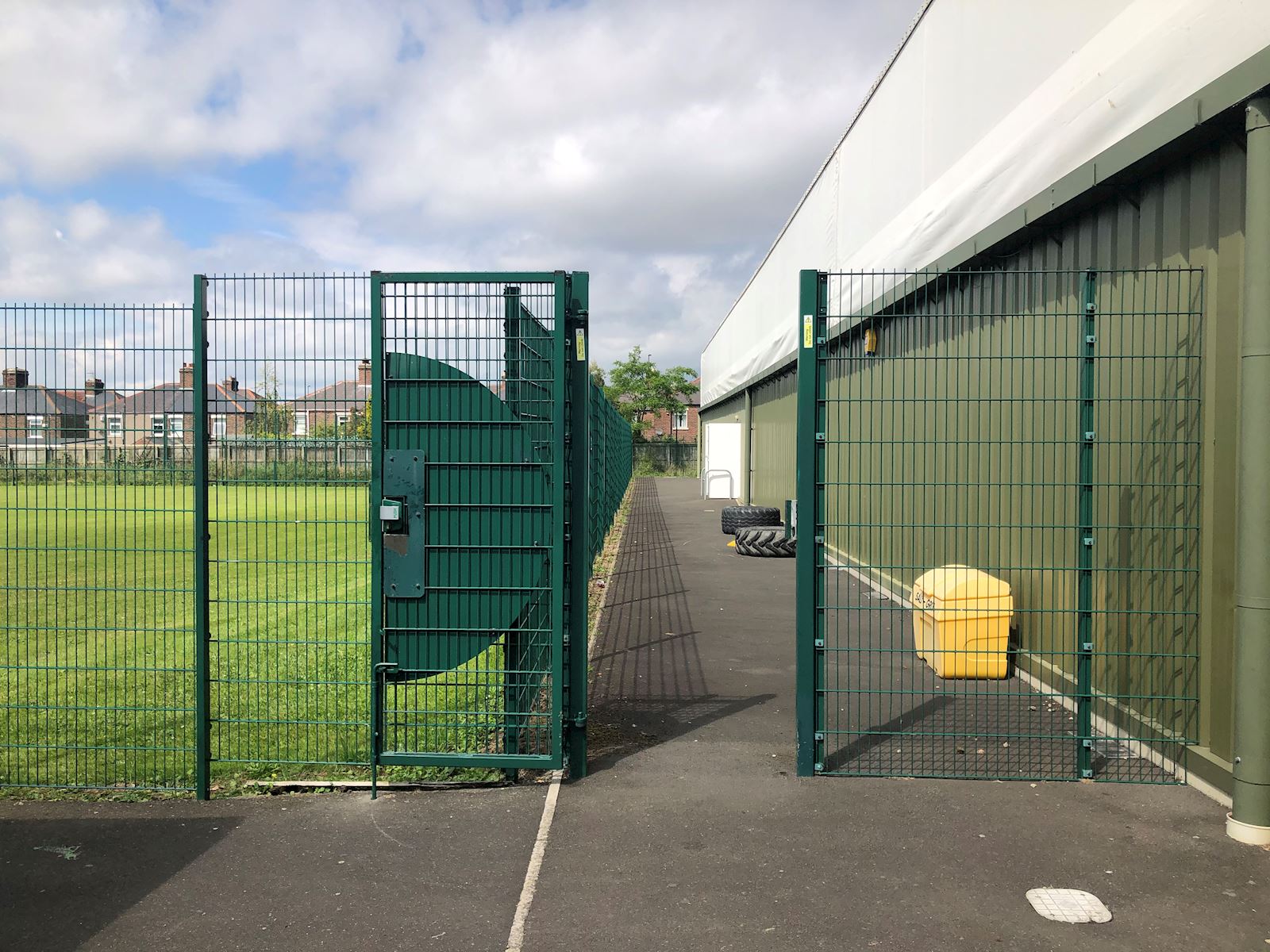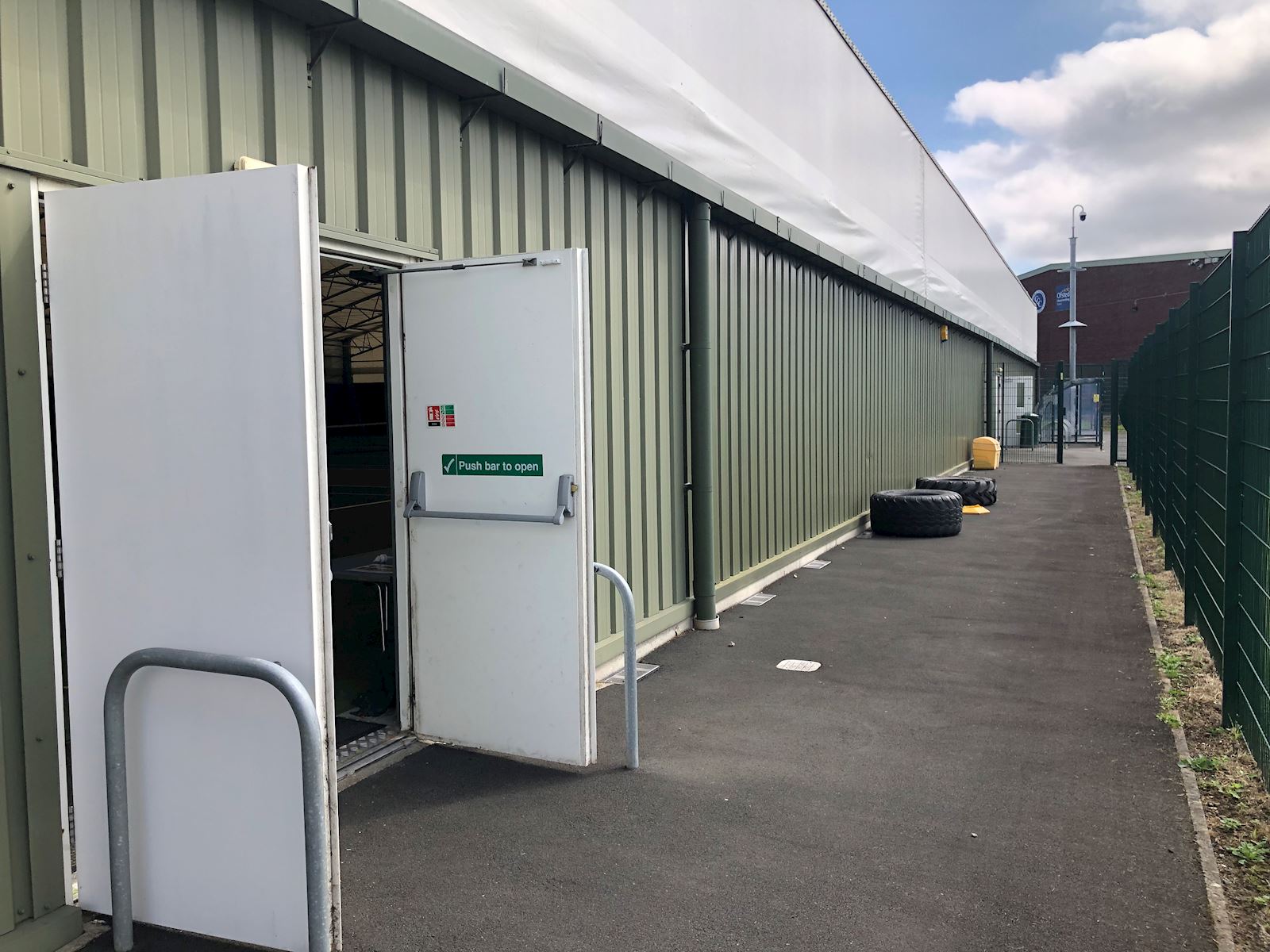 When inside please use the hand sanitiser positioned on the table next to the door. If players are still on the court you booked, please wait in the box marked out on the floor. Below are images of both entrances from inside: