Please follow the rules of play during Covid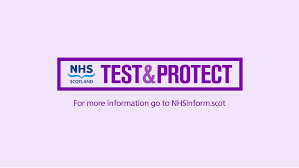 Please read and follow the Tennis Scotland rules for players. Follow guidelines on social distancing from the Government.
You can play singles and doubles. Play may take place with up to 30 people in total (no restriction on household numbers). Please make all reasonable efforts to maintain a 2 metre distance between players during play.
When playing outdoors, adults and children aged over 12 must physically distance both before and after activity but do not have to during activity.
Children aged 11 years and younger are not required to physically distance any time.
IMPORTANT: Do not play tennis if Government advice means you should stay at home because you or someone you live with has or has had symptoms of COVID-19, or are in the most vulnerable category and have been advised to shield from the coronavirus.
TEST AND PROTECT
To comply with Scottish Government legislation, members MUST record their name, contact details and date / time of play in the book in the clubhouse. Full details for every player must be recorded except for when attending as a small household group, the contact details for one lead member will be sufficient.
Any pay to play visiting players MUST log their details in the book provided in the box on courts 5 / 6. Again details of all players must be recorded.
In line with legislation, details will be retained for 3 weeks, then destroyed.
BOOKING and COURT ACCESS
You MUST leave 15 minutes between bookings. Booking slots have been reduced to 15 minutes to allow this . Please leave the court promptly and follow social distancing rules.
Please wash your hands before leaving home and when you return home.
Please use a pencil (or similar) or wear gloves to key in your gate access code. There will be hand sanitiser on each court (if you can, please bring your own). Use the sanitiser after you have accessed the court.
Leave any bags at the back of the courts. Please try to avoid using the padlock gates and wait for players to finish points before passing behind the courts.
EQUIPMENT
Please use your own equipment. You may share tennis balls.
Leave nets up and dont brush the courts unless you bring disposable gloves for handling the court brushes and take the gloves home with you.
PLAY
Children aged under 14 MUST play with an adult.
Don't change ends during matches, or agree to change ends at opposite sides of the net. Don't shake hands / high five etc.
Take ALL belongings and rubbish home with you.
Bring your own water from home. Please come to court ready to play (changing facilities are closed).
CLUBHOUSE
MEMBERS: The clubhouse remains closed, apart from to record player details for Test and Protect. The book to record details will be on the table immediately inside the clubhouse. Please wipe down the touch points with the wipes after access. Only one player shoudl access the clubhouse at a time.
The kitchen must not be used.
The floodlights are not in use (we will update usage guidelines for floodlights shortly).
The toilets cannot be used, apart from in an emergency, then only use the disabled toilet. Please clean after use and wipe all touch points with the wipes available in the clubhouse and take the wipes / paper towels home with you.
Don't leave ANY litter - including ball cans, ball can lids, plastic bottles, packaging etc. Please take all your belongings home. Any clothing etc found at the club will be bagged and binned.
Do not congregate especially on the picnic / park benches.
FIRST AID
MEMBERS: If you need to use the first aid kit or the defibrillator you may enter the clubhouse to access these. They are in the main part of the clubhouse. Please email [email protected] if you use any of supplies so we can replenish.