Start of the Apsley Season!
Mon, 21 Jun 2021 00:00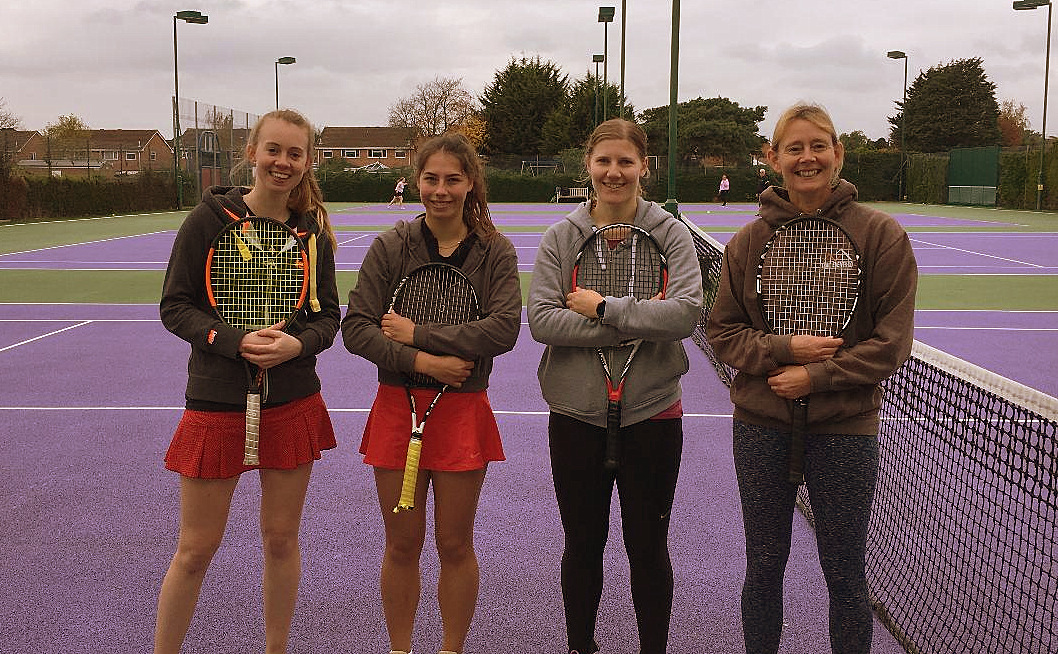 June 19th/20th. 1st Apsley A of the season was away at Riverside in Salisbury on their new astro courts. We had a super young team of Summer, Magda, Abby and Nakshatra and Mats ,James Blair, Lucca and James Ardley . Riverside put out their strongest possible team headed up by the formidable Barry Brothers . Number 1 Barry brother put up the most resistance taking both his matches to 3 sets but our youngsters managed to beat the 2 coaches . The other 3 matches were more straight forward. It was an A team debut for our youngest player Nakshatra who was a great asset and surprised even herself when her solid forehand proved too much for the opposition. We managed an 8-0 victory which was a great start to the season.
Meanwhile our Apsley B team were playing South Hants at home.. They were all grateful to be out playing again with some semblance of normality ( minus sandwiches and cake!) Featuring Mark Wellby, Janet Butler, Jon Saville, Julie Kelly, Dan and Inger Kwiatkowski, Paul Stavely and Ava Lambert, the team had a nice smooth 6-2 win for their first Apsley match of the season. Our number 4 pair had the closest match , winning in 3 sets while Dan and Inger had a 6-0 6-0 victory .
Sunday 20th brought a strong Bristol Men's team down to play in the National Club League. Our team was James Blair , Matt Sampson, Mats Colling , Paul Scullard and James Ardley - 3 of these were still aching a bit from the tennis on saturday!The weather wasn't ideal and the courts were quite slippery . After the singles we were evens with Mats and Paul winning at 3 & 4. After the doubles we were still evens with a win from Paul and James A and a loss from James and Mats. At this point a 'shoot out ' was played : Mats won his singles 10 point tie break and Matt just dropped his. So it was all down to the doubles 10 point tie break which was played by the 2 James's and unfortunately finished in a loss. So couldn't have been much tighter. One more match to go for this team and that's next week at Wimbourne. Good luck boys! Again , they looked very smart and a bit more matching than the team on saturday (see photo !)
Late news from last week :
June 12th / 13th. Another scorching week saw 3 matches played. On Saturday our Men's and Ladies A teams were away to Avondale and Winchester. It took a while to get used to the astro at Avondale with both our 1st and 2nd pair of James Blair and James Ardley and Joseph Henbury and Mats Colling scraping the 1st set. After that it was pretty straight forward against very competent opposition. The two James's came out on top with 7-6 6-3 and 6-3 6-3 wins and Joe and Mats were equally impressive with 6-1 6-4 and 7-6 6-2 victories.
The ladies had a much tougher time against the old foe Winchester , packed with top level players. It was a bit of a shock for our second pair to face the county number 1 in their first match back after 15 months. Abby Whatley and Frankie Colling were given a 0-6 0-6 lessonbut won 3 games in their second match. Our first pair , Dita Mezihorakova and Anna Vinnell , put up more resistance, taking the 1st pair to a deciding tie break but losing to the 2nd pair 1-6 2-6. Hopefully the remaining matches will be a little easier.
On Sunday, the Men's County division National League had a great 12- 0 win over Denmead B . Man of the Match has to go to Slavec. At 1-6 1-4 down most people would accept their fate and lie down but not our heroic Slavec who fought back to win in a 3rd set tie break - much to the annoyance of his opponent. He also annoyed 2 more opponents by doing a similar thing in the doubles! We did have a strong team with James Ardley back from uni at 1, Chris Egby, Stuart Murray and Slavec Kornijczuk . All of our matches are now complete and we are top of the league but Denmead A are yet to play their final match and may potentially go ahead of us on 'goal difference' even though we beat them.