Sponsor an Amp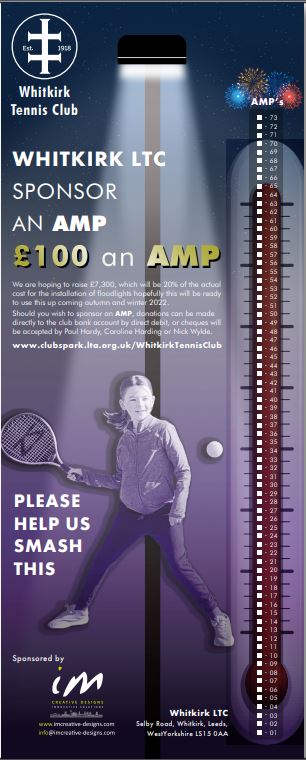 Our Sponsor an Amp for Whitkirk campaign to help fund new floodlights is live as of Saturday 7th May.
Each Amp costs £100 and 73 are available. If we manage to sell each Amp we will raise £7,300 to go towards the the first phase on courts 3 and 4. Anyone can sponsor an amp and it will not only provide increased facility to play but also support the next generation of tennis talent in our area.
A fundraising floodlight 'Thermometer' is set up in the clubhouse to keep track of progress.
Members and non-members are invited to support the club by buying as many amps as you like. Amps can be bought anonymously or as a legacy in memory of previous members/players of the club. If you are lucky enough to work for a company that would be interested in this campaign then we are happy to discuss advertising their business.
To sponsor an Amp, donations can be made as follows:
directly to the club bank account by direct debit.
please send cheques directly to Paul Hardy.
We hope that you feel able to support this practical and worthwhile initiative but if you have any queries please do not hesitate to contact any of the committee who will be pleased to provide further information.