Welcome to our club
Wolverton Tennis Club
2022/23 Memberships
2022/23 Memberships can now be applied for.
For more information or questions on membership please call 07544 706548 or email [email protected]
Welcome New and Renewed Members to Wolverton Tennis Club (WTC)
If you have any questions or queries reagrding membershi please contact Tatiana via email on [email protected] or call 07544 706548 .

For information ion coaching plesae conatct Pete on 07740004548 or email [email protected]

Please stay well and safe and enjoy your tennis.

Our website is where you should look for general information and latest updates on events etc. We offer a range of activities for all levels of play and ages:

Juniors (11-18) and Minis (under 11) are important to us - our future!

We offer a range of training sessions, typically on a Saturday morning and during school holidays, to develop skills in tennis, through fun activities.
Aligned with the Lawn Tennis Association promotions, we run Great British Tennis Weekends (GBTW), which aim to promote the idea of tennis with parents and foster young talent.
We ask parents of children, if they themselves are not members of our Club, to join as Parent/Guardian members to 'knock-about' with their children after school as well as book courts.
Some of these parents will join our Club as Daytime members which enables them to play mid-week, if they would rather not commit to Senior membership of our Club.

​Seniors (18+) play at all levels

​Advanced and intermediate players can take advantage of playing in one of our summer and winter league teams.

Beginners can further develop their skills by joining our Rusty Racquets sessions.

Wolverton veterans (Over 45) regularly meet with other local teams on Fridays

Our Club sessions (Wednesday evening, Saturday afternoon and Friday Morning) continue to offer a social game for our adults and senior juniors of all levels of ability. (New players should not feel daunted to attend and play as the aim is to give everyone a game).
Our Club tournament is a round robin and knockout event, and we award trophies to the winners.
Our social American tournaments give players a chance to accumulate games won, for a small novelty prize.

We feel we are a very inclusive Club, offering something for everyone:

We put on barbecues, meals, quiz nights, often aligned with bank holidays, and notable annual dates.
We welcome families and offer special rates
Our membership year commences 1 April (but please don't be put off if you are thinking of joining mid-year, as we try to be flexible and considerate of each of our member's needs).
With five courts (3 "Tiger Turf", floodlit, 2 outdoor carpet) and a range of membership options, we feel there is something for everyone at Wolverton Tennis Club, and we look forward to welcoming you, your families, at any time of the year. We hope to see you on court soon!
​Seniors (18+) play at all levels

​Advanced and intermediate players can take advantage of playing in one of our summer and winter league teams.

Wolverton veterans (Over 45) regularly meet with other local teams on Fridays

Our Club sessions (Wednesday evening, Saturday afternoon) continue to offer a social game for our adults and senior juniors of all levels of ability. (New players should not feel daunted to attend and play as the aim is to give everyone a game).

Our Club tournament is a round robin and knockout event, and we award trophies to the winners.

Our social American tournaments give players a chance to accumulate games won, for a small novelty prize.

We feel we are a very inclusive Club, offering something for everyone:

We put on barbecues, meals, quiz nights, often aligned with bank holidays, and notable annual dates.

We welcome families and offer special rates

Our membership year commences 1 April (but please don't be put off if you are thinking of joining mid-year, as we try to be flexible and considerate of each of our member's needs).

With five courts (3 "Tiger Turf" 2 carpet) and a range of membership options, we feel there is something for everyone at Wolverton Tennis Club, and we look forward to welcoming you, your families, at any time of the year. We hope to see you on court soon!

Click here to join or renew membership

For a trial session click here

Click here for Wolverton Tennis Club's Privacy Policy

Thanks

Pete Tolaini, Chair WTC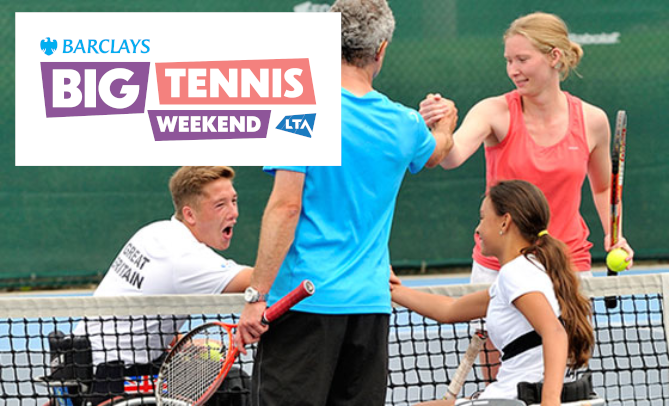 We're hosting an LTA Big Tennis Weekends event!
Try tennis for free this summer at an LTA Big Tennis Weekends event! Rackets and balls will be provided, so whether you've never picked up a racket before or you're a seasoned regular – there is fun to be had.
Latest news
Current Information regarding the COVID19 outbreak
2 years ago
---
Book in 3 quick steps...
2. Choose a session
Select your preferred available time and book. You can pay online with most major credit cards. Register online the first time you book.
3. Confirmation
We'll send you confirmation of your booking. You'll receive a pin number to access the venue. It's easy!
How to find us
Wolverton Tennis Club
Osborne Street, Wolverton
Wolverton
MILTON KEYNES
Buckinghamshire
MK12 5HH

Get directions