Social
Tennis Box Leagues - Round 5!
Sun, 10 Apr 2022 00:00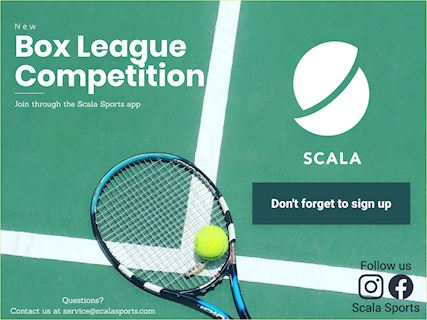 What is it?
The club is running tennis box leagues for adult and junior players. The tennis box leagues are open for all abilities and ages. The club believes all social and team players should play as much as possible!
Why?
The main reason for this is to improve your playing standard by performing with good technique that will allow you to develop a good base of strokes.
To test your skills up against other players of the same age and standard.
A great way to play friendly competitive matches.
Improve through competition and progress as a team.
Importantly, it does not take up too much of your time but has massive benefits!
The league will be available and managed by a the mobile app called Scala Sports. This will allow members to easily contact opponents and record results via their phones.
How does it work?
You are organised into a group with 4-6 opponents of a similar standard.
You play 1 match against each opponent in your group.
You determine when matches are played in consultation with your opponents.
The winners of each box league will go up and the losers go down.
There will be prizes available for the winner of each group.
How do I join?
Download the free Scala Sports app.
Go to Leagues.
Search and join the league - Beverley Park (men's singles, ladies singles, mixed doubles or doubles).
On the start date of the round you will receive an email and your opponents will be visible in the app.
Scoring
Adults - Best of 3 full sets. If 1 set all play a championship tie break to 10.
Results
Each win results in 3 points.
If you don't win you get 1 point for each game you play.
The results must been entered on the app.
Scheduling Matches
To get in touch with your opponents you can send them an email or message in the app. All contact information will be provided.
All matches can be booked online via the club website. You can book a court by clicking here.
Rules
Players must be members to take part in the leagues.
Standings
To view the league table standings you can view this on the app or click on a link below:
For more information about the tennis box league please email Beverley Park LTC.