Monthly News
Fri, 03 May 2019 00:00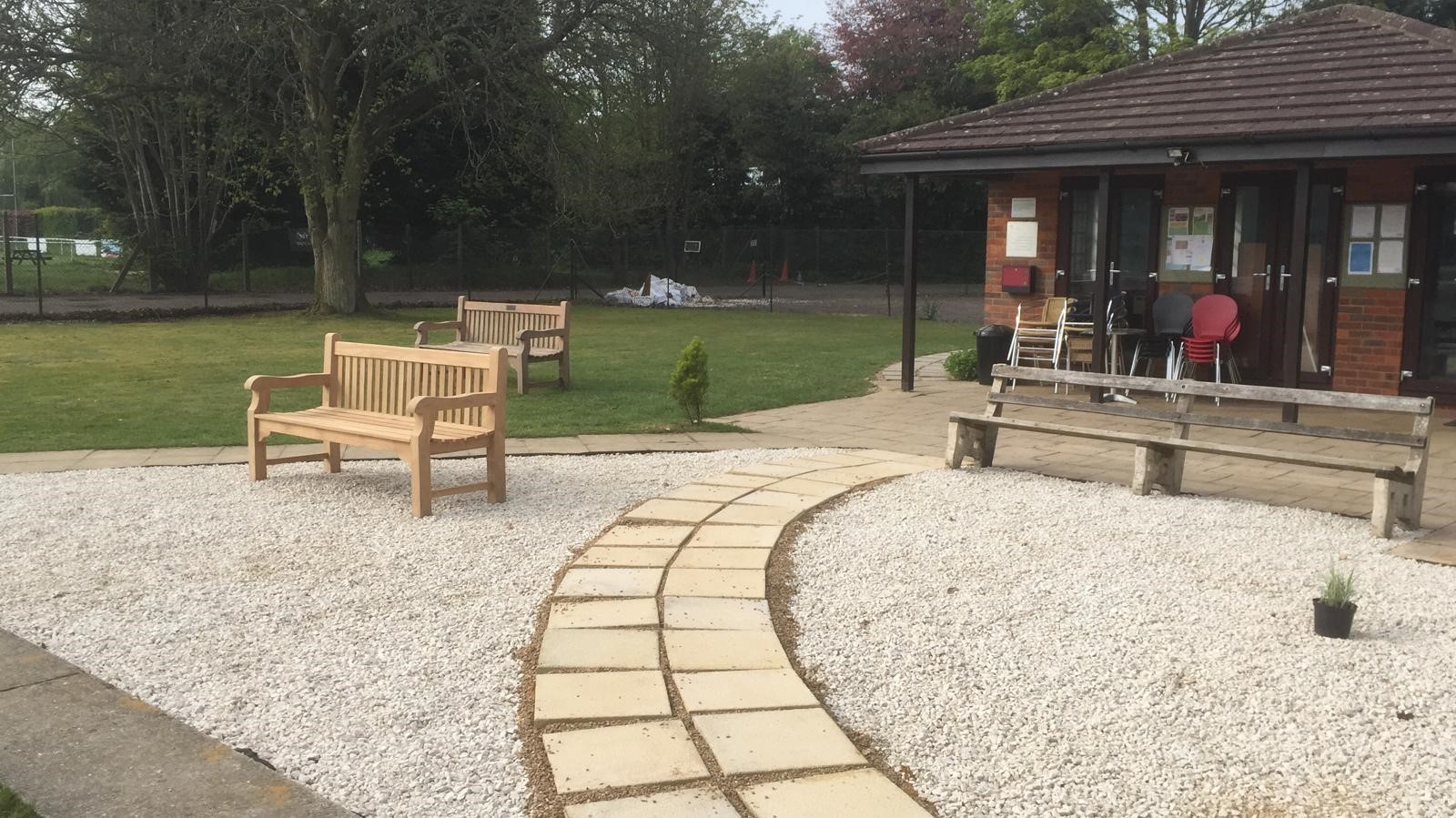 Facilities update: As you can see from the photo, the club have a new landscaped viewing and seating area, perfect for sitting and watching our external matches which have now begun: (see PLAY> MATCH FIXTURES for dates) we would love home support. The next stage will be some planting. The bench was funded by a donation from the Watford District Tennis League and the landscaping from an LTA grant. We also have a new table and new chairs inside for hosting match suppers.
Thank you to all of the working strand overseen by Martin for their hardwork.
Club Team Kit: Ali Lyons (Ladies B captain) has arranged for Mapac to supply T-shirts, Polo shirts, Vests & Hoodies/ Zoodies for both adults and juniors. Prices are very reasonable with T-shirts being around £9 and Hoodies £20. The kit has the logo on the front and Bovingdon Tennis Club on the back. The Hoodies/ Zoodies have the logo across the back with space for your initials on the back. Ali has some samples for members to see/ try on. Please email her if you are interested. ali@j-mer.co.uk
These are available to any members, not just team players; it's very easy to order, no need to buy in bulk, you can just order and pay for what you want. There is a choice of colours: the Ladies B team are going for the purple.
Here is the link to our page on the Mapac website: Team Kit
A big thanks to Ali for organising this and also to Dave Seddon for designing the logo.
Wimbledon winners: Congratulations to all the winners in our Wimbledon ballot. A list of the winners and what they chose can be found on the website under WIMBLEDON.
Junior Socials: These began in April and will continue until the end of September- once a month on the last Friday. For more information see PLAY > JUNIOR SOCIALS. The dates can also be found under EVENTS.
Active Away Tennis Holidays: https://www.activeaway.com/
You may have seen Steve & Matt from Active Away on Dragons Den pitching their business for tennis holidays and successfully getting backing from Peter Jones. We have at least two of our members who have recently been on one of their holidays: Jooles and Rebecca, and they would be happy to tell you more if you are interested. They offer tennis holidays for adults, families or singles and also Play and Watch ATP/ WTA tournaments. They are excellent value for money, offering great resorts and expert coaching. A quote from Jooles (Ladies B squad): "It still feels like a small company who really care about their customers. Slick from booking to journey home, a well balanced week of tennis and leisure."