Membership
What do I get for my membership?
Annual membership subscriptions for the year commencing 1st May 2021 are at the same levels as for the previous year and leave the option for members/new joiners to pay a reduced Covid adjusted rate or the full subscription. There is no joining fee.
For the membership year commencing 1st May 2020 the Club offered a reduced rate in compensation for the restrictions caused by the Covid pandemic where members, both existing and new joiners were entirely free to choose to pay either the reduced (Covid) rate or to pay the (Full) pre-pandemic subscription.
In summary these are: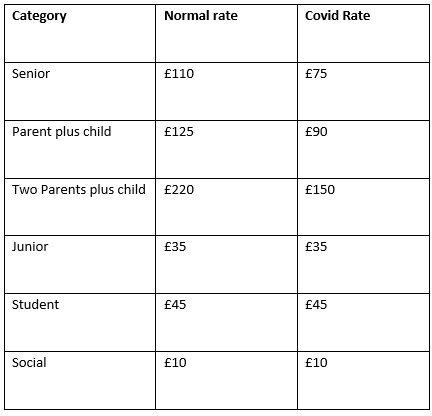 Membership includes:
1. FREE use of the hard court all year round and two natural grass courts from May to September located in very pleasant surroundings.
2. On-line court booking system.
3. Guests may be invited subject to maximum of 5 visits per guest per season and a payment of £5per guest per visit.
4. As an LTA registered venue, we encourage our members to sign up for free membership of the British Tennis/LTA Advantage Play+ entitling club members to opt into the annual Wimbledon Ticket Ballot (sadly not taking place in 2021).