Club
Everything you've wanted to know....
Thu, 31 Jan 2019 00:00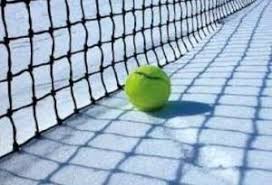 There's been a bit of a break since our last newsletter, but we promise they will become more regular this year. The best headline is that the club is in great shape with 373 members, a new head coach (Sebastien Blanchon) with lots of great ideas for change and two new floodlit courts in operation this winter, as we all hoped.
EVENTS FOR THIS YEAR
Sebastien and the committee have plans for all sorts of events this year, including parent-child and tiebreak tournaments, as well as the usual bank holiday events. The biggest immediate change will be to the annual club championships (see below). It will be a new format that will run over two weeks - get the dates into your diary.
Take note of these dates for planned events too
Sunday March 24 (9am-1pm) Adult and child tournament
Sunday March 24 Racket demo (running at the same time as above)
Saturday April 6 Inter-section croquet challenge
Saturday April 6 Ladies Day, 11am - 1pm, followed by lunch
Sunday April 14 (9am-1pm) Mixed singles' tie-break tournament (handicapped)
Monday April 22 American tournament (Easter bank holiday)
Monday May 6 American tournament (bank holiday)
Monday May 27 American tournament (bank holiday)
Monday August 26 American tournament (bank holiday)
Saturday, November 2 Annual bonfire night and fireworks event
Many more events events are planned - we'll update this schedule and let you know.
Sebastien has recently completed his training for his referee's licence and hopes to run grade 5 tournaments on Sundays between April and August at our club. We are waiting for LTA approval, which is due in early February. These will be significant events for the club and get us more involved in wider LTA initiatives.
ANNUAL CLUB CHAMPIONSHIPS, MONDAY JUNE 3 TO SUNDAY JUNE 16
Sebastien is running this year's tournament and promises an "awesome" two-week tennis extravaganza. Eat, sleep and play tennis.....The categories haven't been finalised, but we're hoping to run events from under-8s to vets (over-55s). Losers in the first rounds in the adults' singles will automatically go into plate events.
All 11 courts will be available for matches from 7-10pm, Monday to Friday, which means no social tennis, team training or coaching over this period. Both tournament weekends will be free of any matches or social play, although the junior programme will continue on two or three courts on Saturday morning.
There will be plenty of food, including a barbecue and a mid-tournament party (with band).
The precise details are still be sorted. All you have to do now is take note of the dates and not book holidays over this period! We'll let you know soon about how the tournament will be run, getting courts, what happens if you can't make your court time, etc.
The juniors' tournament will run in parallel with the senior competitions.
COURT BOOKING
Some slight changes here. You can still book eight days in advance for a maximum of two bookings, but we've cut the maximum time slot to three units (a unit is half an hour) - an hour and a half. The success of the box leagues and the booming club membership have put pressure on court time, hence the cut from two-hour to 90-minute slots. The committee will also be keeping a gentle eye on courts that have been booked, but not used. This includes team matches. We want to offer what members want and believe this change is appropriate to enable more members to find booking times suitable for them. We welcome feedback, so if anyone has any points to raise or wants to let us know if they are experiencing any issues with the booking system, please let us know.
BOX LEAGUES
One hundred and thirty-seven players entered for the winter box leagues - that means 500 matches; 75 have been played so far (more after this weekend), with a few weeks left to fit in as many fixtures as possible - let's aim to get at least 200 played. The new box leagues will start in May.
COACHING
The new coaching team with Sebastien has settled in extremely well. Feedback from members has been excellent. Jordan Chamberlain has joined the team; Matthew Lynch will still work with our holiday camps and Alex Heath will continue his private lessons. All bring enthusiasm.
The junior programme is already beginning to grow and has 64 players signed up for this term (not bad for the coldest months). The aim is to get more than 100 for the summer term.
Sebastien is pursuing links with a number local schools (eg, group lessons and after-school clubs) and has already started a programme with Dulwich Hamlet – where up to 30 pupils are on the courts on each Monday and Thursday. More than 200 pupils will participate this term.
THE COURTS
Three windbreaks have now gone up on the new courts with four more ordered to be put up soon. We hope to have padding installed over all the floodlight posts soon too. The new courts are due to be painted in April/May (they will likely be blue) and the path should be lit before too long.
A new net has gone up on court 3.
The four grass courts are being prepared for the summer and are looking much better than in previous years.
The area around the old clubhouse/croquet lawns has been landscaped and cobbled and further improvements are being considered.
JUNIORS
The committee is most keen to integrate juniors more into the club. It is great that a number have entered the box leagues, but we're hoping there will be many more in the summer. Some junior players are joining team squad sessions.
Of note Matthew Jones and Raph Salmi have completed their LTA level 1 coaching qualification and will further aid the coaching team, when needed. On the competitive side, Isabel Rayment has had good results on the LTA winter county tour, taking the runner-up slot in the under-12 Christmas tournament at the Sutton tennis centre, no small achievement. We want more and more junior members to play competitively and are looking at how best to develop that side of our club.
If you have keen juniors in your family - or know of keen players - who are interested in tournaments, please contact Sebastien or Ben Rayment.
Ben's also the person to contact if junior players are simply wanting to play more matches against each other at the club.
HOLIDAY CAMPS (see the club website for full details)
February half-term: Monday February 8 - Friday February 19
Easter: Monday April 8 - Thursday April 18
Summer holidays: Monday July 8 - Friday, August 30.
October half-term: Monday October 28 - Friday, November 1
WISH LIST
The committee has put together a wish list of the things we'd like to happen – if money was no object. We are then looking to set priorities and identify what is achievable and over what timeline...We are sure you'll have loads of ideas too. They can be small, they can be big (look at the last on our list) but let us know at dulwich.tennis@gmail.com
For starters:
More windbreakers (around new courts / back) Benches, coat hooks for new courts
Bins for the new courts
Branded T-shirts for juniors/teams/coaches
Ball machine (for coaches and rental by members)
Token machine for floodlights (for when bar not open)
New small clubhouse with a toilet near the grass courts
Landscaping around the new hard courts
A tennis practice wall
Paddle courts
Drainage for grass courts
Repair/ replace fencing on the back courts
Repair wall between clay/hard courts
Bubble over two courts
More floodlit courts
Viewing platform over the kitchen in the old clubhouse (well, it is a wish list)
YOUR COMMITTEE
This year's committee members and the broad roles they play are:
Julian Jones (Chairman)
Sue Bottomley (Ladies' captain)
Nigel Grace (Men's captain)
Ben Rayment (Juniors)
Rebecca Scorer (Membership Secretary)
Dan Miller (Treasurer)
Jo Younger (Social)
Toby Helm (Facilities and grounds)
Phil Harper (Facilities and grounds)
Susie Giles (Sports council tennis representative)
Jill Craven (Communications)
AND FINALLY
Just one more thing. Could we all make a bit more effort to pick up old balls, ball tubes, ring-pull tops, drink cans and energy bar wrappers. The balls can be recycled (bin by the clay court) and we're investigating recycling bins for the rest.
Enjoy your tennis
Your committee