Competition
Inter-Area Junior Badminton Team Tournament
Tue, 25 Jun 2019 00:00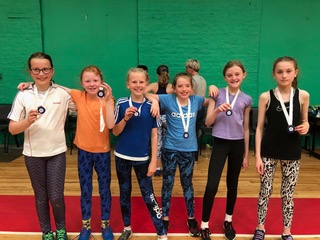 It was the inter-area tournament for U11 and U12 teams in the county this weekend. Harrogate was well represented with 5 teams playing across the categories against teams from Sheffield, Leeds, Hull, Bradford and Wensleydale. The Harrogate Girls U11 teams did particularly well with the A team coming second and the B team finishing 3rd. Team members were Faye Oxtoby, Libby Sperke, Millie Adrian-Horrocks, Jemima Kingston, Isla Forzdike and Winnie McKenzie. The only team to beat them, came from Sheffield and included county and international players - it was a fantastic experience particularly as some of the girls will still be able to play in this age group next year.
The U12 girls team came second losing out to the Leeds Performance centre team which also included several county players. The boys competition was particularly tough and our U11 team comprised U10 or younger players, the boys got some great experience and look forward to playing again next year when they will have an extra years play under their belt. The U12 boys played faced the toughest opposition with a lot of very experienced opponents despite our boys being relatively new to the sport. With their positive attitude and enthusiasm it will only be a matter of time before they will be serious contenders in these types of competition. The boys teams included Tom Wakely, Antony McEnally, Tristan Cassidy, Lucas Woolfson, Lochlan Reah, Dan Gilliker and Joe Morley. All players are coached by Denis Cleary who regularly coaches at Harrogate Racquets club and for Badminton England. Denis also plays badminton at a high level and is playing in the world masters championships in Poland at the start of August along with Gavin Horrocks, another Harrogate Racquets member.
If your child is interested in trying badminton or you fancy picking up a racquet please do get in touch with Jenny Adrian, Chair at Harrogate Racquets on 07939 250362 to see which session might be best.