Mini Tennis Programmes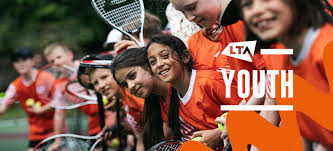 Mini Red 4-8 years
With a variety of fun games we aim to develop your child's fundamental motor skills alongside their basic tennis skills. We assist the development of their hand / eye co-ordination, balance, agility and other essential skills that children will need through their childhood and even adulthood. We aim to teach them how to hit forehands, backhands, volley and serves. We introduce match play and host regular tournaments including Junior team Challenge, LTA Graded events and the annual Club Championships. We run both internal and external tennis events so they can play at a variety of levels.
Mini Orange 9U
Mini Orange is played on a ¾-sized court with compressed orange balls and is aimed at ages 9 & under. We aim to provide players with the skills to play both singles and doubles with emphasis on the forehand, backhand, volley and the serve. There will be focus on tactics, spin and match strategy as well as positioning and shot placement as we prepare the children towards the next stage (Mini Green). The orange ball moves at 50% of the speed of a full ball, ensuring time to adjust to shots and position on court.
Mini Green 10U
Mini Green is played on a full court and is aimed at 10 & under. We will encourage problem solving skills that will enable players to attack, rally and defend to a high standard. With the green ball moving at 75% of the speed of a full ball, it allows more time for the children to adjust and adapt with the flight of the ball and this helps the children both read the ball movement and read the game. Tournaments play a big part here as it's the first time children get to play competitive matches on a full singles court preparing them for full ball matches in the future.
Junior Tennis 18U
Our junior sessions aim to provide players with the tactical and technical skills to play both singles and doubles at a high level. We look here at controlling the ball as it will bounce higher and move faster giving the children less time to adjust and read the play. We introduce players to a series of drills that will enhance their ability to play matches and encourage problem skills to work out their opponent's weaknesses.