Courts re-opening
Wed, 13 May 2020 00:00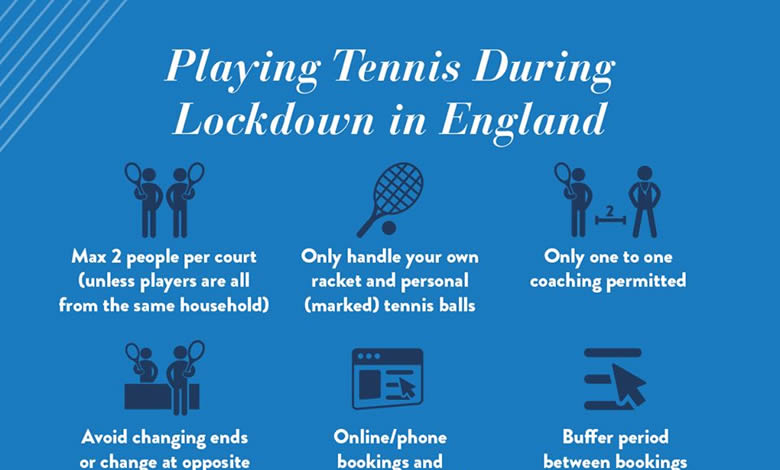 Ombersley & Doverdale Tennis Club is now open. Play is only permitted on the following basis:
members of the same family
singles where members are not from the same family
1-1 coaching.
Arrangements are now in place in order to ensure social distancing and members' safety by adhering to the guidelines issued by the LTA and Government. The following procedures are in force:
Booking:
Courts must be booked in advance by visiting the Ombersley & Doverdale Tennis Cub Website and logging on to make a booking. Initially, you will need to register and create a password, please contact Helen Buchanan on

[email protected]

or call her on 07850 493771. Only adult members will be able to book. If you have any problems with bookings once you are set up, or are not able to manage the online system, please contact Annika Silvester 07947 685168 between 08.30-20.30 and she will be able to help you. We are limiting play to 1 hour per session. Online booking is live, members can book courts up to 7 days in advance. Please do not go down to the Club without booking a court in this way so that we can limit contact with other members.
Reminder: Full members may take a Guest at the cost of £5, BACS payment only: Account – ODTC; Account Number – 01621807; Sort Code – 40-46-13
Public Court:
The Public Court is available to non-members by booking in the normal manner through Di Grove on 07751 97883. Due to social distancing and the restrictions placed on our courts, members for the time being will take priority; we regret courts for public use can only be confirmed on the morning of the day you have requested a court.
Playing:
For the time being only two courts will be in operation.
Courts will be locked and can be accessed either by key or by using the combination lock.
Players should leave the court before the next player enters the court.
Hand sanitiser will be placed adjacent to the court - please use this before and after entering the courts
Clubhouse:
The clubhouse will not be in use. The first aid kit will be placed outside next to the old BBQ.
Update on Membership:
The new membership year will run from 1st June 2020 to 31st May 2021. Our thanks to all who have already renewed.
To take into account the current difficult environment we are introducing a 'Half Yearly Membership'. This will be 50% of current annual fees plus £10 or £5 for juniors. This is open to any new members and any current members yet to pay, if preferable.
To kick the new tennis year off we are offering all members who have renewed on an annual basis by the 1st June two free half hour tennis lessons with either Mike or John . These need to be taken by the end of September and can be booked directly with Mike and John. Their details are on our website .
General:
Activity should be in line with the Government's advised social distancing measures at all times (defined by Public Health England as spending no more than 15 minutes within a 2-metre distance of someone), including when arriving to and departing from a court
Players are advised not to change ends during play
Ensure no physical contact between players during warm-ups or games
No extra-curricular or social activity should take place
The Government is advising those who are particularly vulnerable to risk of severe illness from coronavirus (COVID-19) to be particularly stringent in following social distancing measures.
For those who wish to learn more about the LTA guidelines please visit the website for further information.
https://www.lta.org.uk/about-us/tennis-news/news-and-opinion/general-news/2020/march/coronavirus-covid-19-advice-for-venues/
These arrangements will be reviewed at each stage of the lockdown relaxation process and hopefully we will gradually return to more normal ways of operating the club including the opening of our new clubhouse!